The Yak, Yeti and Roll slot is brought to us by BetSoft Gaming. This video slot has a fun and imaginative theme based on the legendary Yeti, or abominable snowman as he is sometimes called. The overall design is well done, with cartoon character symbols, a high level of detail, and a friendly colour scheme that is bright and inviting without being too harsh on the eyes.
Yak, Yeti and Roll is a five-reel, three-row slot that plays on 20 fixed pay lines. There are five high-paying and five low-paying symbols on the reels, plus wild and scatter symbols, for a grand total of 12. High paying symbols are made up of several different cartoon drawings including a wolf, a reindeer, an igloo, a crazy sleigh, and a pair of thick Eskimo mittens. Low paying symbols are simply made up of the five playing card values ten through ace.
This slot uses a cascade feature on winning spins that you might have seen on other slots. Whenever a winning combination lands, all symbols involved in that win are removed from the grid, remaining symbols fall to the bottom, and new symbols fall from the top to fill in the open spaces. If another win is generated, the process repeats. This will go on until no further wins are generated and then the total prize is awarded. Adding the bonus trail feature (more on that below) together with multiple cascades can generate substantial wins.
Wagering & Payouts
Wagering on Yak, Yeti and Roll is easy and painless. All you need to do is choose your overall bet for each spin and you'll be ready to play. There are several predetermined amounts between the minimum bet of £.20 and £20.00. Just choose the amount you'd like to play for and hit spin and you'll be on your way.
Best Global Betsoft Online Casinos
Yes – Why To Play The Yak, Yeti And Roll Slot
This video slot has a fair return to player (RTP) rate that is in line with most recently released online slots. Players should get back 95.93% of the money they wager on this slot over time.
The combination of the cascading wins and bonus trail features can quickly generate win multipliers, free spins, and large payouts.
This slot allows for relatively low minimum and maximum bets compared to many other recently released slots, making it very accessible for those with smaller bankrolls or who simply don't like to bet large amounts on a single spin.
Betsoft casinos are available to players all around the world: you can find their games in USA online casinos, as well as other brands throughout Europe and even at Australian casinos. Doesn't matter where you are located, if you are playing at a multi-platform online casinos, you will find Betsoft games.
No – Why Not Play?
Payouts on this slot are fairly regular and generally small, indicating a low volatility slot. Conservative players may find this comforting, but those who like to see big numbers when they win might not get enough excitement out of Yak, Yeti and Roll to keep them interested.
Bonus features are somewhat limited on this slot. If you're the type of player that is looking for multiple distinct bonus features, this slot might not be a good fit for you.
Even set on turbo mode, the animations and cascade function can slow things down. If you like to play fast, the repetitive animations could start to get irritating.
Yak, Yeti And Roll Slot Bonus Features
This slot has a somewhat unusual bonus system. There are scatter symbols on the reels, but they do nothing other than triggering a payout outside of the normal pay lines. They do not start free spins or any other bonus function as they do on most video slot machines.
Snowmobile Trail Feature
All bonus features on Yak, Yeti and Roll are based on the so-called "Snowmobile Trail" that appears under the reels. There are 17 different positions on the snowmobile trail and you will advance through those positions each time a cascade occurs. So, for example, if you land a winning combination and then three cascades occur, the snowmobile trail will advance three positions.
Some, but not all, of the positions on the trail will award various prizes. Some award a cash prize, some trigger free spins, and some add payout multipliers, among other things. Getting seven cascades and thus moving up seven positions on the trail will award a cash prize of two times the current stake, a 2x multiplier, a 3x multiplier, and eight free spins.
Altogether, it is possible to get up to 17 cascades from a single win which will award everything the snowmobile trail has to offer including a very generous payout of 200 times your stake.
The snowmobile trail is active during free spins as well as regular spins. It is also possible to retrigger free spins and gain addition spins.
It's important to note that the snowmobile trail resets once any series of cascades stops. So if you land a win and get four cascades, you'll move four positions on the trail and get the corresponding prizes, but on your next spin, the trail starts from the beginning again. In other words, in order for you to win that top prize that comes at the seventeenth position on the trail, you will need to hit a winner and get 17 cascades in a row.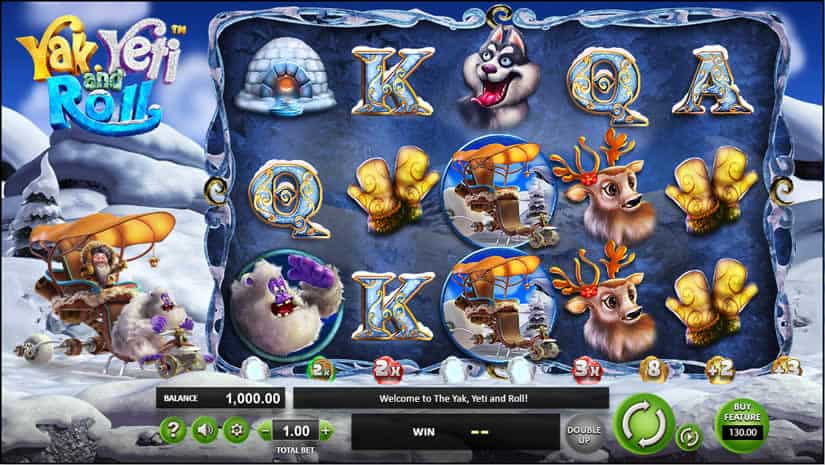 Additional Info
As mentioned previously, you can find Betsoft games at most online casinos. The issue about some of their games is their slightly lower RTP. There's no significant difference between a RTP of 96.03% and another game with 95.93%. Thing is, if you search good enough, you can find online slots with a RTP higher than 97%, and in that case, there is a big difference. You can find them at our RTP page, which we update regularly to offer a summary with the games that provide some margin for you to get started with the right foot.
Yak Yeti And Roll slot is another beautiful game produced by Betsoft, but it seems that beauty comes at a price. I honestly played this game and loved it, but there are players who are looking for edge and better margins to win. If you are that type of casino player, I recommend you to try the following tittles which offer higher RTP:
Cheers and Good Luck!