The Zombie Hoard slot is a Slingshot Studios production, released through Microgaming. The zombies are on the hunt for brains, but in this mind-munching fiesta when the zombies get your brains, you get big rewards. More fun-filled cartoon characters than gruesome harbingers of gore, this Zombie Hoard should prove entertaining for anyone looking for some fresh fun — and some extra cash.
Zombie Hoard is a five-reel, three-row video slot with nine fixed pay lines. Symbols on the reels are divided up into four high-paying symbols, five low-paying symbols, and both scatter and wild symbols. High symbols in the game are our zombies. You'll see a maid, a nurse, a police officer, and a chef, all of whom have gone a bit past their expiration dates. The five low symbols are made up of the playing card values ten through ace.
Very Large Payout Potential
There are some very large potential prizes waiting on this slot, with a maximum payout of up to £107,500 from a single spin. You'll be rewarded with a handsome payout of 133 times your bet if you hit the top paying combination of five wild symbols. The top paying zombie will get you back 55 times your overall bet. Unlike most slots, even if you hit the lowest paying combination possible, you'll still get back more than your initial wager, so you profit on any win. It isn't much, but if you hit three of the 10 symbols the game will kick back 110% of your wager.
Wagering options on the Zombie Hoard slot are very configurable. There are eight preset bet amounts that you can pick from to get going quickly, but if you want more fine control over your choice, you can set both the value of the coins you'd like to play with and how many coins to bet on each line. You can play between one and twenty coins on each line and the coin value can range from £.01 up to £.25. With nine lines to bet on, that makes for a minimum wager of £.09 and a maximum of £45 per spin. You can find this online slot at most UK online casinos.
Play Zombie Hoard Slot at These Casinos
Yes – Why To Play The Zombie Hoard Slot
The return to player (RTP) rate on Zombie Hoard is 95.29%, which gives players great value for the money wagered.
The combination of a good RTP rate and the comparatively low minimum wager makes this slot a good bet for those on a conservative bankroll who want to get the most play time out of their money for the lowest risk.
The overall design of this slot is quite good. Symbols and graphics are fun, and there are multiple ways to trigger the free spins feature, which comes up more often than you'd probably expect.
Try combining the bonus system of this slot with cashable casino bonuses, to maximize your chances of winning big sums!
No – Why Not Play?
The free spin feature comes up often, and it is possible to end up with a lot more free spins than most slots will give you, but it is basically the only bonus feature. For those that like fast, simple play, this could be perfect, but for those who like various bonus features, Zombie Hoard might not make the cut.
The maximum bet on this slot is quite low compared to many others. For those of you who like to play for big numbers, you not be able to get the excitement you're looking for on this one.
The zombie theme on this slot is fun but extremely cartoonish. If you're not a fan of goofy comic book style characters, you might not see anything too attractive about this slot — other than the possibility of big payouts, of course.
Zombie Hoard Slot Bonus Features
As was mentioned above, there aren't a lot of bonus features built into Zombie Hoard. The only real feature, in fact, is free spins. The game does, however, allow you to get up to 30 free spins in one go and they can be triggred in multiple way, which makes things a lot more fun and exciting.
As you are playing Zombie Hoard, there is a counter at the top right corner of the reels that displays how many free spins you have banked. Whenever you spin, there is a chance that an additional free spin will appear attached to one of the low paying symbols that stop on the reels. It's also possible to get more than one per spin. When one of these hits, the counter will go up, as you might have guessed.
The first way to trigger free spins is to land three scatter symbols anywhere on the reels. When that happens, you'll be given the number of free spins that currently appear on the counter. The other way to trigger the free spins feature is to get that counter up to 30 spins. When this happens, you'll automatically trigger the feature and your 30 free games will begin. An added bonus is that all wins during free spins, no matter how they are triggered, pay out with a two times multiplier, and wilds appear super stacked on the reels for even more chances to win.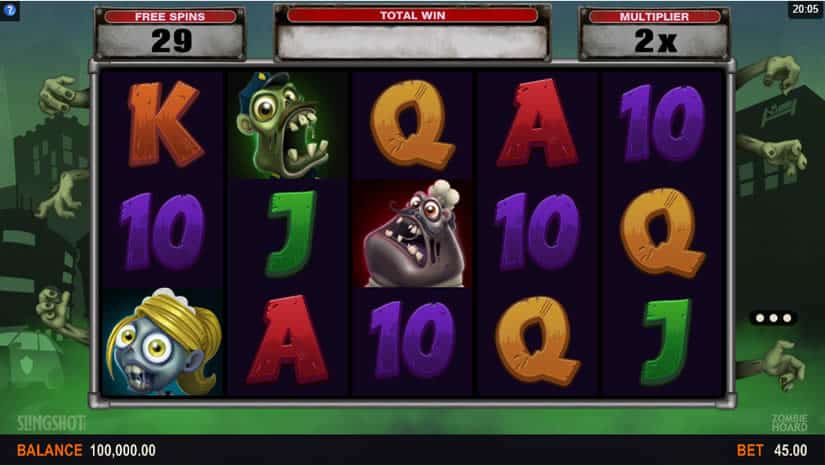 Additional Information
You can play the Zombie Hoard slot from Microgaming at the best UK online casino sites. Check these 3 new online slots for extra fun:
Cheers!