Tired of playing the same slot machines time after time? Check our latest delivery with the best slots to play for November 2018!
We're coming up quickly on the end of the year, but luckily for us, the game designers are showing no sign of slowing down. With all the big holidays just around the corner, there's plenty of new slots to entertain us while we wait for roasting turkeys and hams and maybe even some vegetarian smorgasbords to fill our fat bellies.
In the last few weeks, all of the major online video slot providers have released interesting new titles. We've seen some slots with exciting new concepts and others breathing new life into more classic styles. From outrageous cartoon designs to intricately detailed beauty, we have a bit of everything on our list this month.
To make sure you don't miss a beat — or a big payout — we present for your consideration our list of the best online slots to play for November 2018.
1# NetEnt – Halloween Jack Slot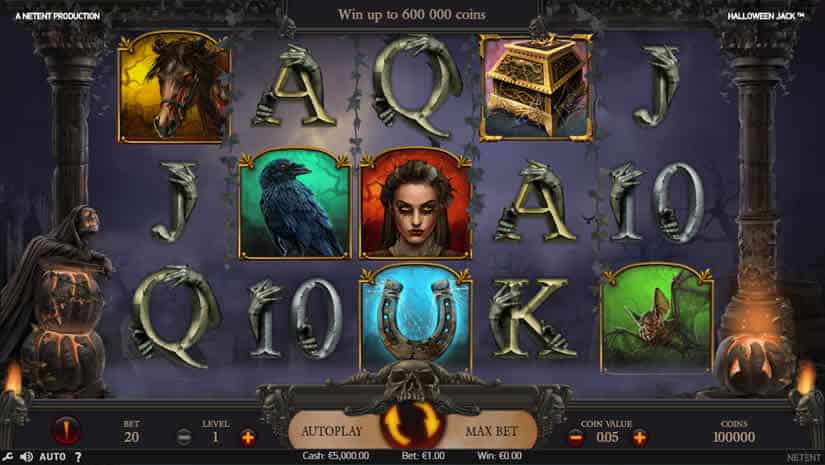 Halloween may have passed, but this slot is surely going to be entertaining players for quite some time to come. No company hits the nail on the head with every release, but NetEnt certainly comes close, and Halloween Jack is one of their best holiday-themed slots yet.
Why It's One Of The Best Slots To Play In November 2018
Halloween Jack sets up a perfectly spooky, creepy atmosphere in every way possible. The audio will send chills up your spine. The symbols on the reels could come straight from a horror movie, and the game even includes a detailed backstory about a girl driven mad by voices she hears coming from a box.
There are plenty of high payouts possible on the Halloween Jack slot as well. Five of a kind symbol wins go as high as 1,000 coins. There's a 100,000 coin maximum win, and when bonus features trigger, single spin payouts can go through the roof. NetEnt has put together a thoroughly entertaining video slot with this one.
Where to play? Best NetEnt Casinos
2# BetSoft – Dragon Kings Slot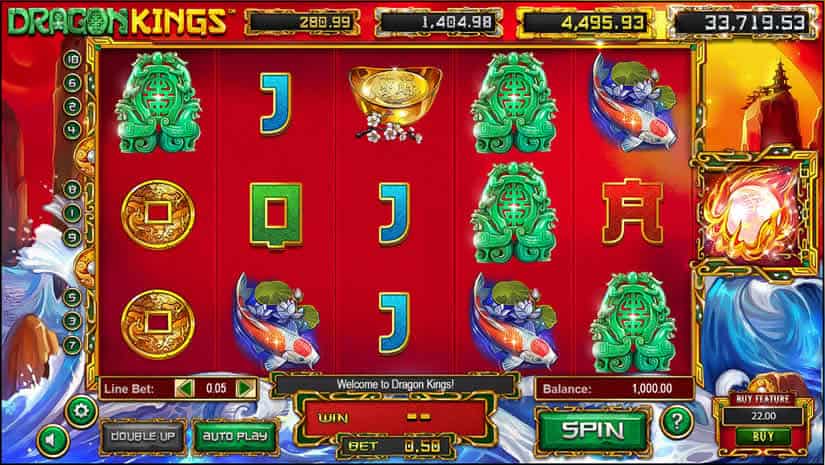 The Dragon Kings slot from BetSoft has a beautiful visual design not seen on many video slots. The slot is based on Chinese mythology, and more specifically, Chinese dragons. It's easy to see that the designers put a lot of effort into getting all of the details they could into the symbols on the reels.
Of course, no matter how pretty a slot looks, it's no good if it doesn't play well. No worries though, Dragon Kings hits the mark there too. There are some big bonus opportunities and exciting gameplay built into this one.
Why It's One Of the Best Slots To Play In November 2018
There are several different bonus features that can change the outcome of spin results for the better. For example, five different dragon symbols in the game, each of which has its own special effect on the reels to increase payouts, some by as much as 500 times. There is also a special sixth reel that can combine with the dragon symbols to trigger one of four huge jackpots.
Dragon Kings shows a high volatility, but the exciting gameplay and chances at colossal payouts make it worth spinning. This slot is sure to be a player pleaser, especially among those who prefer Asian themed games.
Where to play? Best Betsoft Casinos
3# iSoftBet – The Dalai Panda Slot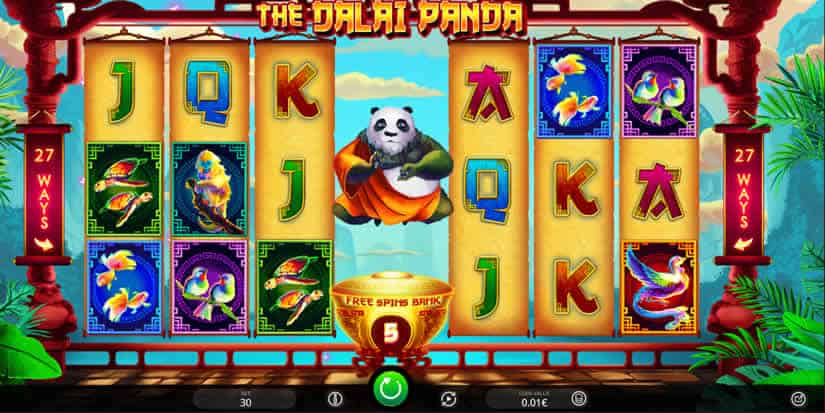 The crew at iSoftBet show a lot of creativity with the release of The Dalai Panda slot. It has both an unusual theme and some out of the ordinary game mechanics. The overall design is bright and colorful, but tranquil and relaxing. That's not to say there's no excitement in the game, however. There's plenty going on that will make your heart skip a beat or two.
Why It's One Of The Best Slots To Play In November 2018
The Dalai Panda incorporates some unique gameplay features that really make it stand out from anything released recently. The game starts with two separate three-reel, three-row sets of reels which can be combined to form a six by three format when certain features are triggered. Each of the two sets of reels plays with 27 ways to win rather than pay lines. When combined into six reels, there are 729 ways to win.
Bonus features can combine to really help players rack up large payouts. In addition to several different types of wild symbols to add a boost, it's possible to win more than 50 free spins at one time.
Where to play? Best iSoftBet Casinos
4# Yggdrasil – Hanzo's Dojo Slot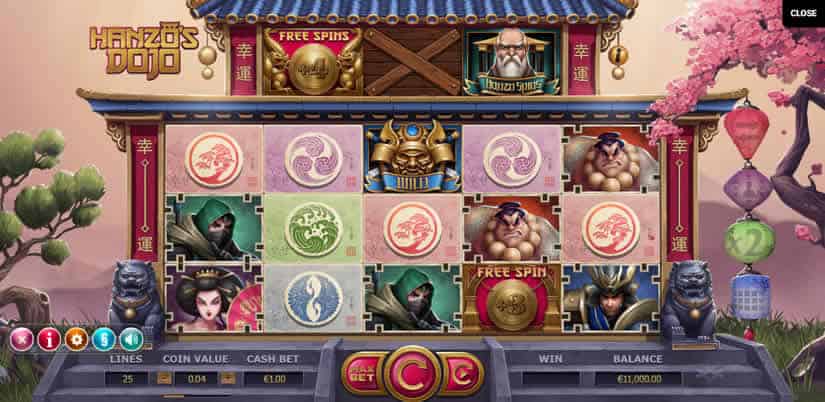 The Hanzo's Dojo slot is another in a long line of slots from Yggdrasil to feature awesome sound, graphics and animations. It's themed around the Japanese martial arts and features symbols such as ninjas, samurai warriors and sumo wrestlers. For those who like Asian themed slots, as well as slots with bonus reels, this one should be right up your alley.
Why It's One Of The Best Slots To Play In November 2018
To start, this one has a very low minimum buy-in of £.10, which is unusual for a 25 pay line slot, so it's accessible to even the most conservative gambler. Then you have the special "rooftop reels" that can combine with the base game reels to create free spins, stacked wilds, and big payouts all around.
Free spins also have a few bonus features all their own, like huge 3×3 block symbols spinning on the centre reels. When a free spin symbol from the rooftop reels is involved in the triggering spin, any one of five other different bonus features is added to the free spins as well.
Where to play? Best Yggdrasil Casinos
5# Microgaming – Lucha Legends
It's been done before, of course, but you know that when you see a game based on the wacky world of Lucha Libre it's going to be fun. The luchadores that grace the reels on this slot are all well-drawn cartoon characters, each with their own distinct personality and signature move. Lucha Legends is a well done, colourful and entertaining slot by Microgaming.
Why It's One Of The Best Slots To Play In November 2018
The Lucha Libre theme on this slot is executed extremely well. The characters are bright, colourful and a lot of fun to watch when they pop out to deal you some bonus winnings.
This slot is also a low volatility slot which should make just about anyone feel comfortable playing. You'll see pretty consistent wins and the bonus features trigger regularly. The trade off for that is that wins aren't going to be huge, but still, there is a maximum possible payout on this machine of £165,500. They may not come up often, but there are certainly some big prizes to be won on Lucha Legends.
Where to play? Best Microgaming Casinos
Check Back Next Month For The Best Slots To Play In December 2018
That's it for this month's list of the best new slots to be looking for at your favourite online casino. Don't forget to check back next month when we'll evaluate more of the newest slot releases and point you towards the best of the best. You can find most of this slot tittles at the best UK online casinos and also at our recommended Australian casino sites.
Until then,
Cheers and good luck!