Our new delivery with the best slots to play in June 2019 is here!
Like a never-ending fountain of fun, online video slot machine developers around the world continue to grace us with new games as they try to outdo one another. It has been a very productive month with several brilliant releases from some of the top designers. Big payouts, fresh new themes, and plenty of adrenaline pumping excitement are waiting at your favourite online casinos.
Let's dive in and take a look at the hottest new releases and the best slots to play in June 2019.
1# NetEnt – Narcos Slot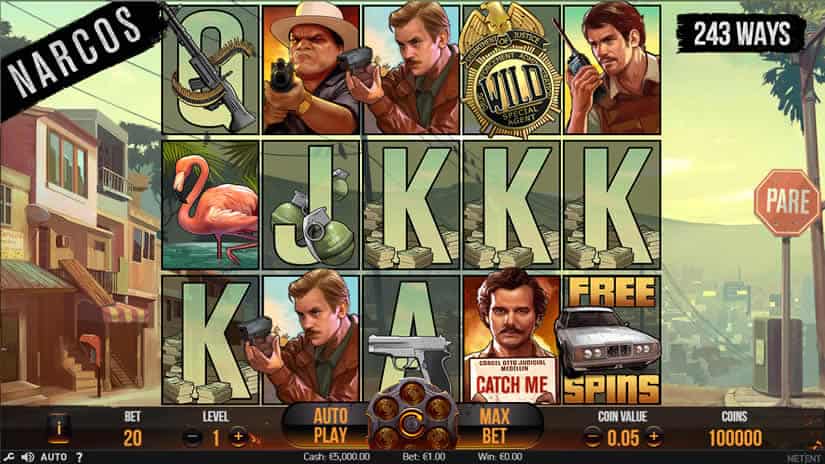 Based on the popular series about the famous Medellin drug cartels led by the infamous Pablo Escobar, the Narcos slot from NetEnt offers up solid entertainment whether you are a fan of the series or not. You'll see many of the characters from the show on the reels as you play along with weapons, planes, and some excellent graphics and effects.
Why It's One Of The Best Slots To Play In June 2019
The Narcos slot is a five-reel, three-row slot from NetEnt that uses the 243 ways to win payout scheme. It's rated as a medium-high volatility slot, which should provide a good amount of excitement for most players without excessively long cold streaks between wins. There's also a very respectable return to player (RTP) rate of 96.23%.
There are several bonus features including free spins, walking wilds, and the two special features, "Drive By" and "Locked Up". Features can mix and combine with each other to create wins that will light up your eyes. Bet anywhere from £.20 up to £400 per spin to try your luck at seeing all of them.
Where to Play? Top 3 NetEnt Casinos
2# Play'n Go – Perfect Gems Slot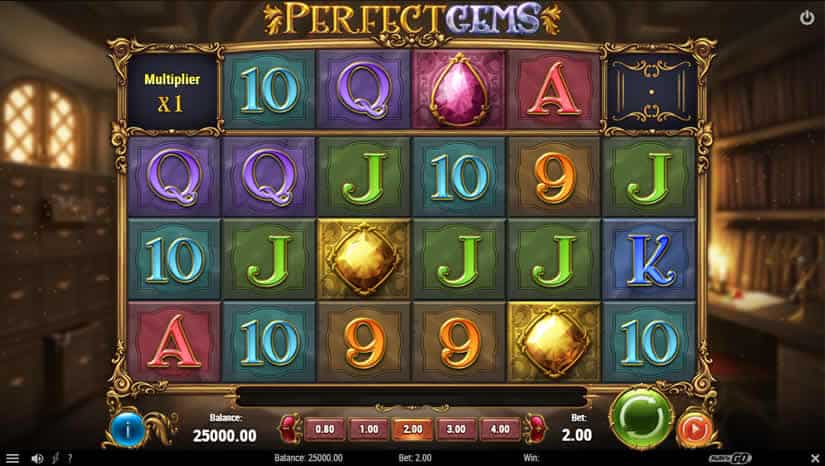 Play'n Go has stepped away from the type of designs they are best known for and created a spectacularly entertaining game that's full of big payouts, bonus features, and literally thousands of ways to win on any spin. This high-definition, brilliantly coloured video slot is sure to become a player favourite among the Play'n Go catalogue.
Why It's One Of The Best Slots To Play In June 2019
There are plenty of reasons to like the Perfect Gems video slot. The visual design is nearly perfect with crisp, clear symbols that will show up well on any screen. The theme is colourful but soft enough to avoid discomfort to the eyes. Payout possibilities, game mechanics, and bonus features make this one of the most interesting slots to be released in recent months.
Perfect Gems has six reels plus a special horizontal reel with four symbols along the top. Reels one and six are fixed at three rows, while other reels will vary with each spin. The middle reels can stop with anywhere from three to seven symbols on each. It's possible to generate up to 21,609 ways to win on any spin.
Bonus features include cascading symbols on any winning spin with a multiplier that increases by one for each cascade. You can also win up to 27 free spins where the cascade multiplier and additional free spin possibilities are both unlimited.
Where to Play? Top 3 Play'N GO Casinos
3# Microgaming – Dragon Shard Slot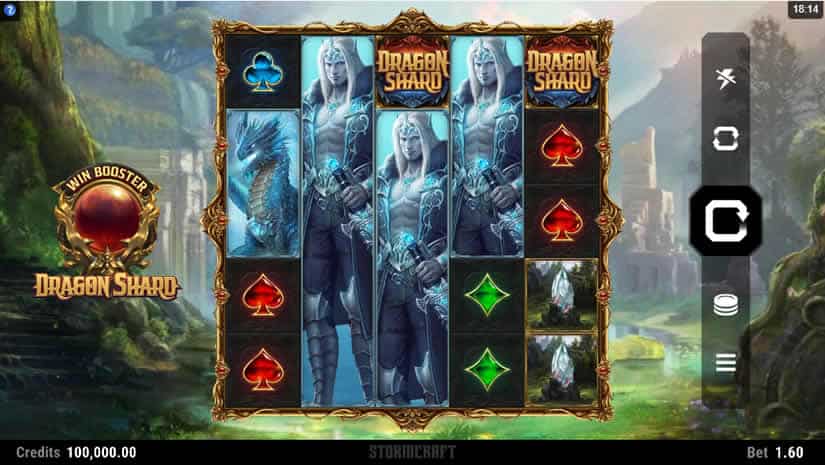 Microgaming and Stormcraft Studios teamed up to bring the Dragon Shard slot to life. With detailed graphics reminiscent of fantasy adventure games, this one is sure to be attractive to players on many different levels. The visual design is beautiful and this is anything but just another online slot released to pad the length of their portfolio.
Why It's One Of The Best Slots To Play In June 2019
The Dragon Shard slot uses the somewhat uncommon layout of five reels with five rows and allows for winning combinations on 40 fixed pay lines. The RTP rate is 96.44%, which gives great value for the money spent on the game. Microgaming doesn't publish the volatility levels of their games, but this one appears to be high.
A unique feature of this game is the Win Booster feature which will let you double bet in exchange for pay line wins paying out both ways and adding some tweaks to how the wild and mystery symbols work. There are also stacked symbols, free spins, and more bonus features that will get your muscles twitching as you play.
Where to Play? Top 3 Microgaming Casinos
4# NextGen – Medusa Megaways Slot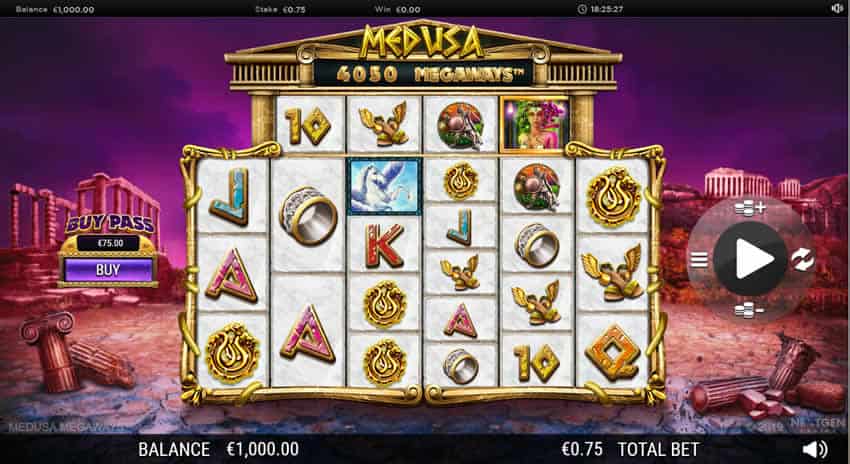 Based on the mythical creature crowned with serpents, so horrible to look at that she could turn men to stone with a single look, the Medusa Megaways slot  from Nextgen presents opportunities for wins of epic proportions. This slot is packed with bonus features and shows off one of the most unique themes to come along for quite some time.
Why It's One Of The Best Slots To Play In June 2019
Medusa Megaways has six vertical reels, one horizontal reel, and an independently variable number of symbols on each of the vertical reels. Huge wins are possible as the reels spin and can create up to 117,649 ways to win on any wager. In addition to a win, there are also cascading symbols that will fall to give the chance for additional rewards every time you win—with no limit.
There are four separate bonus features on this slot that can bring in colossal wins when they hit in the right combinations. You can play for as little as £.25 per spin or as much as £25. On top of the generous bonuses and more than 100,000 ways to win, there is also a gamble feature that will allow you to take chances with any winning spin to increase your winnings even more.
Where to Play? Top 3 Nextgen Casinos
5# Play'n Go – Game Of Gladiators Slot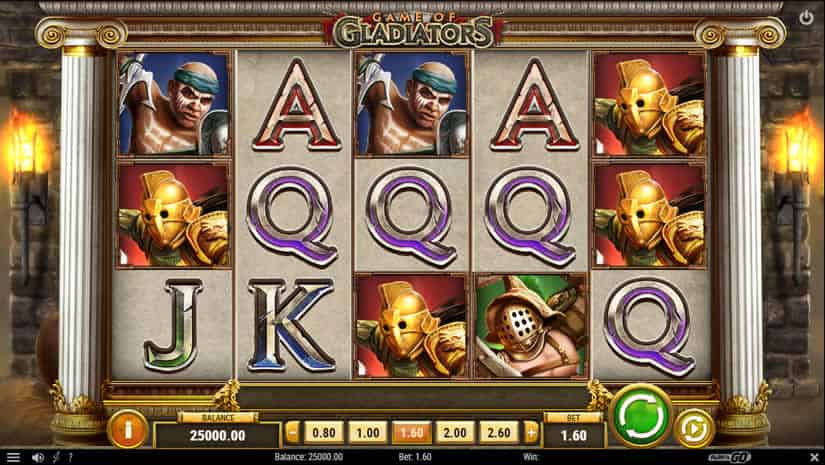 Game of Gladiators shows off a perfectly executed Roman gladiator theme full of crisp, high-definition graphics and fearsome animations. There are tons of bonus features, multipliers up to 20x and possibilities of winning up to 5000 times of your bet. If you think you have what it takes to make it through the massive battles, you might just walk away with the spoils of victory.
Why It's One Of The Best Slots To Play In June 20199
This is a five-reel, three-row slot with plenty of action. It has a 96% return to player rate – RTP and a maximum payout of £500,000. The bonus features of the game are very unique and make for some intense action and nail-biting anticipation as you go for the biggest prizes the game has to offer.
Bet between £.20 and £100 as you spin the reels and try to cash in on all the bonuses. You'll choose your champion, enter the arena, and do battle to the death with fierce beasts. Take advantage of three different types of attacks and expanding wilds that will put more force behind your thrashing blows. Only one will be left standing at the end, and if it's you, you will take home the glory and the gold!
Where to Play? Top 3 Play'N GO Casinos
And that, my friends, is our list of the top slots to play in June 2019. Look for these hot new releases at your favourite online casino or consult our listings to find out where you can play them if your regular casino doesn't carry the games you're looking for. Remember that all slots published in our website come from the best software providers and you can find them at most UK online  casinos, including casino sites offering fast payouts. Until next time!
Cheers and good luck!