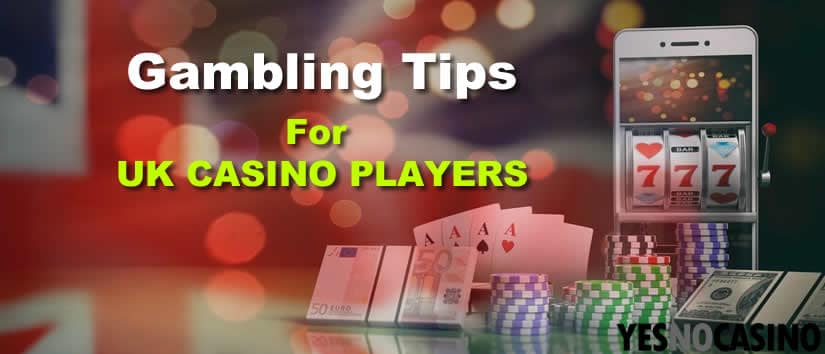 Gamblers in the United Kingdom are a special group. You have what just might be the most advantageous online gambling situation in the world. The UK is both very open to online casinos and extremely protective of the players.
An online gambler in the UK gets the best variety of games, the freedom to choose from a seemingly endless list of online casinos, and the best governmental protection and security on the planet. You really can't do much better than that.
In fact, the biggest problem for most online gamblers in the UK is simply making the right decisions. With so much to choose from, it's downright difficult to know whether or not you're getting what's really best for you when you decide to play at a casino. Everyone has their own style when it comes to gambling and there is no one casino that fits them all.
Here are some of our best tips for finding not just a good gambling outlet online but for finding the absolute best online casino for you. When you sit down to get your game on—and especially when you're gaming with your own hard-earned cash—you deserve the best gambling experience you can possibly find.
But before we get into the details, here you can find the most reputable UK friendly online casinos:
Top 5 Most Reputable UK Casinos Online
Understand Your Own Gambling Style
Before you go looking for a good site to make a deposit and start playing, you need to understand yourself, how you play, and what type of casino site is going to work best with that playing style. Ask yourself a few questions to be sure you understand the type of experience you're really looking for.
Do you like to play regularly or just on occasion?
Do you prefer slots, table games or a good mix of both?
Are you a conservative gambler or do you like big bets?
Are bonuses and VIP rewards important to you?
Do you move money in and out of your account frequently?
Every casino will have its pros and cons but it will be easier to decide what's really a pro and what's really a con when you have a clear picture of what you want from an online gambling site. Keep your answers to the questions above in mind as you look over the rest of the tips on our list.
Look For Sites Licensed By The UKGC
One of the greatest benefits to UK players is the fact that the UK issues its own online gambling licenses through the United Kingdom Gambling Commission. This provides an extra level of protection that players in other countries around the world don't enjoy.
If you're playing at a site that is licensed by the UKGC, as a UK citizen you know that you'll have some sort of recourse if anything should go wrong. Most other players around the world can look for licensed operators, but the licenses don't come from their own country and really don't provide the players with any legal avenue to get help if they have a dispute with a casino. The license serves more as a reputation voucher than anything else in that case.
Not only does a UKGC license help keep you safe as a citizen of the UK, but it is considered to be one of the most respected, if not the most respected online gambling license available. UKGC regulations are strict and they don't grant licenses to just anyone. Both players and industry insiders look to sites that hold a UKGC license as the most reputable and trustworthy in the industry.
Register For A Free Account And Look Around
There are a few reasons that you should take a moment to register for a free account on any casino that you might be considering. Not the least of which is that the latest UKGC regulations require licensed casinos to verify that a player is over 18 years of age before allowing them to play any game, even for play money. If you don't register for an account, you won't be able to sample any of the games.
Registering for an account will also let you get "inside" the casino and see how everything works. Some sites look wonderful from the front page but prove to be clunky and difficult to use when you get inside. Others may simply not have what they claim to have. It is, unfortunately, quite common to see sites bragging about their vast selection of games on the front page only to find that their catalogue is anything but large after signing up.
Check Available Payment And Banking Options
Most online casinos available to UK players will have more or less the same banking options available, but you should still take a moment to check. Never assume that the method you want to use will automatically be available.
You should also take care to check on options for both casino deposits and withdrawals. Some payment methods can be used for one but not the other while some methods can be used for both. You'll want to make sure that you can get money on and off the site easily. If you find a problem after you make a deposit, it's too late.
Check Deposit And Withdrawal Process Times And Limits
Each casino will have its own policies regarding how they process deposits and withdrawals as well as how much money you can deposit or withdraw at one time. This is most definitely information that you will want to be aware of before you initiate a deposit.
It's important to check the details and make sure you understand how transactions will work. Most casinos will credit deposits instantly, but may, for example, claim cashouts to online wallets are instant, but only after the withdrawal has been manually approved, which could take 24-48 hours. Take a few moments to read the small print and make sure that you understand everything. Fast paying online casinos are more than welcome!
Withdrawal Limits
Different casinos will also have different limits on how much money you can move on or off the site at one time. Maximum deposits are generally easy to understand, but maximum withdrawals can be tricky sometimes.
Some sites will have more than one maximum withdrawal limit where one can override another. For example, you might see a limit of £1000 per week, then a limit of £3000 per month, and perhaps another of £15,000 every six months.
If you were to look at the weekly limit you might think you could take out £24,000 within six months. The real limit over that time period, however, would obviously be much lower. If you plan to move money around somewhat frequently, you should make sure you completely understand how the deposit and casino withdrawal limits will work. Some site may also limit the number of transactions you can initiate in a certain period of time, regardless of the monetary amount.
Check Out Gaming Partners And Suppliers
It's definitely not easy to get a look at all the games a casino has to offer in just a few minutes. Some have well over one or two thousand. A quick way to see if an online casino has anything unique to offer, however, is to check on who designs and supplies their games.
All casinos have a game search function and many will let you search by the game provider. Use that to your advantage and take a peek at who their providers are and how many they work with.
There are some game providers that you will see absolutely everywhere, but there are others that are smaller or have exclusive deals that you won't see on every site. Finding casinos that work with some of the lesser-known providers as well as the big, well-known companies can give you access to a much better selection of games. Also, multiplatform casinos always have many software providers to choose from.
Look For Cashable Bonuses
Many players don't realize that there are two completely different types of bonuses that casinos issue. There are what are called cashable and non-cashable bonuses. Here's what they are and how to tell the difference.
The majority of bonus offers you see are what are known as "sticky" or non-cashable bonuses. With these bonus offers, the casino adds a certain amount to your balance as a bonus and allows you to play with it as if it were real money. Once you've played through all the bonus money and met any wagering requirements, this type of bonus will only let you withdraw any winnings you've accumulated. The original bonus amount goes back to—it sticks with—the casino.
Cashable casino bonus offers are just the opposite. With a cashable offer, the casino will add an amount to your balance and let you gamble with it, but when all the bonus terms have been met you can withdraw any winnings you've accumulated plus the original bonus amount. This, obviously, can add significantly to the amount you're going to walk away with if you win.
Of course, most casinos don't list their bonuses as "cashable" or "non-cashable" or "sticky". You'll need to read through the bonus terms to see how the payouts work and what type of bonus the casino is actually offering you.
Research VIP Programs
Almost all casinos have VIP or loyalty programs of some kind. For many players, it's almost an afterthought, but a good VIP reward program can add substantial value to your bankroll and gaming time.
Different types of casino reward programs will be more or less beneficial to different playing styles. A reward program that simply gives you points and lets you trade them for bonuses, for example, might be good for a casual player who likes to play a few times a month and doesn't gamble with a lot of money.
On the other hand, a tiered reward program that gives larger rewards for higher play volume is more beneficial to someone who likes to play every day and has the bankroll to maintain that level of play for extended periods of time.
Then, high rollers who like to take big risks would get the most out of a casino VIP program that will reward them right away for their big wager style and regular play. You might look out for exclusive bonuses, cashback offers, or access to special games or tournaments.
Check Game RTP And Volatility Ratings
Return To Player Rates
All casino games have what is known as a return to player (RTP) rate. This rate is expressed as a percentage and indicates how much of the overall wagers made on a game will be returned to players as winnings.
For example, a fairly common RTP rate for online slot machines is about 96%. This means that over the long-term this slot will return 96% of the money wagered on spins back to players as winnings.
This doesn't mean that if you play 100 spins betting £1 on each one that you'll end up with £96 at the end. You may end up with £96, but you'll most likely have either more or less in your balance when the 100 spins are done. The more you play over a long period of time, however, the closer you will get to seeing a return of 96% of the money you wager.
Publishing or Not Publishing RTP?
Not all game developers publish the RTP rate of their games, but many do. Our site has listings of the RTP rates for many popular online slot machines. You can also try looking through the help files provided with the slot games themselves. Several manufacturers will include the RTP rate at the end of the payout table or at the end of the help or game rules page.
You can also figure out the RTP for table games like Blackjack and Roulette by simply inverting the known house edge on those games. For example, most online Blackjack games have a house edge of 1%-2% if you play with a perfect basic strategy. That would make the long-term RTP rate about 98%.
Volatility Levels
Online slots also have what we call a volatility level. Volatility is used to describe how much and how often a slot pays out. A slot with low volatility will pay out more often but in lower amounts. You may win on every three out of five spins, but the prizes will be small. Slots with high volatility pay out less often but pay larger prizes. You may also hit long streaks with nothing and then win big several times within a small number of spins.
There are a few game designers that publish the volatility levels of their slots, but the majority don't. You can generally figure out the volatility yourself, however, by looking over the paytable of a slot and perhaps making a few spins. If prizes on the paytable are very high, you can be pretty sure that the volatility level is also pretty high. The opposite is also true. If prizes are fairly low for four or five-of-a-kind matches, the volatility of the slot is most likely going to be low too.
Most players will likely prefer slots that fall somewhere in the middle of low and high volatility. Conservative gamblers are generally more comfortable with those on the lower end of the spectrum while high rollers often look for the excitement of the wild ups and downs that come with high volatility games.
Look For Regular Returning Player Bonuses And Events
We mentioned VIP and loyalty programs above, but there's another way online casinos offer benefits to returning players. Many sites offer regular reload bonuses, such as a 50% deposit match for all deposits made on a certain day of the week. Others will have regular events such as slot tournaments or sweepstakes.
These types of perks can add up to both extra excitement and extra money in your bankroll. Anything that gives you a chance to win more or score a bonus for just doing what you'd normally do is pure added value.