The Battle Royal slot is a fun and exciting new video slot release from Play'n Go. It's a very well done slot all around with bright & clear colours. You will also find interesting characters, great sound, and plenty of fun animations. The gameplay is well designed and there are also some exciting and out of the ordinary bonus features that are sure to keep you interested.
Many people tend to associate the term "Battle Royal" with professional wrestling, but that's not what this slot is about at all. The "royal" in the title of this slot is referring to King Henry VIII. Everything you'll see on the reels in this game, including some guillotines, is based on ol' King Henry and his numerous wives.
Battle Royal is a 20 fixed pay line slot with five reels and three rows and three rows of quick spinning action. Among the symbols on the slots you will see, King Henry, of course, who acts as the game's wild symbol. Six of Henry's wives — in both living and ghost forms — and jewels shaped in each of the four playing card suits, plus two shields that are the scatter symbols. The royal wives, as you might have guessed, serve as the high-paying symbols on this slot while the playing card suits are the low-paying. There are also a few bonus features that have interesting ways of playing out that you surely won't expect.
Placing bets, as with all recent Play'n Go releases, is very simple and straightforward. The player is given several options along the bottom of the screen to choose from, ranging from a minimum bet of £.20 per spin up to a maximum of £100.00. Just pick the amount you're comfortable with and you'll be ready to play.
Recommended Play'N GO Casinos
Yes – Why To Play The Battle Royal Slot
Battle Royal includes some very well done bonus features that use unique implementation and really add to the enjoyment of this slot.
You're going to need some considerable luck to hit it, but there is a top prize of £500,000 for those of you who want big rewards to chase after.
The long-term return to player (RTP) rate on the Battle Royal slot is 96%, which gives great value for money spent on the game.
No – Why Not Play?
As we eluded to above, some of the bonus features on this game involve guillotines and are based on King Henry's habit of beheading his ex-wives. There is nothing horror movie style gory or anything like that, but still, some players may find this subject matter a bit gruesome or distasteful.
Battle Royal is a high volatility slot, which can be a turn-off for more conservative players. If you don't have the bankroll — or the stomach — to endure sometimes large peaks and valleys in your win rate, this might not be the video slot for you.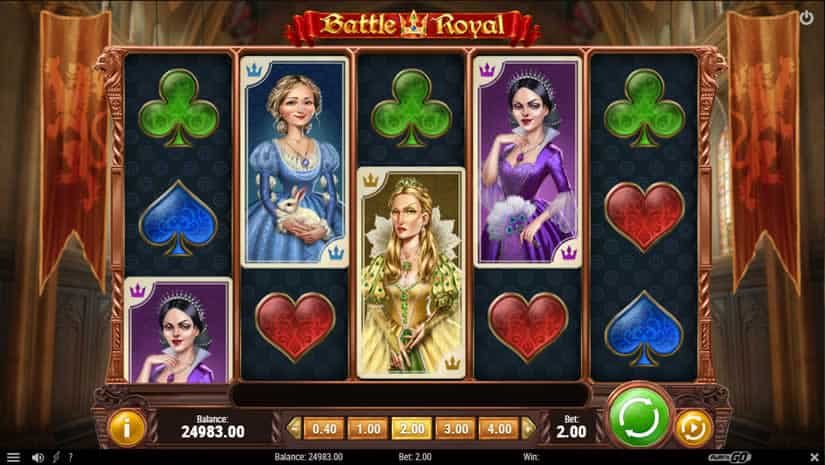 Battle Royal Slot Bonus Features
Aside from King Henry being wild, there are three bonus features in Battle Royal. Two depends on the scatter symbols, one is interactive, and one is completely random and can trigger at any time. Let's take a look at how you can boost your bottom line on your way to that maximum win of 5,000 times your bet.
Royal Flush
The most simple of the three bonus features is called the Royal Flush. This one triggers at random at the end of any spin. When it goes off, all playing card symbols on the reels will become the same symbol.
Scatter Symbols
The two remaining bonus features are triggered when two scatter symbols land. Scatters can stop on reel one and reel five. When this happens the scatter symbols will move off the reels into the foreground and the player will be asked to choose one of the two. One choice will award free spins, the other will start the "Long Live The King" feature.
Free Spins
For free spins, a guillotine will appear over each of the reels and one will randomly drop after each spin. If one of Henry's wives symbols is visible on that reel, she will be beheaded, turned into a ghost, and become a wild symbol for remaining free spins. The free spins will continue until all wives have been beheaded and only one remains. If you can make a couple of correct predictions here, you can earn some bonus money too.
The Long Live The King bonus puts Henry in a room with six chests full of treasure and his ghostly wives taunting him. Pick a chest to find monetary rewards or the key that will set Henry free. Be careful though, each time you choose, one of his wives' ghosts will appear and if they catch Henry before he gets out, the round is over.
Additional Information
You can find Play'n Go Slots at most European brands, including UK online casinos but also Australian casino sites. If you are located in USA, you should search for RIVAL, Betsoft and RTG slots, since these ones are not available. I personally don't like the theme on this slot, but Play'N Go has many interesting tittles that I would like to recommend:
Cheers and Good luck!