The Holy Diver Slot from BigTime Gaming shows off this veteran game designer's drive to innovate and push the boundaries of exactly what an online video slot machine can be. Perhaps the first thing we should get out of the way is that although this slot includes the song of the same name by Ronnie James Dio, it's not the heavy metal adventure you might expect. Bringing something like an RPG element to slots, this game is about collecting gems, leveling up, and, of course, scoring big payouts.
Holy Diver is a six-reel slot with a varying number of rows on each reel. The reels can have anywhere from two to seven symbols on them and each reel is independent of the others. That is, reel one could have five symbols while reel two has three and reel three shows seven, etc. This slot also uses BTG's patented Megaways payout system which they have once again pushed to the outer limits. It's possible to end up with a mind-melting 586,971 possible ways to win.
Symbols and Payouts
There are ten symbols on the reels plus a wild symbol. The highest paying symbols are four gemstones, with the most valuable paying out 15 times your bet for six of a kind. The remaining six symbols are made up of playing card values from nine through ace. 15 times your bet might not sound like much, but with so many ways to win and the unique bonus features on this slot, the possibility for sky-high payouts is definitely there.
Placing your bets on the Holy Diver slot is a very simple process. There are 18 preset amounts you can choose from that range from £.10 up to £20. All you have to do is select the amount you'd like to bet on each spin and you're ready to go.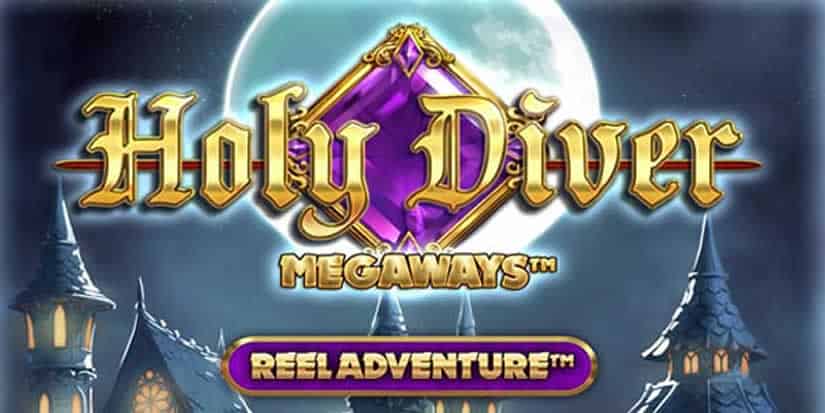 Play Holy Diver Slot at This Casinos
Yes – Why To Play The Holy Diver Slot
The constantly changing playfield on this slot makes it a very entertaining game to play. Just about everything that can change does change with every single spin.
The "Reel Adventure" portion of the game adds something that doesn't exist on any other video slot. Each time you spin the reels your character will advance, and as he does, it brings new changes and benefits to the results you'll get from your spins.
The bonus features on Holy Diver can create some jaw-dropping numbers for both your possibilities for winning and the payouts you can receive. BTG is really pushing hard to stand out from the crowd as they improve on their own Megaways system.
The return to player (RTP) of this slot is 96.54%, considered to be very good.
You can find this slot and other tittles from BTG at most UK online casinos, and other brands throughout Europe.
No – Why Not Play?
For the novice slot player, Holy Diver could certainly be a bit overwhelming and confusing. With the Megaways payout system and the addition of the Reel Adventure character gaining levels and changing payouts and all that, this game definitely takes a few spins to fully understand how it works.
For high roller players — or even what you might call medium rollers — the maximum bet on this slot might not hit the numbers you're looking for to get your excitement. £20 per spin is pretty low compared to most other slots that go up to at least £100.
Although the play of the slot itself is interesting, getting to free spins or a new level for your character seems to take a lot of spins. Small payouts come along pretty often, but hitting the bonus features seems to be a fairly rare occurrence.
Holy Diver Slot Bonus Features
The bonus features on Holy Diver are exciting and unique, but they can be a little bit confusing at first. Don't worry though, once you've played a few spins you should be able to understand how everything works.
The basic idea is that all of the bonus features are triggered by various events that happen to your character at the bottom of the screen as you spin the reels and move him through his adventure. He will walk along as you spin and open chests that he encounters along the way. The number of steps he takes on each spin will vary, so you may go four or five spins before a new chest opens or you might get two in a row. Either way, the contents of each chest will help your chances of hitting big prizes in various ways.
Opening Chests
One of four possible prizes will come out of each chest opened. If one of the reel symbols comes out of the chest, that symbol will become wild wherever it appears on reels two through five for that spin. The sword bonus will turn entire reels wild, up to three at a time, plus add a win multiplier of up to seven times. The fireball bonus will add up to four wild symbols to the reels on the current spin. Finally, if one or more gem symbols come from the chest, those symbols will become wild on the reels and they will be collected towards raising your Reel Adventure level.
Shield of Fortune
To the left of the reels, you will see the shield of fortune, which contains a place for each of the four gem types. When gems are revealed they will take their place on the shield. Collecting all four gems will allow you to either level up, or exchange them for a round of free spins.
Free Spins
When free spins are triggered, you'll be given 10 spins to start. Every gem that lands on reels two through five during free spins will become wild, plus if you are level two or level three there will be a two times or three times win multiplier respectively.
While the free spins are going on, our hero will run along his path on the bottom collecting diamonds. The first four diamonds he picks up will award one extra spin each while the fifth diamond will grant eight more spins plus a retrigger. When the retrigger occurs, the minimum number of symbols that land on the reels increases which, in turn, increases the minimum number of ways to win. The first retrigger will set a minimum of four symbols on each reel. The second will push it up to six, and any addition retrigger will cause all reels to play with all seven rows.
The maximum ways to win also increases with each level. At level one, you can have up to 117,649 ways to win. At level two that number goes up to 396,900. And at level three you can hit the maximum of 586,971 ways to win.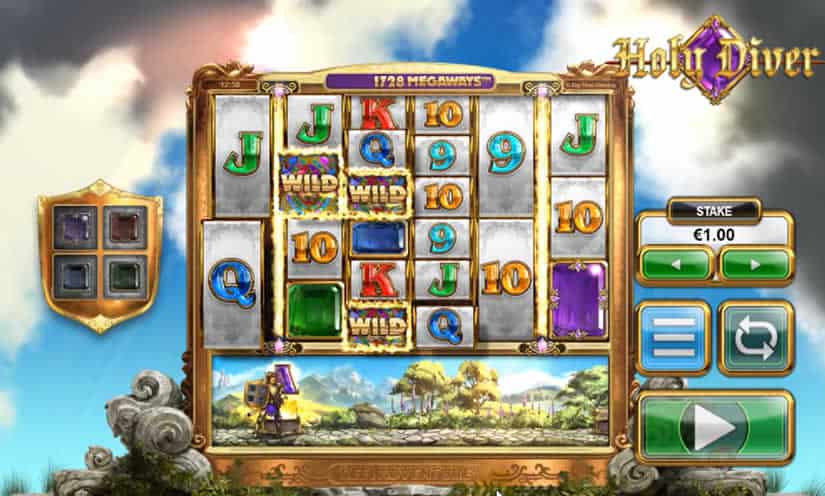 Final Thoughts
First of all, this new online slot could potentially bring huge payouts. That can't be denied. But to be honest, I feel like the graphics in the Holy Diver slot could be nicer. There are many players who won't mind, but for the ones who do, here are 3 slots with amazing graphics and good RTP:
To make the max out of your online casino experience, remember to go for casinos offering fast payouts and if you are planning to take some bonuses, always choose cashable casino bonuses.
Cheers and Enjoy!