The Scudamore's Super Stakes slot is brought to us by the hard-working team at NetEnt. In a fun and interesting twist, this slot is one form of gambling based on another. This NetEnt release is themed around horse racing. Those of you who like to play the ponies, as well as spin the reels, should really enjoy this game and its unique features. It's the perfect mix of an afternoon on the slots and a day at the races. You can find NetEnt slots at UK online casinos and other brands catering to European players.
Scudamore's Super Stakes is a five-reel, three-row slot but the reels will expand to four rows during the free spin feature. There are four high paying symbols and four low paying symbols plus wild and scatter symbols on the reels. The highest paying combination you can hit in the base game is five wild symbols. They will give you 1000 times the line bet in coins — 1000 coins for 1 coin bet, 2000 coins for 2 coins bet, etc. The lowest paying combination is three jacks which will return five times the coins bet on the pay line.
Wagering and Payouts
In the regular game, with three rows on the reels, all bets are played on 20 fixed pay lines. When the free spins feature is active and the reels expand to four rows, there are 32 pay lines. There is also a side bet and, of course, some other features that will help boost your winnings from time to time.
Setting up your wager on this slot requires you to select a value for each coin and the number of coins you'd like to bet on each line. The coin value can range from £.01 up to £1.00 and you can bet from one to ten coins on each pay line. That makes for a minimum wager of £.10 per spin with a maximum of £100.
Top Rated NetEnt Online Casinos
Yes – Why To Play The Scudamore's Super Stakes Slot
For any fans of horse racing, this slot is an absolute winner. The theme is beautifully designed and shows off everything from the emerald green grass in the centre of the track to the thoroughbred horses and their daring riders.
The bonus features in this game once again show off the creativity of the NetEnt team wonderfully. They've incorporated several of the fun and unique characteristics of horse racing into the bonus system perfectly, really bringing the theme to life.
If you hit the right features and make the right picks, it's possible to win over 5,000 times your bet from a single spin. There are some big prizes waiting to be won here.
The return to player (RTP) of this slot is 96.11% which can be considered good.
No – Why Not Play?
For those who don't like horse racing, this slot might not be so attractive. Still, however, the high possible prizes might be worth staying and playing.
Scudamore's Super Stakes has a good range of betting options but it might not go high enough for casino high rollers who are looking to make big bets.
The system of setting coin value and bet level plus having the paytable and post-spin payouts shown as a number of coins can get really confusing when you just want to know how much actual money is coming in or going out. This is a standard part of NetEnt games that should really be simplified to make things easier for novice players.
Scudamore's Super Stakes Slot Bonus Features
In addition to your standard wild symbols, this slot has some fun and interesting bonus features that add a lot of enjoyment to the game as well as some extra coins to your winnings.
Horseshoes Feature
First, during regular spins, there is a random chance that two to five horseshoes will appear over the reels and change the symbols underneath them into wild symbols when the reels stop spinning. This can lead to some happy wins, but the real money is in the free spins.
Scatter Symbols
If you land three scatter symbols at one time, you'll be taken to the free spins feature, called Peter's Classic Cup. When this feature is activated, the reels will expand to four rows and the pay lines will increase from 20 to 32. In addition, the horses on the reels will come alive and race on the bottom of the screen as the free spins go on.
Horse Race Feature
Before the free spins start, you'll be asked to pick which horse you think will win the race for a chance to win up to 5,000 times your bet if you are correct. During the spins, any win made with the corresponding symbol for your horse will cause him to move one place further ahead in the race. The first horse to advance four times will win the race and take the prize. Don't worry though, even if your horse doesn't place first, you still get paid for all of the regular symbol wins you rack up during the free spins.
Bet Slip
Finally, there is a side bet option called the bet slip. The bet slip will let you place a wager from £.80 to £80 on the outcome of a group of spins. After choosing how much you'd like to bet, you'll choose from any one of the ten symbols and then pick from four options that require you to collect a certain amount of those symbols within a certain amount of spins. Each of the four options awards a different payout.
For example, the largest bet slip wager available is on the wild symbol. By picking the longest option available for the wild symbol you will win 1242 times your bet if you manage to land 92 wild symbols on the reels — whether they win or lose — within 80 spins. Lower paying symbols and/or a lower number of total spins will come with a lower multiplier on the payout.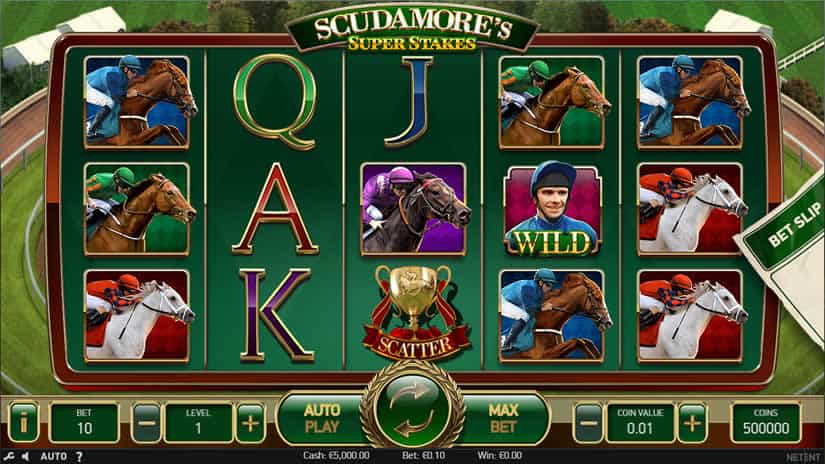 Additional Information
If you are not really into horse racing, then maybe this slot won't be the best option out there. There are so many new slot releases every month that it doesn't really worth playing a game that you don't enjoy to it's fullest. Here are some alternatives according to your gaming style:
Cheers!