The Strolling Staxx: Cubic Fruits slot is a new release from NetEnt that puts more than one interesting twist on the idea of a classic fruit machine slot. As you might expect from a video slot based on fruit symbols, there are a lot of bright, lively colours that really light up the screen. Both the symbols and the background are light, but there's nothing too overwhelming that will irritate your eyes.
Strolling Staxx is a five-reel, three-row slot that plays on 10 fixed pay lines. There are ten different symbols on the reels including one wild symbol, five different fruits, and the playing card values jack, queen, king, and ace. In a strange sort of twist that is hinted at in the name, all of the symbols have a cubic shape. So, you'll be spinning delicious looking, square-shaped strawberries, watermelons, lemons, and more. The highest possible single line win of 500 coins is paid for five wild symbols. The highest possible overall win on this one is 50,000 coins.
As far as wagers go, players can set both the coin value plus the number of coins to play on each line. There is also a "bonus bet" option that works as if you were playing on 15 lines instead of ten in exchange for a chance at some bigger wins when the special Strolling Staxx Respins feature is activated. The minimum coin value on this slot is £.01 and the maximum is £2.00 and it's possible to play between one and ten coins on each bet line. The minimum overall bet, therefore, is just £.10 per spin with the maximum reaching £200, or £300 with the bonus bet feature activated.
Top Rated NetEnt Online Casinos
Yes – Why To Play The Strolling Staxx Slot
The betting options on this slot make it suitable for all gambling styles. Conservative players can get in on the action for a mere £.10 per spin while high roller casino players should be able to get the excitement they're looking for by playing up to £300 per spin.
As we've come to expect from NetEnt video slots, Strolling Staxx provides excellent value for players' wagers by offering a return to player rate (RTP) of 95.98% for regular bets and 95.95% with the bonus bet option enabled.
It may not seem like it at first, but the Strolling Staxx feature combined with colossal symbols can yield some very large wins from just a single spin. It's worth playing for a bit to see how these bonus features can combine and pay off.
No – Why Not Play?
For those who like lots of bonus features, this slot might fall flat. There are big prizes, but the Strolling Staxx respins are really the only bonus feature. There is nothing interactive and no traditional free spins feature.
Although there are wild symbols in the game, they seem to land on the screen very rarely compared to most other slots. They appear to act more as a slight bonus feature than as a regular part of the game.
With only ten pay lines, it can seem like you're missing out on a lot of winning combinations compared to slots with 20 or 30 lines, or the 243 ways to win games. The RTP rate is still, of course, very good, but it's easy to start to feel like you're not hitting as many winning spins as you should be.
Strolling Staxx: Cubic Fruits Slot Bonus Features
As was stated above, the only real bonus feature in this slot is the Strolling Staxx Respins feature. This feature, however, can lead to some very generous wins when it retriggers or combines with colossal symbols on the reels.
Colossal Symbols
Colossal symbols are more or less what they sound like. Any of the symbols in the game can appear as large 2×3 or 3×3 symbols. They can appear anywhere on the reels in both the base game and when the Strolling Staxx feature is active.
Strolling Staxx Respins
The Strolling Staxx respins occur whenever one real is completely covered with a stacked symbol. When a stack lands, all symbols on the reels that match the stacked symbol will be held in place as the stack and the held symbols move one reel to the left with each new spin. Respins will continue until the stack moves off the reels on the left side. If during the respins another reel becomes covered with the same symbol, the respins will continue until that stack is removed from the reels. The process will continue until there are no more stacked symbols left on the reels.
Free Spins and High Payouts
Colossal symbols landing on the right end of the reels during the respins can lead to a significant number of what are essentially free spins and high payouts. It's important to note that wild symbols can appear as stacks or colossal symbols on the reels during the base game or Strolling Staxx respins as well.
Although it's not quite a bonus feature since you are paying for it, there is also an extra chance to get stacked symbols on the reels during respins if you have the bonus bet function enabled. When the Strolling Staxx respins are activated, but not by a 3×3 colossal symbol, an overlaid colossal symbol will spin over the reels and can fully or partially cover three reels to generate large winning combinations.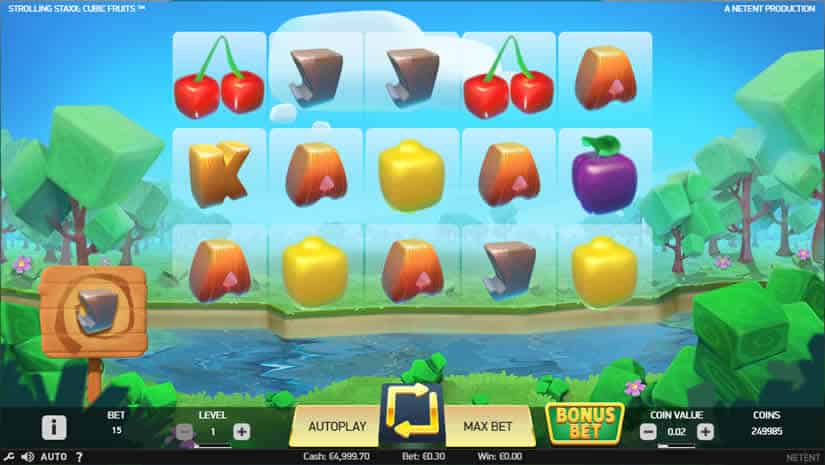 Additional Information
NetEnt works under strict regulation, therefore you will find Strolling Staxx slot and other tittles at regulated gambling markets. This definitely excludes USA and Australia, so if you are located there please visit the following sections:
In terms of Strolling Staxx slot, it is fun to play but may lack more visual effects. If you are into thrilling slot machines, check these hot picks!
Enjoy!