The hits just keep on comin' and we're back again with a hot new list of the best slots to play in August 2019.
It should come as no surprise that some of our favourite online slot design studios have been hard at work, releasing new slots over the last month as they did the month before and will most certainly do in the months to come. As usual, we too, have been hard at work—if you want to call it work—checking in with the game makers and the online casinos to find the hottest new slots to hit the interwebs in the last few weeks. Where can you find them? You can find all these new slot machines at most UK online casinos.
So get your clicker finger loosened up and get ready to rock the reels as we present the absolute best slots to play in August 2019. And when you hit big, don't forget who gave you the hot tip that put that big bump in your bankroll!
1# Yggdrasil – One Armed Bandit Slot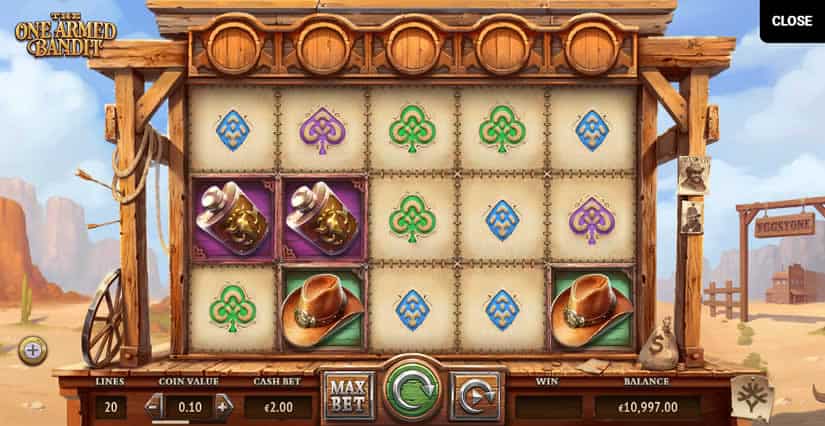 This slot doesn't quite look like what you might expect to see from Yggdrasil slots, especially if you compare it to some of their most recent releases. That's not to say that anything was left out, however. It's a wild west, sheriff vs outlaw theme that plays fast and comes full of bonus features that can generate some great rewards when you take the bad guys down.
Why It's One Of The Best Slots To Play In August 2019
One Armed Bandit is a five-reel, three-row slot with 20 fixed pay lines. Large payouts are possible in the base game with potential to win up to 80 times your bet on a single regular win. One of the biggest reasons to play this slot is that bonus features are triggered regularly and keep the action fresh. You won't have to wait long to start stuffing some bonus coins into your pockets with this one.
Bonuses are based on scatter symbols, like most other slots, but not in the way you probably think. Every time a scatter symbol lands you will be given at least one free spin and during that free spin, the scatter becomes wild. If you hit enough scatter symbols in a row, you can get ten or more free spins all at once with 5x multiplier wild symbols and a base win multiplier that starts at 5x and goes up to 20x. It's possible to hit a win during bonus features with up to a 100x multiplier. Try to combine these features with some cashable casino bonuses to stretch your bankroll!
Where to Play? Top 3 Yggdrasil Casinos
2# NetEnt – Grand Spinn Slot
Grand Spinn is another new slot that you might not expect when you consider the developer that created it. When you look at other recent NetEnt releases with 3-dimensional characters and all sorts of gameplay mechanics, this one seems very stripped down in comparison. Don't let the looks fool you, though. Grand Spinn slot will have you gnashing your teeth and clenching your fists as you spin for those wins.
Why It's One Of The Best Slots To Play In August 2019
Unlike most NetEnt slots, Grand Spinn is a three-reel, three-row slot with just a single pay line. It also has an unusual betting range. Players can spin for as little as £.02 or go as high as £200, making it a good fit for both conservative and high-stakes gamblers. It also comes along with a very good return to player (RTP) rate of 96.19%.
There are several bonus features that will look familiar, but NetEnt managed to put a bit of a twist on everything to create some new excitement. First, all wild symbols in the game come with a multiplier. Any winning match made with a wild symbol will double the payout, at least, and it can go up to eight times. There are also stacked symbols on the reels that will activate a special nudge feature when they are part of win. This feature can turn a single winning spin into many more in an instant.
Oh, and did we mention the three different jackpots you can win? There are small, medium, and large jackpots that could really get you grinning big if you happen to hit the right match.
Where to Play? Top 3 NetEnt Casinos
3# Microgaming – Sherlock Of London Slot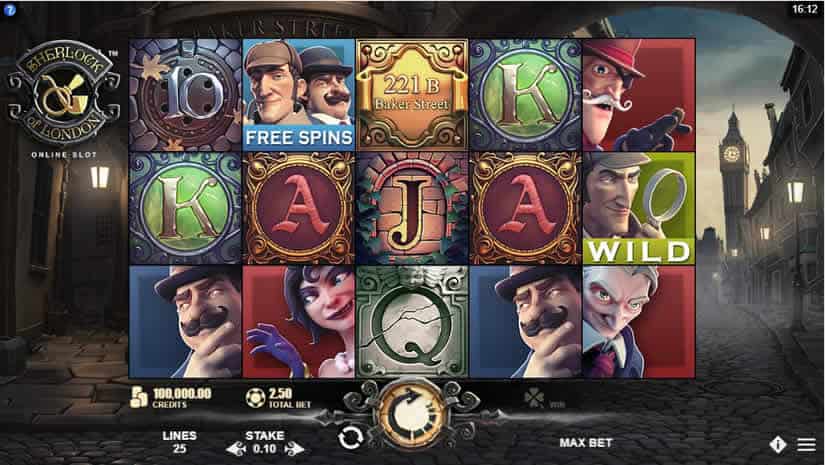 Microgaming and Rabcat Gambling combined efforts to produce and distribute this mystery thriller of a video slot. As you've probably guessed, the theme is based on the great Sherlock Holmes and his legendary sleuthing abilities. This slot has spectacular design all the way around. It's easy to see that a lot of work went into graphics, sound, and gameplay alike. It is sure to become a favourite among the Microgaming slot  catalogue.
Why It's One Of The Best Slots To Play In August 2019
Sherlock of London slot is a five-reel, three-row slot with 25 fixed pay lines. You can place bets ranging from the minimum of £.25 up to a maximum of £50 per spin. You'll also enjoy a generous RTP rate of 96.03% as you play. Another standout characteristic of this game is that bonus features tend to trigger with quite a bit of regularity, so the action stays moving and fresh.
There are plenty of bonus features that can stack up to really boost your wins when the right combos hit. When more than one wild symbol lands, they will connect, turning all symbols between them wild as well. There are also special double wins that will multiply all wins on a given spin by two, respins, and free spins, too. When you hit free spins—where all of the features are active—things can really get wild. Where to play? Find it at fast paying online casinos.
Where to Play? Top 3 Microgaming Casinos
4# Play'n Go – Tome Of Madness Slot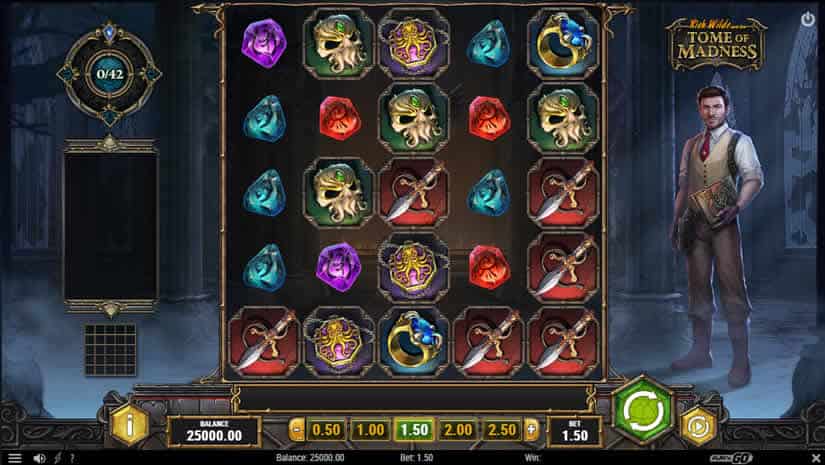 The Tome Of Madness slot takes players into the strange, mythical world of H.P. Lovecraft and one of the greatest creations to ever come forth from his mind, High Priest of the Great Old Ones, Cthulu. With mystical powers, dark shadows, and supernatural battles on the edge of madness, this slot will certainly get your imagination in motion and your adrenaline pumping.
Why It's One Of The Best Slots To Play For In August 2019
It's obvious that this slot has a very unique theme, which is excellently designed and executed. The audiovisual aspects of this five by five video slot are superb and really bring the player into the story and create an atmosphere. The game action, of course, is just as good and will have you hooked in no time.
This slot pays out based on a cluster match system. Any horizontally or vertically connected symbols in a cluster of four or more will award a win. It's possible to win up to 2000 times your bet on just one spin if destiny falls in your favour. There are six different bonus features that can work separately or together to really boost those bonus wins as you seek out the Great Old One.
Where to Play? Top 3 Play'N Go Casinos
5# NetEnt – Mercy Of The Gods Slot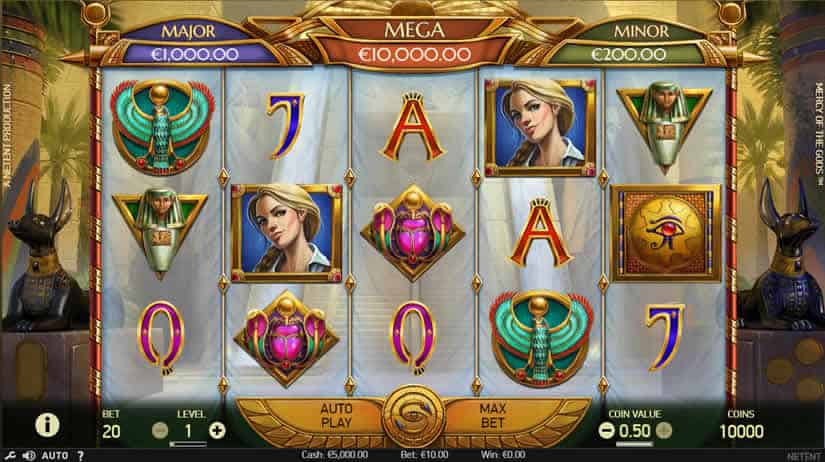 Mercy Of The Gods is an Egyptian themed slot, but certainly not just any Egyptian themed slot. NetEnt did an excellent job of taking something that perhaps has been a little bit overdone in the world of video slot machines and made some interesting twists and additions that really breathe new life into the concept.
Why It's One Of The Best Slots To Play In August 2019
First, as we would expect from NetEnt, this slot offers an excellent return to player (RTP) rate. The long-term RTP on this one is 96.64%. Also, as you might expect, the audiovisual aspects of this slot are spot on. The design team quite obviously took their time to make sure everything got the attention and detail that it deserved.
Bonus features include the Gift Of Life respins which trigger whenever a wild symbol lands on the reels. With each respin, the wild symbols will move one row down and spins will continue until all wild symbols fall off the reels. There are also double wilds, a free spins feature, and three different jackpots including a massive progressive jackpot that can deliver mind-blowing payouts at any time.
Where to Play? Top 3 NetEnt Casinos