Welcome back, loyal readers, for another edition of the best slots to play for the month of September 2020. We've been combing through the latest work of the online casino industry's top game developers to find you the best new slots to watch out for at your favourite casino.
Following is our list (in no particular order) of the five best new slots either released in the last month or to be released before the end of the month. They're all worth watching for and there's something for everyone, as always, on our list. We hope you enjoy them all, but you're sure to find at least one or two worth adding to your list of favourites.
And so, ladies and gentlemen, here is our list of the best slots to play in September 2020:
1# Microgaming – Book Of Atem Slot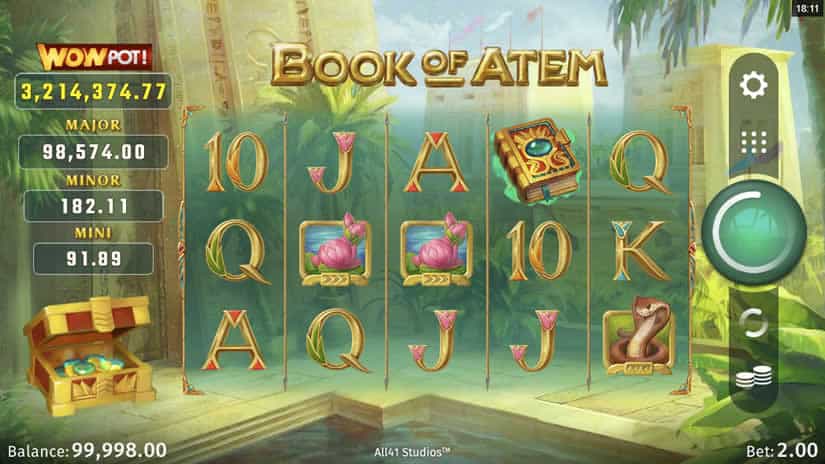 The Book Of Atem slot is an Egyptian themed slot but not just any Egyptian themed slot. This is a video slot designed to be straightforward and appealing to the players that just want a great game with opportunities for big wins. If there's anything we can say for sure about Book Of Atem, it's that it comes with opportunities for some of the biggest wins available on any slot machine.
What Makes It One Of The Best Slots To Play In September 2020
This is a standard five-reel, three-row slot that pays out on ten fixed pay lines. The gameplay is fast and fun and gets right to the point. This game says, "We know you want to win and win big, so here's your chance." If we had to sum up Book Of Atem in one word we'd have to say, "Jackpot!"
Actually, if you want to get into the details, there are four separate progressive jackpots available on this slot. Whenever a wild symbol lands on the reels, there's a chance that you'll get to spin to win one of the jackpots. The smallest, the mini jackpot will pay out a minimum of 10 credits. The largest, the Wowpot!, will pay out a minimum of 2,000,000 credits. All four jackpots grow as players from all over the world play the game.
The RTP rate on this game is lower than many slots, but that's not so unusual for a slot that includes progressive jackpots. Some winnings are held back to contribute to those over the top prizes. Players can expect a return to player rate of 88.2% on this slot.
Top 3 Microgaming Casinos with High Bonuses
2# Play'n Go – Jolly Roger 2 Slot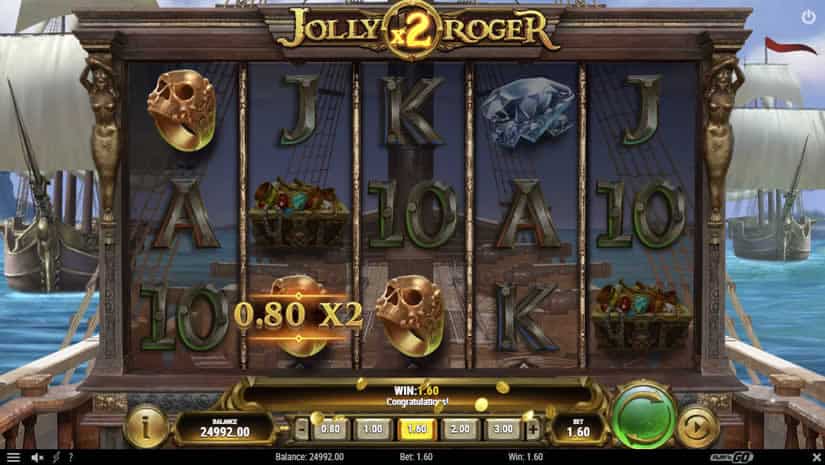 Take raise the flag and take the helm matey. The Jolly Roger 2 slot is a brilliant sequel to the original video slot machine from Play'n Go. Filled with gold and treasures and plenty of rum, you'll embark on a pirate adventure that will keep you on the edge of your seat with non-stop action that even includes sea battles against rival ships.
What Makes It One Of The Best Slots To Play In September 2020
Jolly Roger 2 is a five-reel, three-row slot with 20 fixed pay lines. The theme is beautifully done, with an amazing attention to detail. The game will look great no matter the size screen you are playing on.
What really makes this game stand out, however, are the five different bonus features and the interactive functionality that will have you determine exactly which bonus feature you'll experience each time three scatter symbols stop on the reels. Win up to 20 times your bet instantly or perhaps you'll find yourself in the middle of cannon fire on the high seas. You'll never be sure what's coming next.
The Jolly Roger 2 slot will allow you to play for wagers ranging from £.20 to £ 100 per spin and has an RTP rate of 96.2%.
Top 3 Play'N Go Casinos with High Bonuses
3# SG Digital – The Demon Code Slot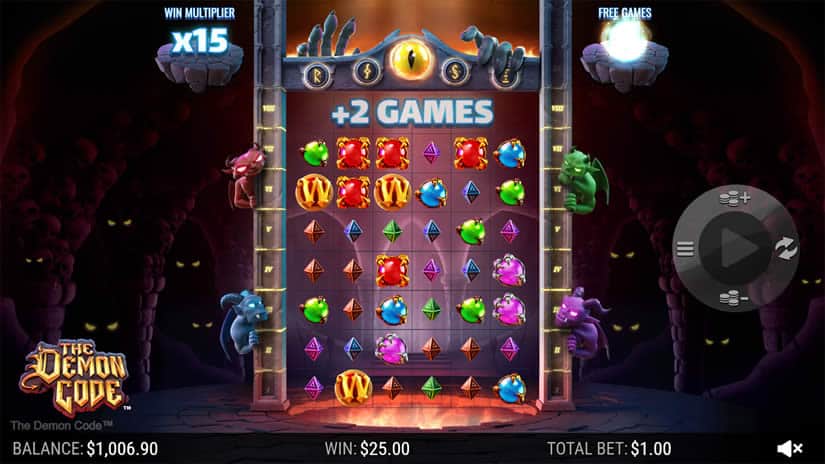 In this decidedly dark game, four demons wait anxiously at the sides of the reels while the glowing eyes of countless other can be see peering in from the darkness further back. The theme of this slot is done extremely well, with deep, dark colours that will be pleasing to the eye on any device. When you sit down to play this six-reel, six-row slot, you're in for a devlishly good time.
What Makes It One Of The Best Slots To Play In September 2020
The Demon Code uses a cluster system along with a cascading symbols feature to create winning combinations. Any cluster of four or more of the same symbols anywhere on the game grid is considered a win. The more symbols in a cluster the bigger the win. It's also possible to win through multiple clusters on the same symbol.
Bonus features are big part of the game as well. Each of the four demons around the reels can be summoned to influence your results with their own unique powers. During free spins, collecting new scatter symbols will expand the reels, allowing you to get up to 12 rows and chances for absolutely mindblowing wins.
With the great bonus features and a great RTP rate of 96.26%, players can expect to get a lot out of The Demon Code each time they play. Get in on the action for as little as £.10 or as much as £20 per spin.
Top 3 SG Digital Online Casinos
4# NetEnt – Hotline 2 Slot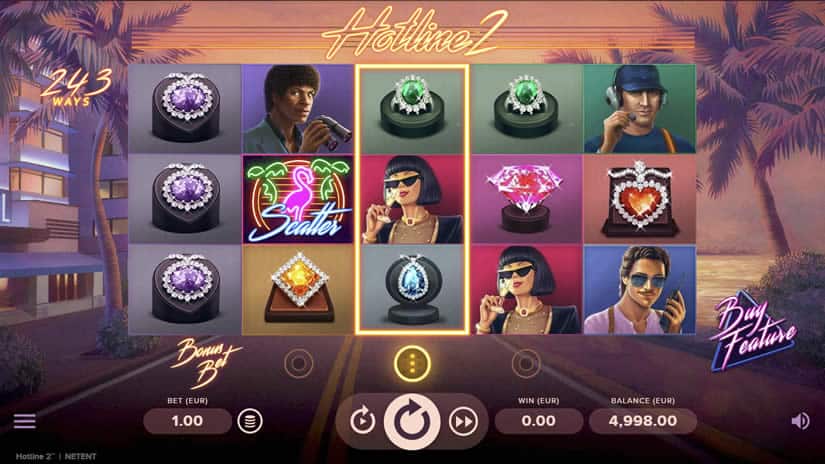 Another sequel on our list, NetEnt's Hotline 2 slot takes players back into the Miami heat where two strangely familiar plainclothes cops work to chase down high-class jewel thieves. When the game loads you'll see that this is obviously another slot that was designed to play well and provide a more traditional slot experience rather than going overboard with flashy graphics and three-dimensional effects.
What Makes It One Of The Best Slots To Play In September 2020
This slot starts out as five reels with three rows and uses the "ways to win" system, beginning with 243 ways to win. The third reel is always a "hotline" reel. When a wild symbol lands on a hotline reel it will always expand to cover that entire reel. You can also change reel four into a hotline by doubling your bet per spin. If you're willing to triple your bet, you can turn reel two into a hotline reel as well, giving you a 3×3 space where all wilds will expand.
If you hit the free spins feature, you'll get seven free spins, but to give it a bit of a twist, whenever a wild symbol expands on a hotline reel, that reel will increase its size by one row, in turn creating more ways to win. It's also possible to get extra free spins if you expand any of the reels to their maximum.
You can play the Hotline 2 slot for as little £.10 or take it all the way up to £ 150 per spin if you want to go all out. This slot has a generous RTP rate of 96.05%.
Top 3 NetEnt Online Casinos
5# Yggdrasil – Valley Of The Gods 2 Slot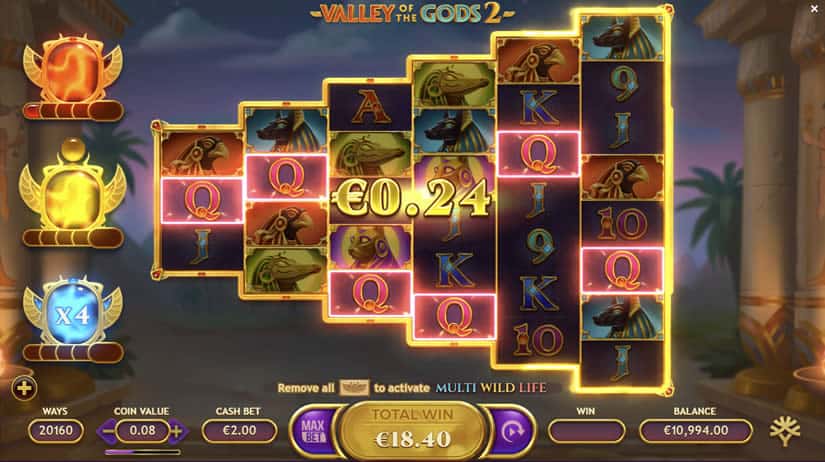 The final slot on our list this month is yet another sequel. The Valley Of The Gods 2 slot is done with an Egyptian theme, but it's definitely not just another slot machine. Yggdrasil, as always, has left their mark with unique gameplay mechanics and graphics that will leave players wanting more. This slot is worth a look whether you're a fan of Egyptian themes or Yggdrasil, or neither. It's flat out fun and excitement at its best.
What Makes It One Of The Best Slots To Play In September 2020
The game starts with 6 reels with a row configuration of 1-2-3-4-5-2 and pays out on the "ways to win" system. You start with 240 ways. When you land a win, one blocker will be removed the reels for each winning symbol, opening up more rows on each reel, and then you'll get a respin. When everything is unlocked, you'll end up with a row configuration of 3-4-5-6-7-8 and 20,160 ways to win.
Once you've removed all of the blockers, it will activate a win multiplier, extra lives, and a wild reels feature. This is a pretty high volatility slot, but the opportunities for big wins are great. You're sure to love this unique slot. You can also expect to get a lot of play out of it for the money you put in with an RTP rate of 96%.
Top 3 Yggdrasil Gaming Casinos