The SideWinder slot is a joint effort from Just For The Win and Microgaming. At its base, this video slot is a five-reel, three-row game. However, following in the footsteps of Microgaming's most recent release, the Rainbrew slot, this one includes horizontal reels, one above and one below the five standard reels. The base game follows the 243 ways to win payout rules, but when the top and bottom horizontal reels are activated, the play area takes on a 3-5-5-5-3 layout and the ways to win increase to 1125.
SideWinder is a very stripped down and unusually plain and basic looking slot for a Microgaming release. There almost doesn't seem to be a theme to the game at all, but if forced to come up with something, I'd have to say the symbols are based on the concept of luck. You get about a 50/50 mix of things like horseshoes, lucky sevens, four-leaf clovers, stars, and the four standard playing card suits. The artwork is not exactly bad, but nowhere near impressive either.
With the 243 ways to win payout scheme, there are, of course, no set pay lines to choose when betting. Displaying another similarity to the Rainbrew slot, SideWinder has also been designed with no options for setting coin value or the number of coins to play. Players can simply choose how much they'd like to bet on each spin. The minimum bet here is £.10, and the maximum is £100.
Play at the Best Microgaming + JFTW Casinos
Yes – Why To Play The SideWinder Slot
The addition of the two horizontal reels can lead to much bigger wins when wild symbols hit, and especially during free spins when the ways to win increase to 1125.
SideWinder appears to be a medium volatility slot which should make it comfortable for both players who don't like too much space between their wins and those who are willing to wait for a bigger payout.
No – Why Not Play?
Although there is a free spin bonus, it seems to trigger very rarely. It also appears that a reward of a single free spin comes up MUCH more often than the possible six or ten free spin awards.
The top payouts on SideWinder are a little bit, shall we say, unimpressive. There's no indication on the payout table of what the absolute maximum payout is, but hitting five of a kind on the top paying symbol will only get you back eight times your bet.
Of course, the visual design of the game doesn't affect how it plays, but the visual aspect of this slot really leaves a lot to be desired.
SideWinder Slot Bonus Features
There are three basic bonus features on SideWinder. You'll run into three different types of wild symbols, the possibility of free spins, and the SideWinder feature which combines with the wilds and free spins.
Wild Symbols
There are three different types of wild symbols in the SideWinder slot. First, there are your standard wild symbols, which will match any other symbol on the reels except for the free spin symbols. Then you have "top wilds" and "bottom wilds". These function the same as a regular wild, but they will have an arrow on them pointing to either the top horizontal reel or the bottom horizontal reel. When one of these lands, whichever reel it is pointing to will activate and spin, giving the player a chance of creating extra wins.
In the base game, top wild symbols can appear on reel two or on the bottom horizontal reel. Bottom wild symbols can appear on reel four, or on the top horizontal reel.
Free Spins
The free spin symbols on this slot are the SideWinder logo. They will have various effects on how the game plays.
If free spin symbols land on reels two and four, both of the horizontal reels will activate and spin. Landing three SideWinder logos will award six free spins and landing four will get you ten free spins.
Both horizontal reels are active during free spins and increase the ways to win to 1125. Regular wilds and free spin symbols will only appear on the horizontal reels. If wild symbols land above and below the same vertical reel, the entire reel will become wild. One additional free spin will also be awarded for each free spin symbol that lands on the reels.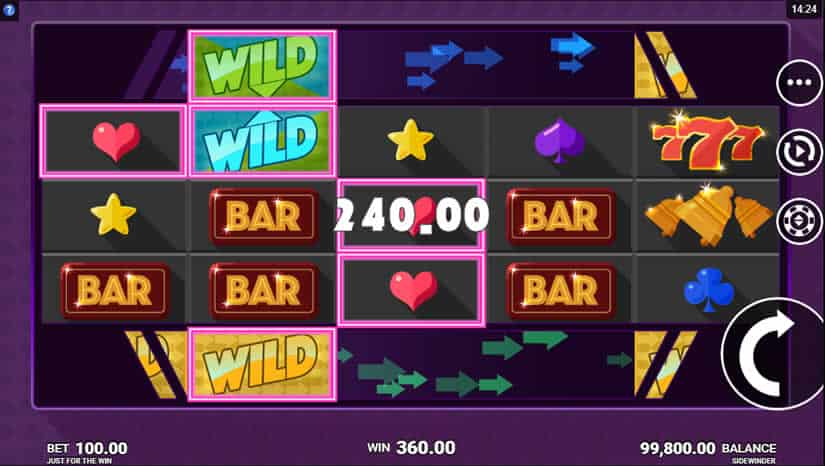 Our Verdict
Unfortunately, as we get to the end of our examination of the SideWinder slot, there isn't much good to say about it. This slot is really just a (bad) knock-off of the company's own Rainbrew slot — which wasn't that good to begin with. The mechanics of the game are an exact copy, and the visual design is just amateurish at best.
The novelty of the horizontal reels wears off quickly, especially since they don't really seem to boost win rates or payouts very much at all. Then, with essentially nothing more than free spins as a bonus feature, there isn't a whole lot to hold one's attention.
We'll have to say that SideWinder is probably not worth your time. There's nothing here that holds up against any of the modern slot design standards. You will undoubtedly find more fun and excitement in just about any other slot machine that you might randomly click on anywhere on the Internet.
If you are into classic slots and prefer to skip this one – following our advice – I recommend you to check these new and old tittles:
Remember, you can always check our RTP database for more information about the best payout slot machines at top rated online casinos.