Looking for the best slots to play in April 2020? Check this out because this month we put special attention to the most convenient online slots – and reputable online casinos – to keep you entertained.
Spring is officially underway and as the weather begins to get warmer, the action on the slots is getting hotter. We have a brand new list of hot new slots freshly released by your favourite gaming companies.
This is most definitely not your average month of April as most of us are spending more time than we ever thought we would sitting at home. The word boredom doesn't even come close to what many are feeling as we all do our best to try to stop the spread of this awful virus that has been making its way around the planet with amazing speed.
With that in mind, while we encourage you to take advantage of online entertainment outlets to keep your mind active and your mood elevated, we'd also like to take a moment to remind you that you should know your limits and gamble responsibly. Be aware of the time that you're playing and the money you're spending.
So now, without any further ado, let us present to you (in no particular order) the best slots to play in April 2020!
1# Betsoft – Spring Tails Slot
Spring Tails is an Asian themed slot with a base in the Chinese zodiac. With this being the year of the rat, it's a white rat mascot that will accompany you as you spin the reels and go after big wins. It's a light-hearted game with cartoonish symbols that's well designed to be fun and entertaining. It features big, bold symbols that will play well on both computer and mobile screens of any size.
Why It's One Of The Best Slots To Play In April 2020
There is potential for some monumental payouts on this slot. In fact, it's possible to win up to 5,000 times your bet on just one spin. For those who like high volatility games with chances to win big, this one should fit the bill perfectly. It's also very accessible for even the most conservative gamblers with a minimum bet of just £.05 per spin.
Bonuses include wild symbols loaded with multipliers that can stack to generate total multipliers worth 60 times the regular win amount. The lowest value symbols will be removed from the reels during free spins to generate bigger payouts there, too. With an RTP return to player rate of 95.84%, players can expect a good return on their wagers, too.
Play Here: Top Rated Betsoft USA Casinos
2# Play'n Go – Riches Of Robin Slot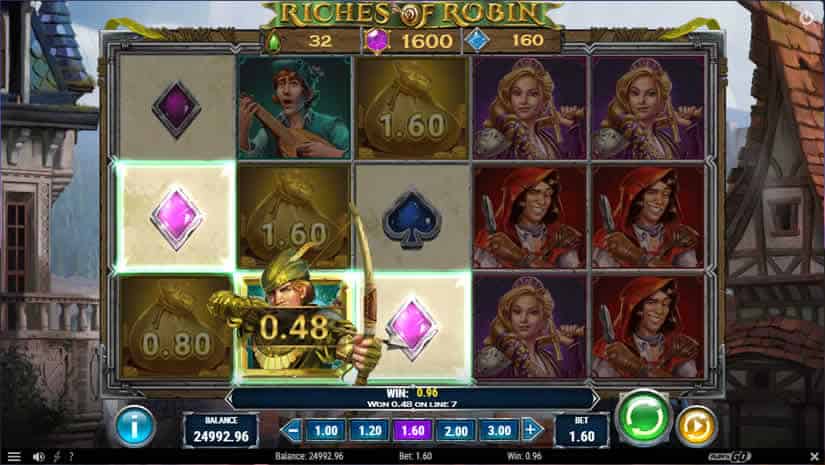 Robin Hood and his merry men are on a mission to rob from the rich and give to YOU! The Riches Of Robin Slot will take you on an adventure through Sherwood Forest to retrieve big bags of loot that will boost your balance and most certainly put you in a merry mood. The combination of great game-play and a classic storyline will undoubtedly earn this slot a place on many players' favourite lists.
Why It's One Of The Best Slots To Play In April 2020
Riches Of Robin has great bonus features that can pay off in very big ways. Big payoffs should be enough of a reason for anyone, but the game design and play action is great, too. The theme is well designed with bright, fun symbols and many fun animations that will keep you grinning as Robin throws more gold onto your casino account balance.
The Riches Of Robin slot is set up in a five-reel, three-row configuration, but each symbol on the grid is actually on its own independent reel. This allows for many more possible combinations across the 20 pay lines. Bonus features include up to 20 free spins with a 5x win multiplier and the awesome Heist Re-Spins feature that could potentially fill the screen with instant win money bags worth loads of gold! It also has a great return to player (RTP) rate of 96.65%. It's also a high volatility slot, so be ready for a few shots of adrenaline as you play.
Play Here: Top Rated Play'N GO Casinos
3# NetEnt – Wilderland Slot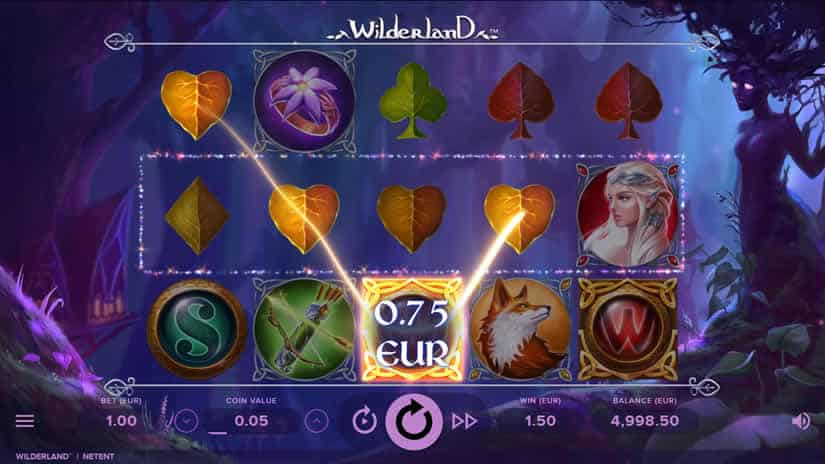 NetEnt's Wilderland slot is a great slot for those players that like a very straightforward design that just great action without a lot of distraction from bells and whistles that don't really have any effect on the game. The audiovisual design of this slot is dark, tranquil, and beautiful. It's a great game for when you're just in the sort of mood to relax and try your luck for a while without lots of loud noises and blinding flashes.
Why It's One Of The Best Slots To Play In April 2020
Wilderland is a five-reel, three-row slot with 20 fixed pay lines. You can play for as little as £.20 per spin or go all the way up to £400. The game plays fast and pays off well because of a combination of low volatility and a walking wild bonus system that can generate win after win as wild symbols travel all over the screen—especially during free spins. Free spins continue for as long as wild symbols land on the reels, so the potential is huge. Players also enjoy a great RTP rate of 96.16%.
Play Here: Top Rated NetEnt Casinos
4# Microgaming – Mining Fever Slot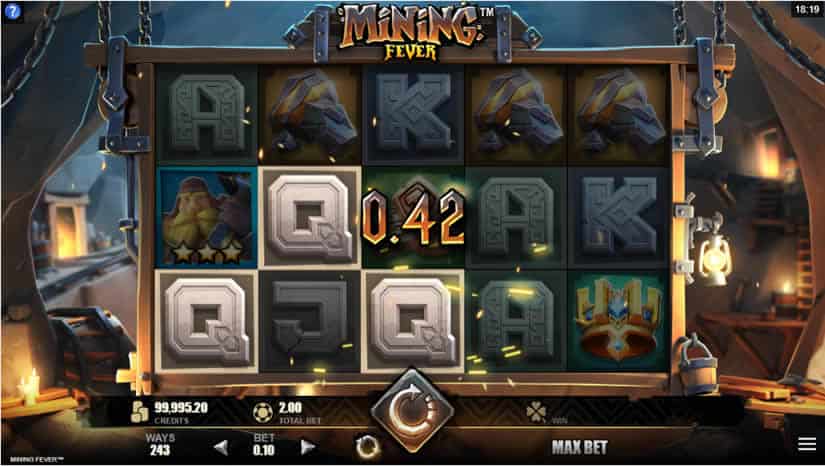 Mining Fever is a fun, fantasy-themed slot based on three might dwarves working deep underground to uncover countless riches. The game has an excellently designed three-dimensional theme that brings the characters to life and provides details and movement all over the screen as you're playing. For those of you who like fantasy themes, this one will make your list of must-play slots for sure.
Why It's One Of The Best Slots To Play In April 2020
Mining Fever is a five-reel, three-row slot that uses the 243 ways to win payout system. Each of the aforementioned dwarves has his own special talent that will be used to generate four different bonus features. Most bonuses can be triggered by landing just two scatter symbols instead of the traditional three as well. During free spins, wild symbols are guaranteed, too. So, you can always expect some wins when the free spins feature hits. With all of that plus an RTP rate of 96.13%, you just can't go wrong.
Play Here: Top Rated Microgaming Casinos
5# Yggdrasil – Pirates: Smuggler's Paradise Slot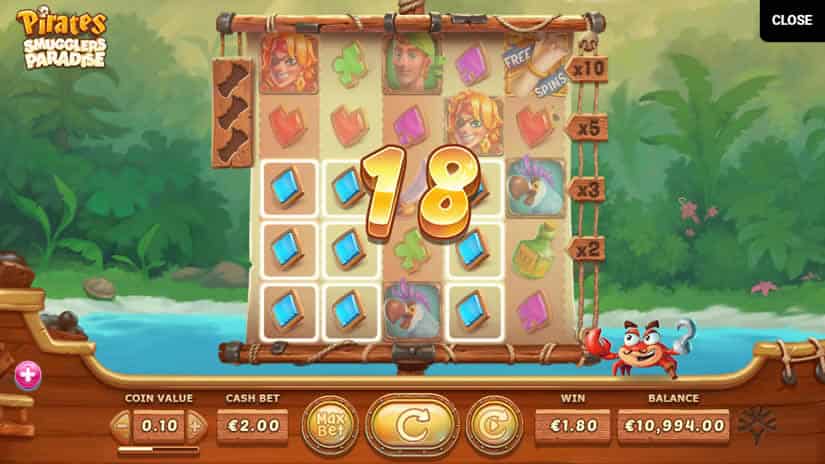 Pirates: Smuggler's Paradise is a very well-designed, colourful, and most certainly fun video slot. All of the graphics are high definition and the gang at Yggdrasil Gaming have put in some unexpected and innovative features that really help make this game stand apart from most other slots out there. There are loads of bonus features and plenty of action. This is one pirate adventure you won't want to miss.
Why It's One Of The Best Slots To Play In April 2020
This slot plays on a five by five grid and uses a cluster pay system. Landing a cluster of six or more of any symbol creates a win and you'll be awarded according to how big the cluster is. There's also a "dropdown" system that will remove all non-winning symbols after each match and allow new symbols to fall in. As long as more of the winning symbol fall, they'll be added to the cluster and the process repeats. It's possible to get all 25 spaces on the screen filled with the same symbols for huge wins.
As the size of a cluster grow,s you can also get win multipliers added to your prize up to 10 times. When free spins start, the multiplier possibilities go all the way up to 22 times. To make it more interesting, there are three different free spin modes that you'll be able to choose from each time you trigger the feature. You'll also enjoy a 96.3% RTP rate. This one is most certainly a must-try game if you haven't seen it yet.
Play Here: Top Rated Microgaming Casinos
And so, friends, that is our list of the best slots to play in April 2020. Look for them at your favourite online casinos!
If you're not sure where to go to find these great video slots games, check out our casino lists to find the operators that carry them. We'll show you the best of the best with complete information on game providers, bonus offers, and more.
Until next time, cheers and good luck!