Our new edition with the best slots to play in July 2019 is here! June has come and gone and as we take out first steps into July, it's not just the weather outside that's getting hot. In the past month, the biggest and brightest slot developers in the game have released some of their best creations yet.
It's a great time to be an online slot player. All the game makers seem to have their creativity running at full tilt and they're falling head over heels trying to outdo each other. There have been several great releases in the last few weeks that include everything the modern slot player could be looking for. We've got high-end graphics, exciting themes, and creative new bonus features.
Grab a drink, prepare a snack, and get ready for some fun and excitement as we run down the best slots to play in July 2019. All fresh, all hot, and all available at your favourite online casinos. It's time to spin the reels, bust the house, and put a big boost in your bankroll!
1# NetEnt – Cash-O-Matic Slot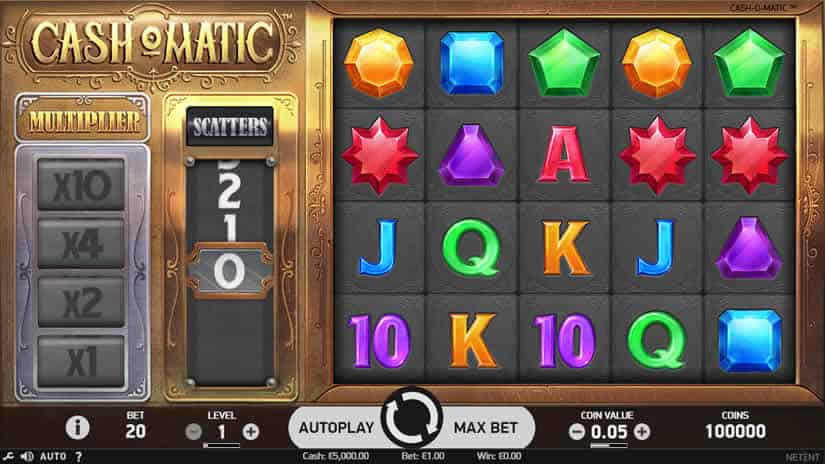 The Cash-O-Matic slot has a plain, yet highly detailed design. The theme is simple and very straightforward; well designed, but not full of flash. NetEnt has put together crisp, clean graphics with some out of the ordinary game mechanics to create an online video slot that will undoubtedly stand out as a favourite for many players.
Why It's One Of The Best Slots To Play In July 2019
NetEnt did an excellent job with both the visual aspects and the gameplay on this slot. Symbols on the reels are made up of various gems and the playing card values ten through ace. Both the face of the display itself as well as the symbols are all intricately detailed and give off a very solid feeling. It feels as if you're looking at and playing on a real metal slot machine.
Cash-O-Matic is a five-reel, four-row slot with some interesting features. It plays using a 1024 ways to win payout system. It also incorporates a cascading symbols effect, but not in the way most games do. Instead of removing the winning symbols, it leaves the winning symbols and removes everything else, replacing them with new symbols. There are also free spins and a win multiplier that can hit 50x. It's high volatility and definitely high excitement.
Where to Play? Top 3 NetEnt Casinos
2# Microgaming – Village People Macho Moves Slot
If you enjoy some crazy, campy, disco dancey fun, you're going to love this slot. Featuring both the personalities and music of the legendary all-male disco group, The Village People, Macho Moves slot will transport you back to a time when disco was king, fashion was wild, and nightlife was the right life.
Why It's One Of The Best Slots To Play In July 2019
The Village People Macho Moves slot is a six-reel, three-row slot with 15 fixed pay lines from Microgaming. The symbols and playfield contain everything you'd expect to see if you could time-travel back to the disco era. All of the Village People are present on top of the reels and the reels themselves are loaded with disco balls, gold microphones, and even 8-track tapes for those of you old enough to remember what those are.
There are plenty of bonus features to keep your adrenaline pumping as you boogie to the beat. By collecting special wild symbols, you can trigger features from each of the Village People who all have their own special perks to bestow. You can even flip your way through the most popular Village People songs as you play and pocket the cash from the huge potential wins waiting for you.
Where to Play? Top 3 Microgaming Casinos
3# Play'n Go – Rise Of Merlin Slot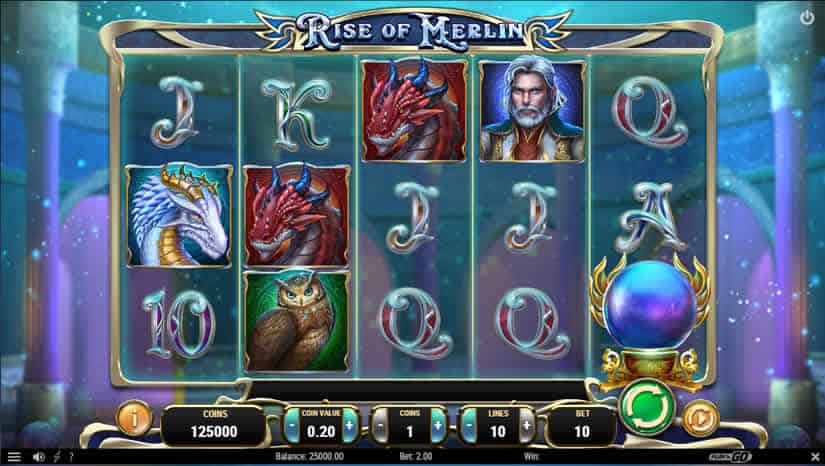 From the legendary times of King Arthur's court, Play'n Go brings us a wonderfully designed video slot based on the mystical sorceror Merlin. The design crew did a brilliant job of giving the Rise of Merlin slot a mysterious and almost mythical feel. From the magic of the crystal ball to the floating stardust passing by in the background, nothing was spared when it came to putting together the details of this game.
Why It's One Of The Best Slots To Play In July 2019
Everything about this slot just exudes quality work. Symbols are all highly detailed and include things like great dragons, a wise owl, a crystal ball, and, of course, Merlin himself. Colours blend together perfectly and create an astounding aesthetic that is just a pleasure to look at as you're playing. It also translates well to any screen from desktop to mobile casinos.
Rise of Merlin is a five-reel, three-row slot with ten fixed pay lines. There are big potential payouts waiting with a top possible win of 250,000 coins.  Each time free spins are triggered, one symbol on the reels becomes and expanding symbol. You can retrigger free spins and end up with up to nine expanding symbols in play at one time. This one can certainly get very exciting very quickly.
Where to Play? Top 3 Play'N Go Casinos
4# BetSoft – Spinfinity Man Slot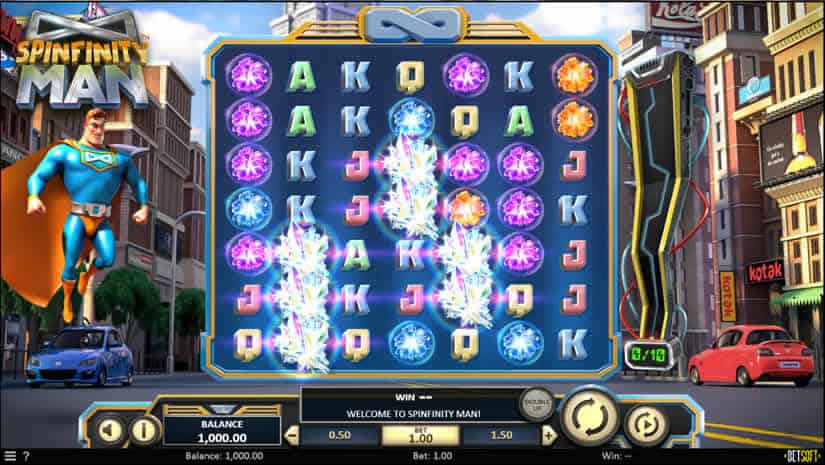 BetSoft brings us an unusual superhero slot with Spinfinity Man. It's loaded with excitement and superbly drawn three-dimensional graphics. With several of his own special superpowers, when Spinfinity Man lands on the reels, you'll never know just what he's going to do, but it will always put a boom in your balance when he's done. That's for sure. You can find Betsoft slots at most online casino brands around the world, including USA online casinos and Australian online casinos too.
Why It's One Of The Best Slots To Play In July 2019
BetSoft has put together quite a lot of uncommon features and come up with a game that stands out from most of the recent releases from other companies. There's a lot going on at one time, but rather than causing confusion, it just adds to the excitement. There are plenty of bonuses to hit that will pay off nicely if you've got the patience to wait for the right combinations.
Spinfinity Man is a seven-reel, seven-row slot that uses a cluster-based payout system. Simply match four or more of any symbol in a cluster anywhere on the playfield and you will get paid. In addition, each win causes winning symbols to explode so more symbols can fall in for more possible wins. There and random features, free spins, and more waiting. This is sure to be a refreshing change of pace for anyone that's become a bit bored with so many slots that all follow the same basic formula.
Where to Play? Top 3 Betsoft Casinos
5# NextGen Gaming – Gorilla Go Wilder Slot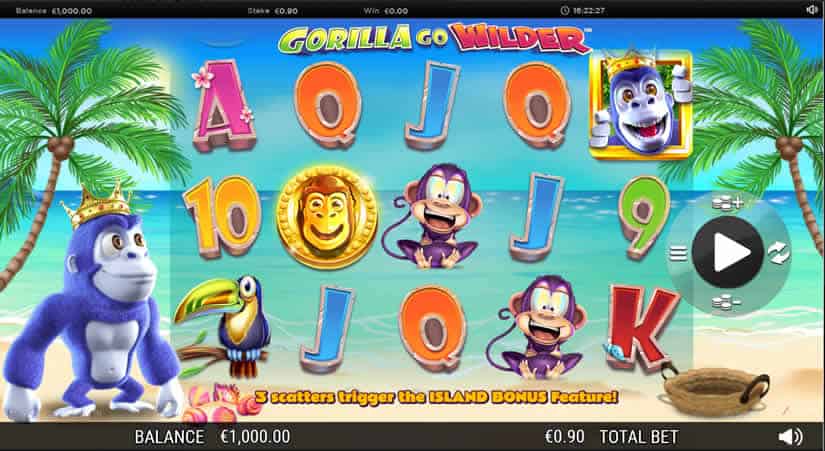 NextGen comes up and over the top with the second coming of one of their favourite slot machine characters, Gary the gorilla. This big purple gorilla has plenty of reason to go wild. The Gorilla go Wilder slot brings to life features not seen anywhere else. This online slot will actually change over time as you play, allowing you to always find something new.
Why It's One Of The Best Slots To Play In July 2019
NextGen put together some great ideas as they created this slot. The graphics and animations are just perfect. There's even a touch to the characters that make them look more like clay animation than computer generated. The colours and backgrounds are also great. Who knows where they came up with the idea for a purple gorilla scratching his butt on the beach, but somehow it works.
There are plenty of bonus features on this slot to keep you guessing and cheering as you play, but the real must-see feature here is the idea of "expansion packs". As you trigger bonus features you will gain credits to open up new islands within the game. Each island has its own special features and you can unlock them in any order you want as you gain the bonus credits to do so. Free spins can also be retriggered, and there's more to discover.
And that, ladies and gentlemen, is our list of the best slots to play in July 2019. There's something for everyone and we hope you'll seek these games out at your favourite online casino. If you can't find one at your usual casino, please do check our lists of game providers and the casinos that work with them.
Until next time, cheers and good luck!
Where to Play? Top 3 Nextgen Casinos