Time rolls on and we've made it through another month of fun, excitement, and brand new video slots in 2019. It's April, but we are most certainly not fooling around here. We have a fresh new list of the hottest online video slots to look for at your favourite online casino.
It's only been a few weeks since our last list of top new online slots but, as always, all of your favourite game designers have been working diligently to come up with brilliant themes, tempting twists, and hot new features to put into their latest slot machine releases. So if you're looking for some fresh fun to get your bankroll bouncing again, read on and take note. We've got the leading list of the best new slots to play in April 2019.
1# Slingshot Studios – Zombie Hoard Slot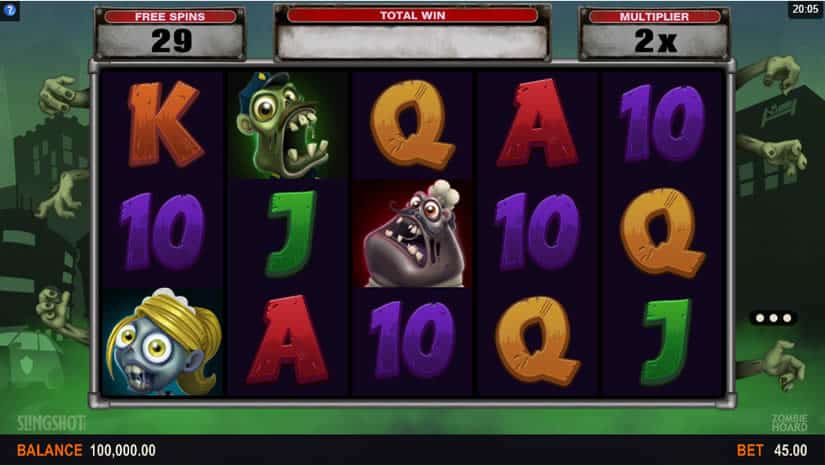 Zombies, of course, are all the rage. Who doesn't like a good zombie story? The best part about this one is that in the end you have the chance to walk away with a significant stack of cash. (And you don't even have to risk getting your brains eaten!) This slot has a fun, cartoonish theme that should appeal to anyone who likes a good, comical zombie adventure. Another big hit released by Slingshot Studios.
Why It's One Of The Best Slots To Play In April 2019
The Zombie Hoard slot is a five-reel, three-row video slot with nine fixed pay lines. There's a quite nice maximum payout of £107,500 to be won on a single spin. Even the lowest paying combination on this slot will give you back more than your original bet, and top paying combinations can win you more than 100 times your wager. There's a 95.29% return to player (RTP) rate on this slot and a fairly low minimum bet of just £.09 which make this slot great for conservative gamblers or those just becoming familiar with online video slots.
Where to Play? Best Slingshot Casinos
2# Pragmatic Play – Treasure Horse Slot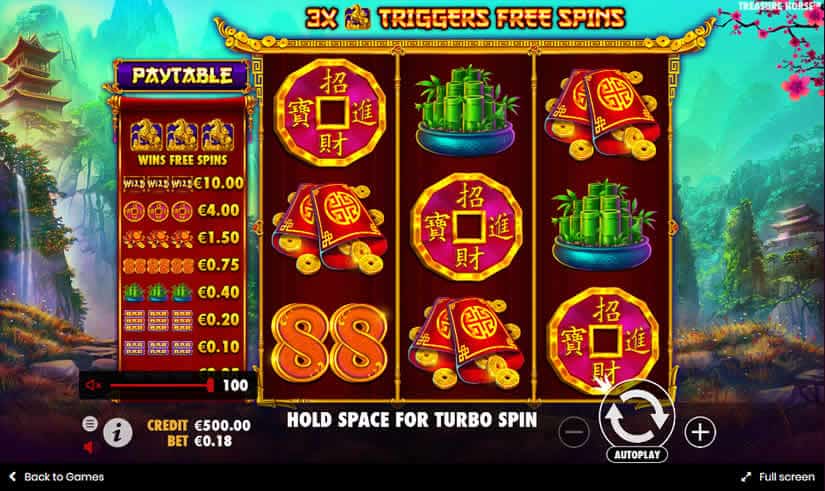 The Treasure Horse slot from Pragmatic Play is a fun but simply designed slot that pays homage to the more traditional designs of the old mechanical slot machines that once appeared in so many gambling halls around the world. It's a great slot for those who like straightforward games or anyone who's looking for a fast playing game that works well on a mobile device when you need to kill some time.
Why It's One Of The Best Slots To Play In April 2019
Treasure Horse is a three-reel, three-row slot with 18 pay lines. You can play from £.18 up to £90 on each spin. You can win up to 55 times your bet for landing three wild symbols on a line, but the lowest payout is less than one-third of your wager. The big bonus on this slot is free spins. During all free spins a fourth reel is added that will grant a multiplier from two to six times on all wins, which can lead to some very large prizes. If you're a fan of the classics, you should definitely look for this slot.
Where to Play? Best Pragmatic Play Casinos
3# NetEnt – Golden Grimoire Slot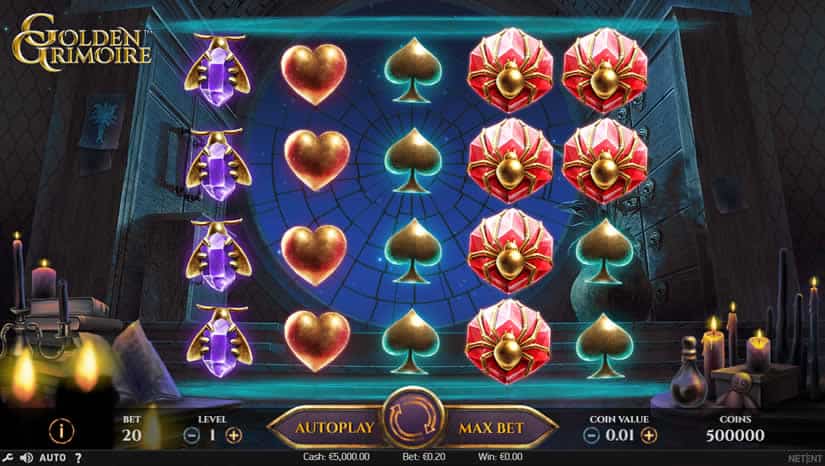 As you can probably tell by the title, Golden Grimoire follows a mystical and magical theme full of sparkling jewels and mysterious symbols. It also follows along in a long line of quality online video slot releases from NetEnt. With lots of big wins and plenty of boosts from bonuses, Golden Grimoire slot is sure to make its way to the top of your favourite slots list in no time.
Why It's One Of The Best Slots To Play In April 2019
You'll be playing on five reels with four visible rows and 40 fixed pay lines. One of the best features of this slot is that although there are 40 pay lines, wagers are made as if there were only 20, so it's like you get to bet on 20 pay lines for free. The mystery symbols feature can suddenly create great wins out of nothing and when it combines with free spins, you could be looking at some phenomenal prizes.
Where to Play? Best NetEnt Casinos
4# Play'n Go – Cash Vandal Slot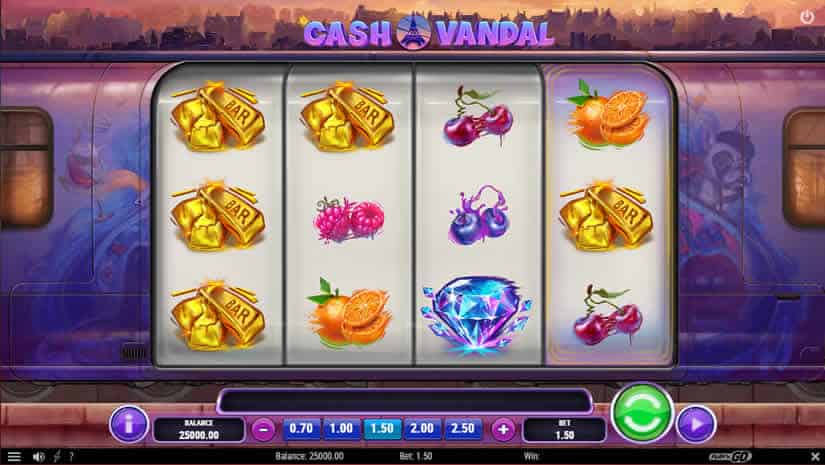 Cash Vandal slot from Play'n Go takes classic slot symbols and turns them into a thoroughly modern, urban gaming experience. The reels and symbols spin on the side of a graffiti-decorated commuter train as it zooms between London, Paris, and Berlin. Pick your destination and pick your prizes. No matter where you end up, you're sure to find things to enjoy in the city.
Why It's One Of The Best Slots To Play In April 2019
All of the action on Cash Vandal plays out across four reels, three visible rows, and ten pay lines. There are all kinds of great features that bring loads of excitement to this slot. You can win by matching only two of some symbols on the reels. There are also randomly chosen symbols that will appear stacked on the reels on every spin. When you trigger the free spins bonus, you'll get to choose where you want to travel with each city producing its own unique bonus features during all free spins. There's also a whopping big 5,000x or £500,000 maximum payout.
Where to Play? Best Play'N GO Casinos
5# BetSoft – Carnaval Forever Slot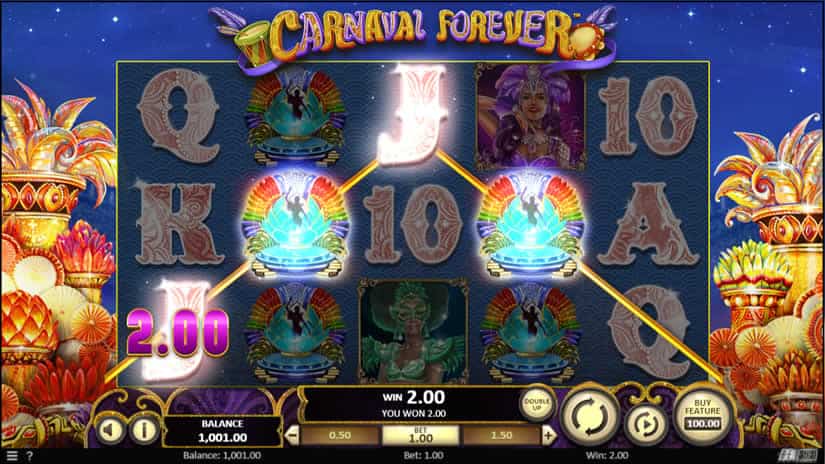 Carnaval Forever slot keeps the massive celebration going all year round. The audiovisual design on this slot is bright and beautiful with lots of sparkle and imagination. It does a great job of representing the nonstop party that is Carnaval. With the minimum bet coming in at a mere £.10, this game is accessible to anyone and still presents opportunities for some impressive prizes.
Why It's One Of The Best Slots To Play In April 2019
You'll be playing with five reels, three visible rows and ten fixed pay lines. High-paying symbols can win you back as much as 100 times your bet for five of a kind, plus you can gamble any win as much as you want for a chance to double up your winnings. The free spins feature also comes with the awesome bonus of making every single spin a guaranteed winner. As if that weren't enough, you'll also get two additional spins any time a scatter symbol lands during free spins with no limit on how many you can get. When things go your way, there are chances for huge bonus winnings on this one.
Where to Play? Best Betsoft Casinos
Check Back In May For More Of The Best Slots To Play
So there you have our list of the best new slots to play for April 2019. Be sure to look for them at your favourite online casino, or check our online slot reviews to see where you'll find them if your current casino doesn't have any of them that you'd like to play. Remember that playing in online casinos with fast payouts will keep you away from trouble.
Good luck and we'll see you next month with the next edition of the best slots to play in May 2019!