Another month has gone by. Some of us are still locked down somewhere. Some of us are locked down somewhere again and some of us are just plain tired of it all, taking our chances, and doing whatever the hell we want to do.
The one good thing for those of us who like to play online casinos is that the game developers haven't slowed down one bit. In fact, at a time where it seems like every industry on the planet has slowed or even stopped, the developers that make the games for our favourite online casinos seem to be working overtime.
We've seen some extraordinary releases over the last few weeks. From stunning graphics to great new ideas in game mechanics, there's been a bit of everything. For the month of August, we have, of course, another list of some of the best slots that are must-see games you should be looking for. In no particular order, the following are what we think are the five best slots to play in August 2020.
1# Play'n Go – Riddle Reels Slot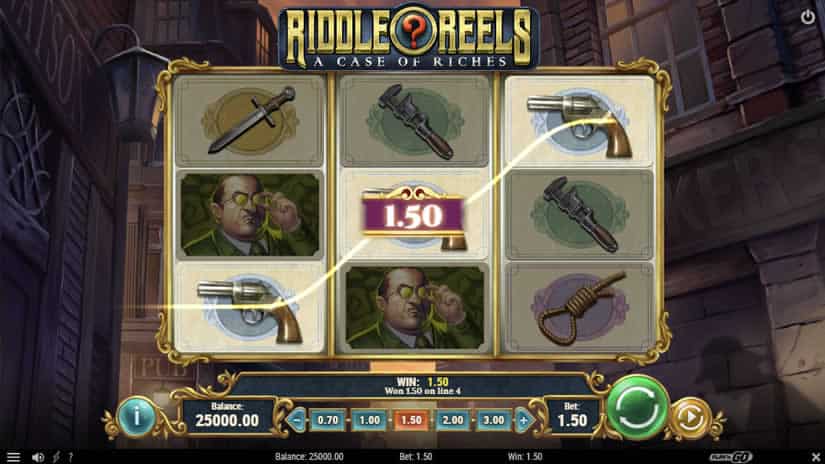 The Riddle Reels slot is an unusual sort of game from the crew at Play'n Go. They've combined some gameplay options that I don't think we've ever seen on one of their slots before, and done it extremely well. It's a game packed with bonus features, an unusual design, and based on one of the most famous characters in the literary world, Sherlock Holmes.
What Makes It One Of The Best Slots To Play In August 2020
The Riddle Reels Slot is a three-reel, three-row slot with nine pay lines. If you've never played a three by three slot before, they move fast. That means the action is constant. You can make a lot of spins and hit a lot more wins in much less time than with the more common five-reel games. It's hard to get bored on games like these.
What really makes this game stand out, however, is the board game bonus feature. They've come up with a free spins feature that somehow mixes perfectly with the opportunity to play a board game and try to capture a killer at the same time. The graphics and animations on the game are wonderful and it's a refreshingly different type of slot machine for those of you who are looking for something new and unusual to play.
With default settings, you can play for as little as £.10 or as much as £100 per spin. The default RTP rate is a very good 96.22% but players should be aware that these settings can be changed by casino operators. So wherever you play, make sure to look through the paytable and game information options so you know exactly what you're getting when you take a spin.
Play Here: Top Rated Play'N GO Casinos
2# Yggdrasil – Jackpot Express Slot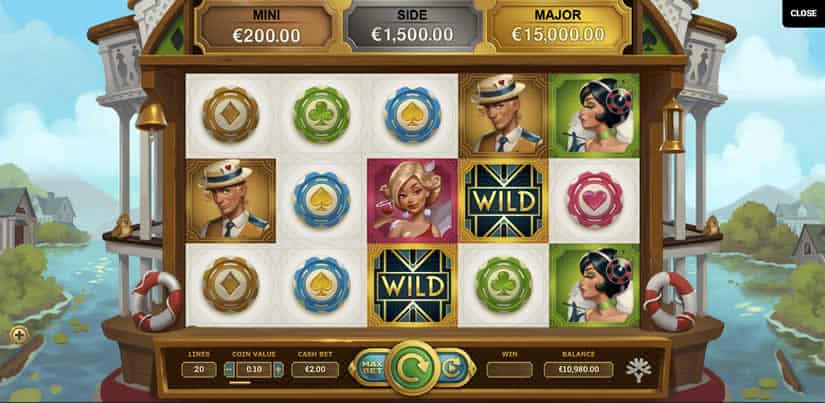 The Jackpot Express slot is also a bit of an unusual release as far as what we're accustomed to getting from a known, veteran game studio. Whereas most of their games are full of over-the-top animations and characters, this slot has obviously been designed to be very straightforward and appeal more to the pure slot machine enthusiast than to a video gamer.
What Makes It One Of The Best Slots To Play In August 2020
Jackpot Express is based on the old riverboat casinos. We're talking about the genuine boats from years gone by that used to move up and down the river as the players won, lost, and played their games. The theme is done extremely well. It's bright and colourful but not overwhelming in any way. There are also plenty of small (for Yggdrasil) animations that happen on most winning spins to keep things interesting.
The name of the game also hints at the three different jackpots that are available. You could end up winning anywhere from a few hundred to a few thousand extra coins to add to your balance on any spin. There are also three different types of free spins features. The action you get is always going to be just a little bit different every time you play, and the action makes the game irresistible.
Jackpot Express has a very good RTP rate of 96.2%, but it is a very high volatility game. On Yggdrasil's scale, they list the slot volatility at a whopping 210.
Play Here: Top Rated Yggdrasil Casinos
3# Microgaming – Banana Drop Slot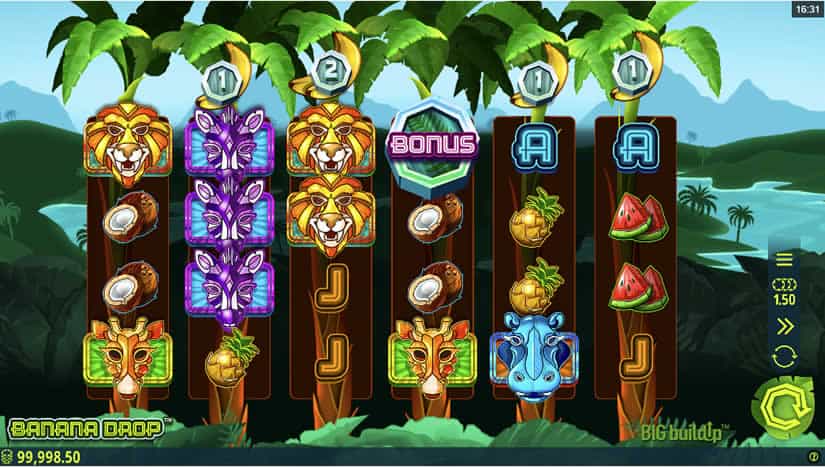 Crazy Tooth Studio and Microgaming worked together to bring us this goofy but irresistible release. The Banana Drop slot seems to bring back a lot of the fun factor that's been missing from some of the most recent Microgaming releases. The game brings together wonderful play and features, a very well done theme, and just the right amount of dancing monkeys.
What Makes It One Of The Best Slots To Play In August 2020
The game plays on six reels and four rows with a "ways to win" system. One of the best parts of the game, however, is that you can win for matching symbols on three adjacent reels anywhere on the screen. Winning combinations don't have to start with the first or last reel. All in all, you end up with 4,096 ways to win on each spin.
All of the reels are hanging from trees which grow bananas. There's a falling banana bonus that can trigger randomly on any spin, making the bananas fall and awarding you extra bonuses. The falling banana bonus is also guaranteed to trigger on every free spin during the free spins feature.
If you're looking for something, light, fun, and just a bit goofy to entertain you for a while, Microgaming's new Banana Drop slot should be just what you've been searching for. You can play for as little as £.15 or as much as £30 per spin. The RTP rate on this one is a very generous 96.7%.
Play Here: Top Rated Microgaming
4# Realtime Gaming (RTG) – Cash Bandits 3 Slot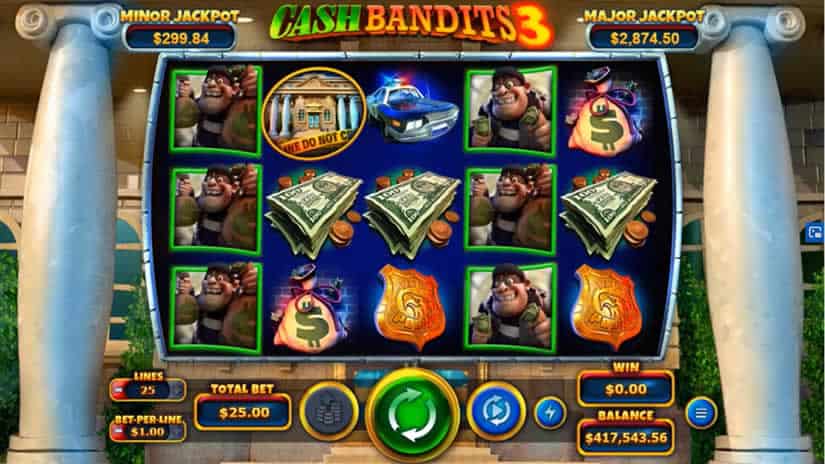 Fans of RTG – Real Time Gaming – and the first two Cash Bandits slots are sure to love this third instalment in the series. It's a very straightforward and pure slot game that's most definitely geared towards the players who are more interested in big wins than big graphics. The game is well put together and designed with high definition graphics, but it's based more on the idea of spinning and winning than trying to entertain you with wild characters or three-dimensional animations.
What Makes It One Of The Best Slots To Play In August 2020
One of the biggest attractions to this game is the progressive jackpots. Cash Bandits 3 slot has two progressive jackpots that will grow whenever someone takes a spin on the game from anywhere. The best thing about them is that they are awarded randomly. You can win either jackpot on any spin. There are no complicated games or weird puzzles to solve in order to take down those big wins.
The top bonus feature (aside from the jackpots) can also award you up to 390 free spins with a 23x win multiplier. You can imagine that free spins like that are going to end up giving you a prize that will put a smile on your face just as well.
You can get in on the action for as little as just £.01 or as much as £6.25 per spin, choosing tio play anywhere from one to 25 pay lines. The default RTP rate of 97.5% is also rather high, especially for a game with progressive jackpots.
It's also worth noting that RTG games are often available to players who live in places where setting up casino accounts can be difficult, such as the USA or Australia. If you live in an area where it's difficult to find casinos that have a good game selection and will allow you to sign up, check our lists to see where you can find this and other RTG slots.
Play Here: Top Rated RTG USA Casinos
5# NetEnt – Druid's Dream Slot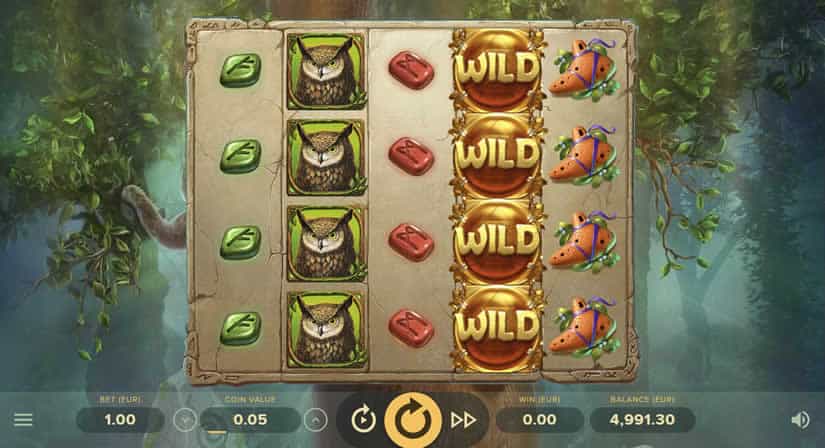 The Druid's Dream slot brings together both an unusual theme, and a great feature that we don't see very often in slot releases. As you would expect from NetEnt, it's high definition all the way around and the theme's colour and sound set up a very relaxing atmosphere that makes this slot very pleasant to play. It's easy to lose track of time as you sit back, spin, and fall under the druid's spell.
What Makes It One Of The Best Slots To Play In August 2020
One of the first features you'll notice (and one that most players absolutely love) is that Druid's Dream pays both ways. There are 40 fixed pay lines and you'll get paid for winning combinations that start on either the first or last reel. This immediately doubles your chances of hitting wins.
There are also several bonus features in the game that can help increase and multiply your winnings as you make those matches. You have, of course, wild and scatter symbols, but there are also wild charge respins, a respin nudge feature, and a free spins feature where it's possible to have the entire third reel turn wild and even win additional spins.
You can play for just £.20 or go as high as £400 per spin. Druid's Dream has an RTP rate of 96% and NetEnt rates it as a low to mid volatility slot. So you can count on seeing some wins fairly regularly, but you'll get a lot of small payouts before you see anything very large.
Play Here: Top Rated NetEnt Casinos
And that's it for our list this month! Any or all of these slots are sure to end up in your bookmarks. If you happen to have trouble finding any of the games at a casino where you play, just check our lists and we'll be happy to show you plenty of casinos that carry games from each of the designers that we've mentioned above.
Remember, gamble responsibly! Set your limit before you play and stick to it!
Cheers and good luck!