The end of the year is near and this will be our last monthly list of the best slots to play for 2019. There are, of course, quite a few holiday-themed slots that have been released in the recent weeks, but those aren't the only slots worth playing by any means.
It was a difficult task with so much truly exciting, new, reel-spinning action released over the last few weeks, but we've managed to cut things down to what we feel are the five best slots to play in December 2019. Some have a holiday theme, some don't, but all are guaranteed to give you a great video slot experience and present you with some amazing opportunities to add mountains of extra cash to your casino bankroll balance if you hit the right combinations.
Remember, if you want to win, you have to spin! And if you're going to spin, these are the slots you should go out of your way to play. Fresh out of the box and available at the best online casinos, this is our list of the best slots to play in December 2019.
1# NetEnt – Santa Vs Rudolf Slot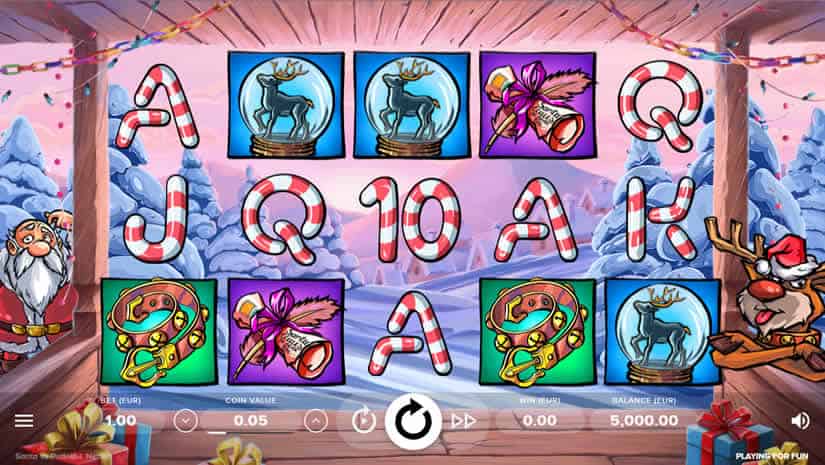 The Santa Vs Rudolf slot from NetEnt pits Santa against the red-nosed leader of his reindeer team. It's obvious that Rudolf has become a bit tired of the fat old man bossing him around and he's decided to do something about it. The best part of it all is that as these two classic Christmas characters clash, the gifts will rain down on you and your bankroll with each scuffle they get themselves into.
Why It's One Of The Best Slots To Play In December 2019
Santa Vs Rudolf is a five-reel, three-row video slot with 20 fixed pay lines that pay in both directions. It's a good fit for both conservative and high-rolling gamblers with possible wagers ranging from just £.20 all the way up to £400 per spin. The theme is well done, drawn in a fun, cartoon style that fits the concept very well. The game makes you want to smile from the moment the first screen loads up.
One of the best features is the walking wild symbols with respins. Whenever a wild symbol lands on the reels, respins will start and the wild symbol will move one space to the left or right with each spin. The respins continue until all wild symbols have left the reels. This can turn into quite a lot of free spins when the right conditions present themselves. There's also a straight free spins feature plus a special bonus feature for both Santa and Rudolf, too. With an RTP rate of 96.3% and a maximum win of 270,000 coins, it's hard to find anything negative to say about this Christmas gift from NetEnt.
Where to Play? Top 3 NetEnt Casinos
2# Yggdrasil – 9k Yeti Slot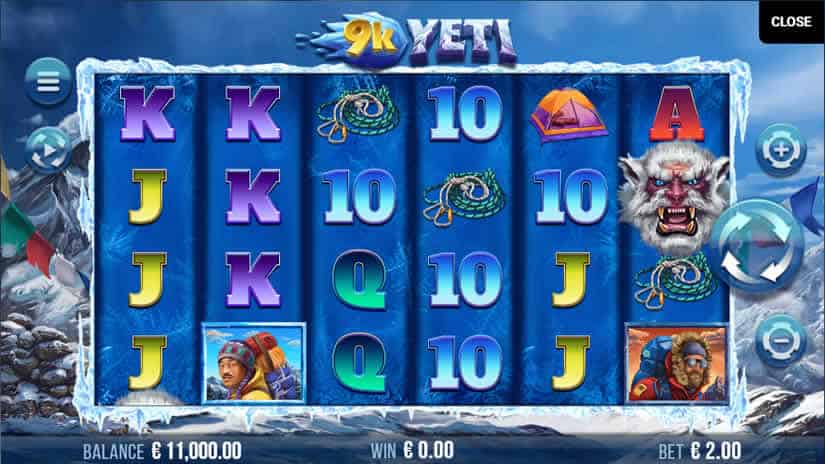 The 9k Yeti slot was put together by Yggdrasil partner studio 4ThePlayer.com. The concept behind the theme is a climb up the mighty Mount Everest and the legend of the mighty snow beast known as the Yeti. It's a high-volatility slot game that's sure to keep you on your toes and comes with some bonus features that have the potential to pack your pockets with big loads of coins when you get lucky.
Why It's One Of The Best Slots To Play In December 2019
9k Yeti is a six-reel, four-row video slot that pays on 4096 ways to win. Landing any same symbol(s) on three or more adjacent reels from left to right, starting with the first reel, will result in a winning combination. Win multipliers can get big, too, when you hit more than one of the same symbol on one or more reels within a winning combination.
There's only one real bonus feature on this slot and that's free spins. It may not sound like much, but it's a free spins feature unlike anything you've seen on other video slots. First, when you initially trigger the feature you will be awarded anywhere from eight to 88 free spins depending on how many scatter symbols land. It's also possible to retrigger from five to 50 additional spins and up to a total of 880 spins. When you throw in the 97% RTP rate and a maximum win of 9000 times your bet, there's plenty of reason to play.
Where to Play? Top 3 Yggdrasil Casinos
3# NetEnt – Ozzy Osbourne Slot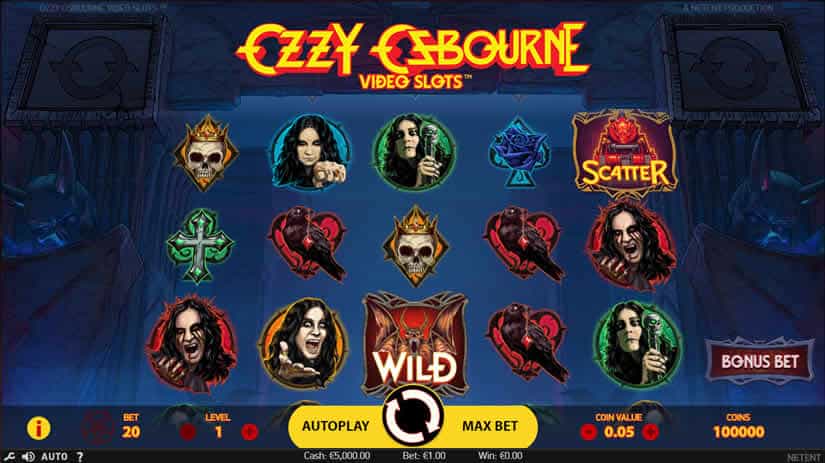 The Ozzy Osbourne slot from NetEnt is a video slot that many players have been eagerly waiting to see. It's the first time heavy metal's Prince of Darkness has appeared on a video slot machine and NetEnt has been teasing it for quite some time. The results were worth the wait and fans should be beyond satisfied with this latest addition to the rock and metal music-themed collection of slots from NetEnt.
Why It's One Of The Best Slots To Play In December 2019
The Ozzy Osbourne slot is a five-reel, three-row slot with 20 fixed pay lines. The theme, of, course, revolves around Osbourne and his one of a kind personality as well as his music. You'll see several different versions off the Ozz-man fly by as the reels spin and the soundtrack will rock you with three of Ozzy's most famous classic songs.
The bonus features on this slot come in the form of respins and free spins combined with boosted symbols. Two scatter symbols will trigger a respins while three will take you to the full-on free spins feature. Whenever an extra spin occurs, a random symbol will be chosen and then a random effect will be applied to that symbol. Extra coin wins, multipliers, mild conversions and symbol paytable upgrades are all possible. There's also a bonus bet feature that increases your odds of hitting matches and features in exchange for a larger bet. With or without the bonus bet enabled, you'll get a great RTP rate of 96.3%. You can find this and other Yggdrasil NetEnt slots at most UK online casinos.
Where to Play? Top 3 NetEnt Casinos
4# Play'n Go – Xmas Magic Slot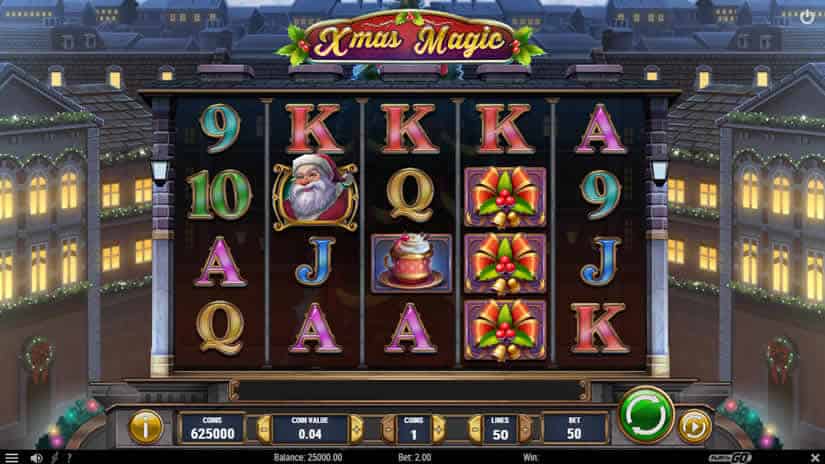 The Xmas Magic slot is, obviously, another Christmas themed slot. It's not just any Christmas-themed slot, however. Play'n Go did a good job of putting some real action into this video slot rather than just slapping a Christmas look on a pre-built design and calling it something new. If you're a fan of the holiday themes, you should really enjoy this one. Of course, a chance at big payouts doesn't hurt the playability either.
Why It's One Of The Best Slots To Play In December 2020
Xmas Magic is a five-reel, three-row video slot with 50 selectable pay lines. It's one of the few modern video slots that doesn't play with a fixed number of pay lines and will actually let you choose how many you'd like to bet on with each spin. Because of this, it's actually possible to play for as low as £.01 per spin. The theme itself is well designed and colourful without going too far over the top as these types of themes sometimes do.
Wagering options on this slot are a dream for conservative gamblers who like total control. With the ability to choose how many lines you'd like to play, you can set a wager anywhere from just £.01 per spin all the way up to £25.
The free spins feature is the star of the show here. Initially triggering free spins will get you ten, but it's possible to retrigger up to a total of 20 at a time. During the feature, 2 stacked wild symbols are added to each reel with each spin. This adds up to many additional chances to make high-paying matches and land some very generous payouts. This slot has an RTP rate of 96.5% and the possibility of winning up to 1,000,000 coins.
Where to Play? Top 3 Play'N Go Casinos
5# Booming Games – Witches Wild Brew
The Witches Wild Brew slot from Booming Games is most certainly not a Christmas slot, but it can most definitely make some of your holiday wishes come true if you get lucky enough to land the right combinations. As the green mist floats through the dark forest and the ravens in the trees call to you, watch out for the three witches with the power to change your life!
Why It's One Of The Best Slots To Play In December 2019
Witches Wild Brew is a five-reel, four-row slot with 25 fixed pay lines. There are only ten symbols on the reels, and the volatility level of this slot is low, so you'll hit matches and collect payouts fairly regularly as you play. It also has a wide range of betting options that should suit just about any player. The minimum wager per spin is just £.25 and you can bet as high as £250 if you fancy yourself a bit more of a risk-taker.
The bonus features on this slot make it a lot of fun. The randomly triggered "pick a raven" feature is interactive and can pop up unexpectedly at any moment. Wild symbols always bring something extra when they land, converting up to 8 symbols across the reels into wilds and sometimes adding a prize multiplier as well. Free spins are there too, of course, and you can win anything from 15 spins up to 25 spins plus a jackpot of 1,500 times your bet depending on how many scatter symbols land. The RTP on this slot is configurable, so it can vary from one casino to another. You should check the game rules and paytable on the site where you play to see the actual RTP rate.
Where to Play? Top 3 Booming Games Casinos
Good Luck And Happy Holidays
And so there you have it. These are the best slots to play in December 2019. Look for them at your favourite online casino or consult our lists to find the casinos that carry them. You'll be glad you did!
We'll be back next year—less than 30 days away—with some brand new slots to get your brand new year off to a roaring start. Until then, we wish you all the happiest of holidays. Eat, drink, and be merry…but remember to play within your means and please stay safe as you travel and/or celebrate with friends and family. We'll see you all in 2020!
Cheers and good luck!