Many of us are still sitting in our homes bored out of our minds as we move into the fifth month of 2020. Luckily for us all, our favourite game developers have been faithfully toiling away in their design studios and are still releasing new video slots for us at a regular rate.
Not only are we still seeing a steady flow of new games coming into the casinos, but we're also seeing the introduction of some slots with never before seen features and game mechanics. It might not be a good time to be planning any sort of upcoming vacation or even a trip to the other side of town, but if you like to hang out and have some fun spinning the slots, there's never been a better time.
There have been quite a few new releases appearing in online casinos over the last month, many worth checking out. Only a select few, however, can be named the best and that's why we're here. We've been going over all of the games recently released in the world of gambling and we're going to give you the top five must-play slots that you should be looking for. These are the best of the best slots to play in May 2020!
1# Annihilator Slot – Play'n Go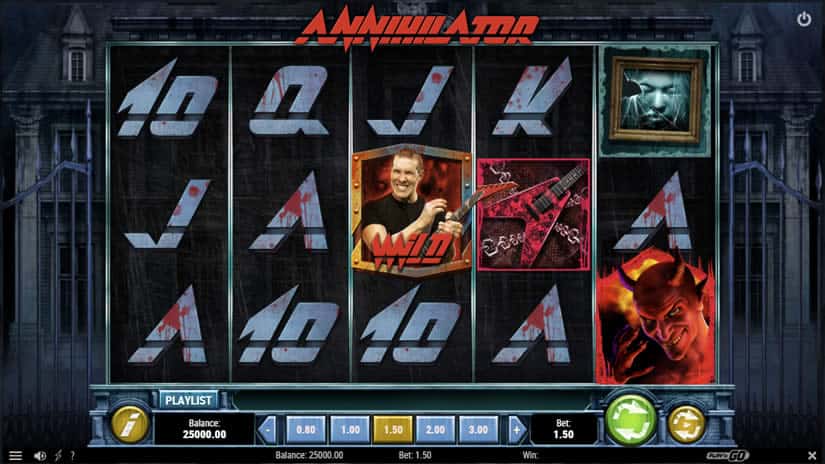 The Annihilator slot is based on the biggest and best thrash metal band to ever come out of Canada, Annihilator! Filled with dark and creepy visuals and an ample selection of some of the bands biggest and best head-crushing hits, it's a must-see for any fan of the music genre. An affinity for heavy metal is not the only thing that makes this slot worth checking out, though. Where to play it? This game is available at any Betsoft casino site.
Why It's One Of The Best Slots To Play In May 2020
Annihilator is a five-reel, three-row slot with ten fixed pay lines. Of course, Jeff Waters, the founder and driving force behind the band is prominently placed as the wild symbol in the game and gives a blazing guitar solo each time he contributes to your winnings. You can get in on the action on this slot for wagers ranging from just £.10 up to £100.
There are three different bonus features in the game that can all lead to great prizes. In addition to free spins, which come with their own special sub-features, there's also the "Fun Palace" feature which will creep you out and boost your balance at the same time. Make the right picks on this interactive feature and you could win well over 50x your bet. A 96,2% return to player (RTP) rate will also make sure your bankroll isn't going to vanish in a burst of flames.
Play Here: Top Rated Play'N GO Casinos
2# Back To Venus Slot – Betsoft
Back To Venus is a sequel to the "It Came From Venus" slot that some veteran gamblers may remember from a few years back. It's a thoroughly fun theme with high definition graphics and plenty of animation that keeps things both interesting and humorous. Help the giant alien Venus Flytrap get his ship back in shape and he'll take you back to Venus where you can find treasures they've never even dreamed of here on earth.
Why It's One Of The Best Slots To Play In May 2020
Back To Venus is a five-reel, three-row slot with 20 fixed pay lines. There are loads of animations that really make the game very enjoyable to play. Wild symbols come zooming in on asteroids and smash into the reels while the ever-present alien plant is constantly watching and reacting to your progress.
There are four different bonus features including the fact that every wild symbol sticks in place for two spins and that extra wilds can even show up on non-winning spins to give you another chance to win. One of the best things is that all minor bonus features remain active during free spins, so wins there can really pile up nicely. With a respectable RTP rate of 97.07%, you can't go wrong.
Play Here: Top Rated Betsoft USA Casinos
3# Diamond Fiesta Slot – RealTime Gaming
Diamond Fiesta is a fun and festive slot with a theme based on the Day Of The Dead. The overall look is dark, but it's filled with colourful symbols and there's plenty of exciting action that will have you smiling bigger than the partying skeletons on the reels. Another good characteristic of RTG casino games is that they're available at many online casinos that accept players from the US and Australia.
Why It's One Of The Best Slots To Play In May 2020
It's possible to start spinning for as low as £.50 per spin, so even most conservative gamblers should find the price accessible. Then, with 50 pay lines, there are plenty of chances to hit winning combinations no matter where the reels stop.
The bonus features on the game are what really make it fun. There are special diamond symbols on the reels that can take you into a feature where the reels will begin filling with diamonds and each will reveal prizes that could be worth up to 250x your bet. Uncover enough of those diamonds and you could be looking at a major raise in your casino balance. The official RTP for this slot is not published but it's estimated to be at about 96%.
Play Here: Top Rated RTG USA Casinos
4# Mega Moolah Absolooty Mad Slot – Microgaming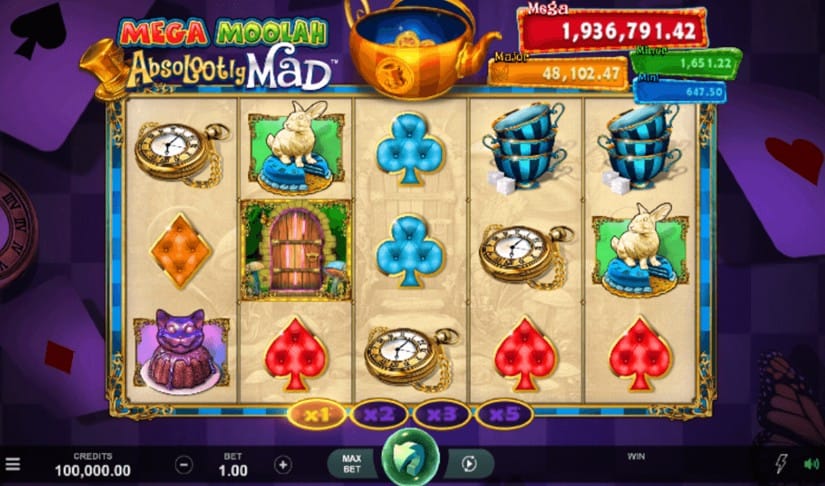 This slot is one of the few that are tied into the massive Microgaming Mega Moolah jackpot. It's got a brilliant and colourful theme based on the Mad Hatter from the story of Alice In Wonderland. The slot itself is fun to play, and that thing about being able to hit a multi-million dollar progressive jackpot doesn't hurt either.
Why It's One Of The Best Slots To Play In May 2020
Absolootly Mad is a five-reel, three-row slot that works on the 243 ways to win payout system. It also has some fun game mechanics that don't usually appear in slots with a progressive jackpot. Each time you win, winning symbols are removed and new symbols come down onto the reels. What's more, each time this happens there is chance that you'll be able to spin a wheel which will award one of the four jackpots.
There are four progressive jackpots available at all times. They are mini, minor, major, and mega. If you win one, you'll get least £10, £100, £10,000, or £1,000,000 respectively. The Mega jackpot, however, has been known to grow to numbers well in excess of £10,000,000. The RTP rate is somewhat low, at just 86.7%, but that's because a portion of each wager is contributed to the growth of the jackpots. You have to accept that tradeoff if you want chances to win truly life-changing payouts.
Play Here: Top Rated Microgaming Casinos
5# PopRocks Slot – Yggdrasil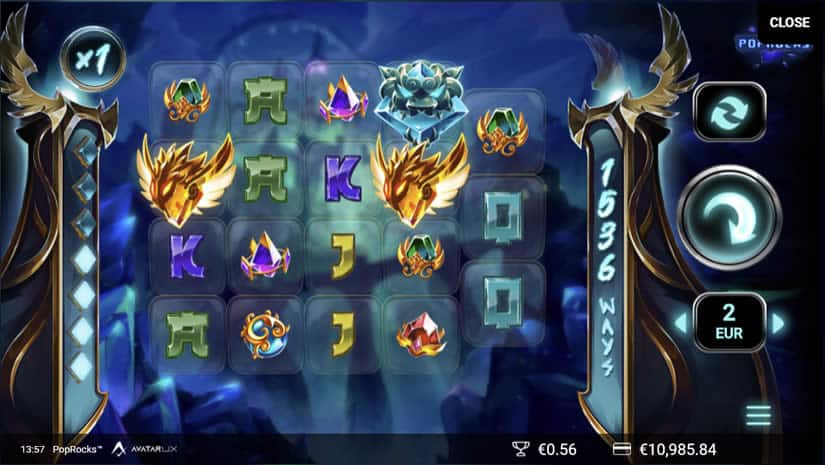 PopRocks is the first slot released by Yggdrasil that shows off their new PopWins game mechanics. It takes a somewhat familiar concept and turns it into something totally new that adds a lot of action and excitement to the game. PopRocks truly is fun to play, but it's worth checking out just to see this one-of-a-kind new feature in action on the game where it was born.
Why It's One Of The Best Slots To Play In May 2020
PopRocks starts out as a five-reel, three-row slot with a "ways to win" payout system. Normally a 5×3 slot would have 243 ways to win, but this one pays from both sides, so you actually start out with 486. The PopWins system will also look somewhat familiar at first. When winning combinations land, any symbols involved in the win will pop and be removed from the reels.
The difference here is that after winning symbols pop, they are replaced by two new symbols instead of just one. The reels where the replacements happen will expand as well, creating more ways to win in the process. The popping and replacement process will continue as long as new wins are created. Adding just a bit more to it, there is also a bonus multiplier that will increase by one for every seven symbols that match and pop.
All in all, it's possible to expand all the reels to 7 rows and end up with 33,614 ways to win with a maximum total payout of 72,188 times your total bet! This is a high volatility slot but does have a generous return to player (RTP) rate of 96.4%.
Play Here: Top Rated Yggdrasil Casinos
And there you have the five must-see slots that you should be looking for at your favourite online casino. Remember, if you have trouble finding any of them, just check our lists of casinos who work with the different game designers and you're sure to find one where you'll be able to play.
Until next time, cheers and good luck!