Another month has gone by—another very long boring month for most of us. And we're all looking for new things to do. As our luck never seems to run out here, we've got a fresh new batch of brand new video slot machines that you'll be wanting to hunt down at your favourite online casino and take a few spins on.
These are the best and brightest new designs from some of the top video slot machine design teams in the world. You may not agree that all of them are top-notch and worthy of your money, but we guarantee that you'll find at least a couple that you're going to tack on to your favourites list and keep there for a while.
For your fun and entertainment in this fine month of July 2020, we present to you, in no particular order, the best slots to play in July 2020.
1# NetEnt – Street Fighter II Slot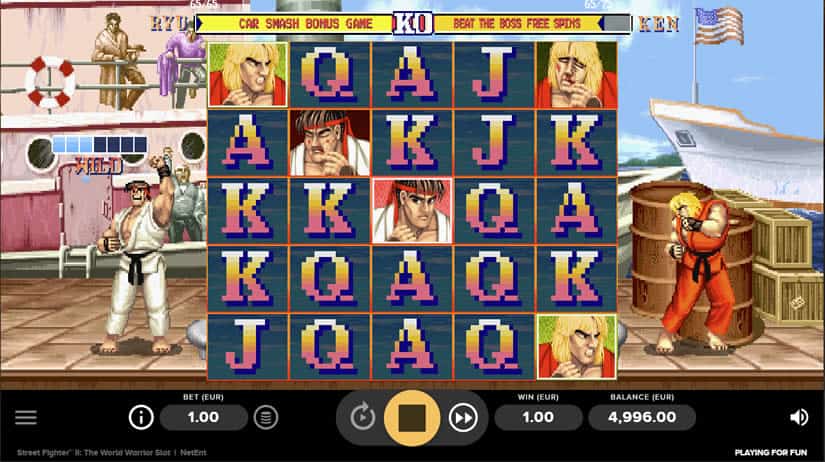 We have to start out with what will undoubtedly be one of the top slot machines ever released. NetEnt's slot machine conversion of the arcade classic Street Fighter II brings you everything you remember from the original game plus even more. You'll get to choose your character and battle it out with all of the classic Street Fighter opponents as you try to spin your way to the top and even take out all of the bosses.
What Makes It One Of The Best Slots To Play In July 2020
The slot starts off looking almost exactly like the original arcade game. You'll be asked to choose a character and then a random opponent will be selected to fight you. As you spin the reels, not only will you rack up wins, but the results will determine who takes hits to their health meters and wins the fight. And the best part is, that it doesn't matter if you win or lose the battle, you're going to get a bonus round either way!
It's a five by five slot with an avalanche system that will replace symbols when you make wins. Depending on the characters fighting, and a wild symbol collection system, the blocks will be replaced with wild symbols and the character will deal damage to each other. You'll be able to keep spinning until one of the characters is defeated.
If you lose, you go to the classic car smash bonus round. If you win, you go into free spins and take on the bosses. Free spins also go on until a character is defeated, and there are four bosses, so you can get a colossal amount of free spins and extra cash out of this feature.
This game is an absolute must-see for both slot machine enthusiasts and Street Fighter II fans alike. You'll get a great return to player (RTP) rate as well, at 96.06%.
Play Here: Top Rated NetEnt Casinos
2# Betsoft – The Hive Slot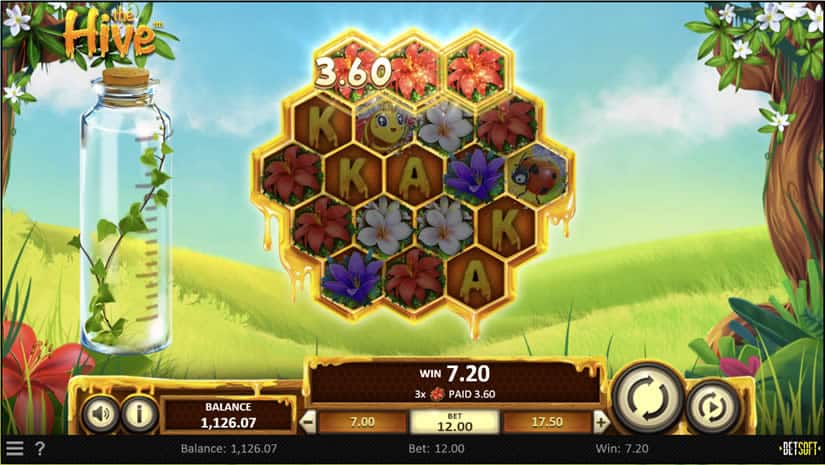 The Hive slot from Betsoft is somewhat unique in its design. It runs on 30 pay lines over a hexagonal-shaped playfield. Going from left to right, the reels are laid out in a 3-4-5-4-3. One of the best things about the game is the fact that you can win on rows going straight across or one of the diagonals. So it's a pays both ways sort of system.
What Makes It One Of The Best Slots To Play In July 2020
There are several different bonus features that can go off at any time. Worker bees will bring multipliers. Drone bees will help contribute to free spins, and Queen bees can summon hordes of them to fly around the hive and help you in your quest to bust the bank and stuff your wallet.
There are also honey burst spreading wilds that will virtually fill the playfield with wild symbols each time you get free spins, which will, of course, boost your shot at getting some huge wins whenever the free spins kick in. The game may not look like much at first, but give it a few spins and you'll start to see how it can put a nice kick in your balance when you hit the right combinations. You also get a great RTP rate of 96.97%.
Play Here: Top Rated Betsoft USA Casinos
3# Yggdrasil – Wild Pops Slot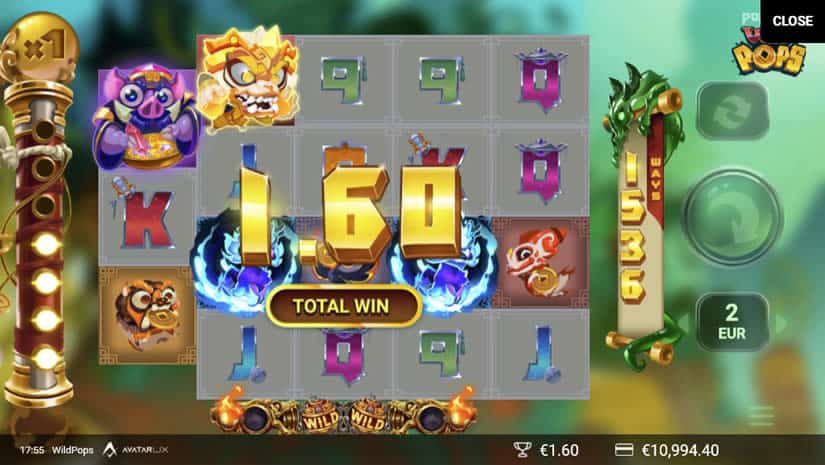 The Wild Pop slot is the second in the series of Yggdrasil slots to use the Pops system of play, and they've done a great job of improving on the first. This one brings a brilliant Asian theme. With more bonus action than you can possibly remember without reading the rules a few times, this "pays both ways" game that starts out at 486 ways to win can be expanded all the way up to 33,164.
What Makes It One Of The Best Slots To Play In July 2020
The pops system, without a doubt, is one of the most interesting game mechanics to come along to slot machines in quite some time. Each time you win, winning symbols will "pop" and be removed from the reels. The reel will then expand and the removed symbol will be replaced by two new ones. Each time this happens, the ways to win increases, and you'll have a shot at winning again. The process repeats every time a new win is created and reels can expand to up to seven rows.
There's also a multiplier bonus that will go up by one each time you manage to expand any of the reels all the way up to its maximum of seven. Get all the reels to seven and you'll even be granted three extra lives which will each give you one extra free spin should you happen to fail to produce a winner from any forthcoming avalanches. With an RTP rate of 96.2% and a max payout of more then £500,000, this is a hard slot not to like.
Play Here: Top Rated Yggdrasil Casinos
4# Play'n Go – Troll Hunters 2 Slot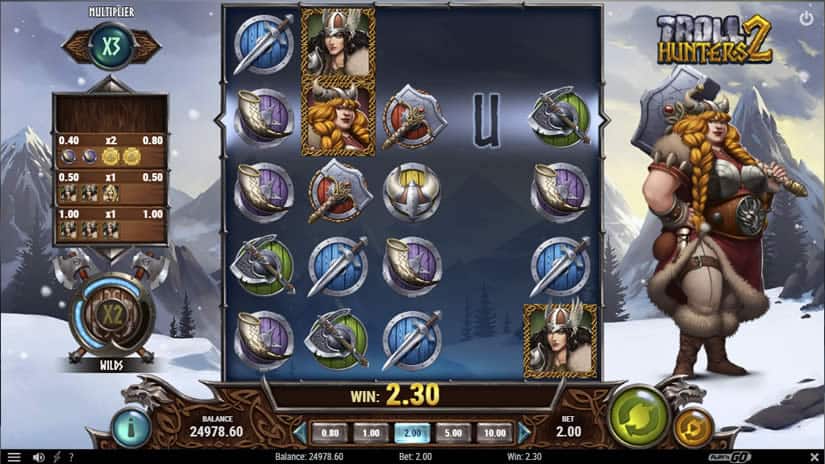 The Troll Hunters 2 sequel is certainly one of the best that Play'n Go has ever put out. With three beautiful and even brutish troll hunters to help you on your quest, the treasures this troll hides off in the mountain snow are well worth hunting for. Get ready for an adventure that will require some determination, and fortitude to make it to your destination.
What Makes It One Of The Best Slots To Play In July 2020
The game is full of wild symbols and prize multipliers that will keep things exciting throughout the game. There's also an avalanche feature that will remove winning symbols from the board and replace them with new symbols each time you win. On top of that, many of those new symbols will be wild, which, in turn, increases your chances for even more wins.
You can play the game for as little as £.20 up to £100 per spin. This one, too, includes an avalanche feature, however, as the blocks above fall in to fill empty spaces, no new blocks are added. Instead, you will get extra bonuses, like free spins, if you can manage to clear off certain portions of the playfield through wins. If you clear the entire screen, you'll get an instant payout of £1000 for your trouble. The RTP rate (return to player) on this slot is 96.50%, which is great. Be wary, though, Play'n Go also lists this game as "VERY HIGH" on their scale of slot volatility. So be ready for some ups and downs as you play.
Play Here: Top Rated Play'N GO Casinos
5# Microgaming – Aurora The Beast Hunter Slot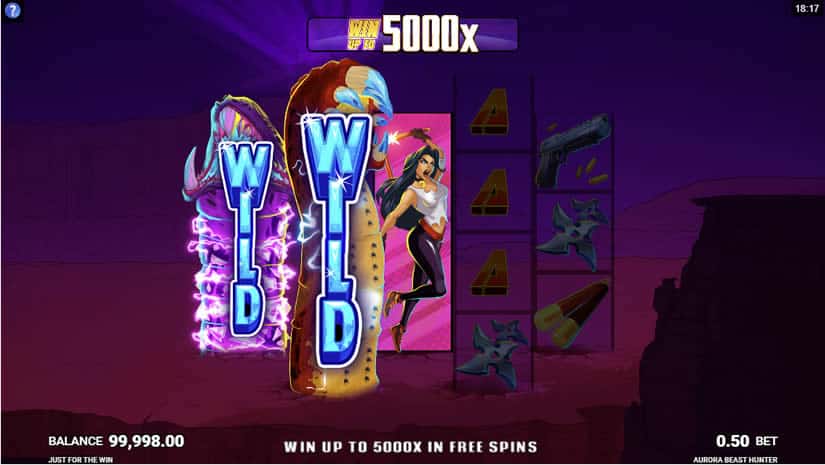 Just For The Win and Microgaming have come up with a pretty special video slot in Aurora The Beast Hunter. Aurora is a beautiful hunter, armed to the teeth, and hunting beasts for big prizes. As you follow her on her adventures, you'll run into all different kinds of oddities and aliens, some of which will pay you well.
What Makes It One Of The Best Slots To Play In July 2020
Three different random bonuses can pop up during the main game at any time, including up to seven different types of wild symbols and free spins. There's always something going on. The designers also did a great job of making this slot look different from most of the recent releases with a unique colour theme and an unusual 3-4-3-4-3 row layout on the reels.
There's also an automatic respin feature to give you a second chance if you land two, but not three of the scatter symbols needed for free spins. When you do hit the free spins feature, you'll have three choices to pick from, each with its own unique features to help you get what you want out of the game.
You'll be able to play for as little as £.10 per spin or go all the way up to £50. The RTP rate on this slot also gives great value for your cash with a return to player (RTP) rate of 96.27%.
Play Here: Top Rated Microgaming
So that's it for this month's list. You're sure to find at least one or two on the list that you'll find yourself playing regularly for at least the next few weeks. By then, of course, we'll have a brand new list of brand new slots to play for next month, so watch out for it.
Cheers and good luck!