As we leave the warm days of Spring and Summer behind, Autumn takes hold and gets the world ready for the cold, lazy winter ahead. We may not see days of fun in the sun for several months now, but that doesn't mean we aren't going to enjoy some fun and excitement just the same.
To make sure that the shorter, darker days don't get you down, I've got a fresh new list of the hottest slots to appear from top casino game developers in the last few weeks. Even if the weather outside might look frightful, you'll be warm and toasty in your favourite spot with plenty of action to keep you smiling from ear to ear.
So then, let's get on with it. What are we waiting for? Following are the best slots to play in September 2019! Make some extra space at the top of your list of favourites and I'll dive right in.
1# Yggdrasil – Nikola Tesla's Incredible Machine Slot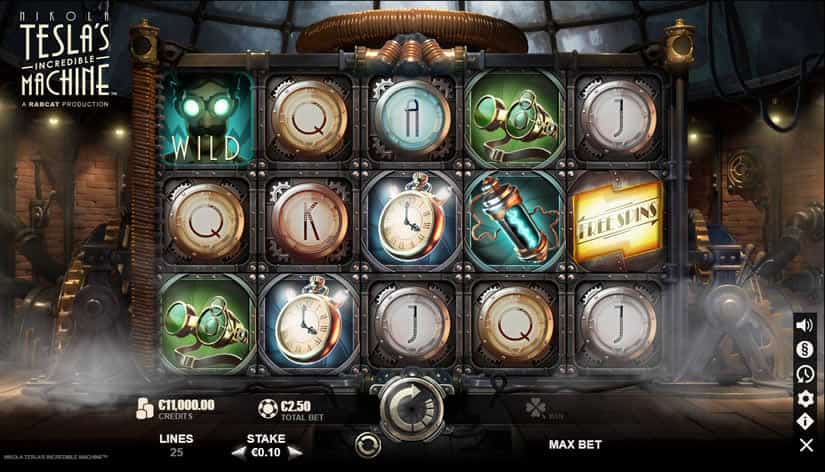 Yggdrasil Gaming is known for the vivid imagination that shines through in their themes and designs, but even for them, this slot stands out as original and extremely well done. As you would expect from this veteran design studio, everything is done in brilliant high-definition graphics, there are plenty of exciting bonus features, and the idea behind the theme is quite original.
Why It's One Of The Best Slots To Play In September 2019
The Nikola Tesla's Incredible Machine slot is a five-reel, three-row slot that awards wins on 25 fixed pay lines. There are big prizes to be won and the game is a lot of fun to just watch simply because of the great graphics and animations everywhere. Bonus features also seem to activate with a good amount of regularity, which always makes a slot machine more fun to play.
There are so many bonus features on this game that it's easy to become confused—but that's a good thing. Different triggers will set off free spins, of which you can get anywhere from three to 12. You'll see features like exploding wilds, cloned reels, and even the opportunity to win both ways during the regular free spins feature. This one will definitely give your brain and your bankroll a charge. Yes! This slot machine is available at most UK online casino sites.
Where to Play? Top 3 Yggdrasil Casinos
2# Big Time Gaming – Kingmaker Slot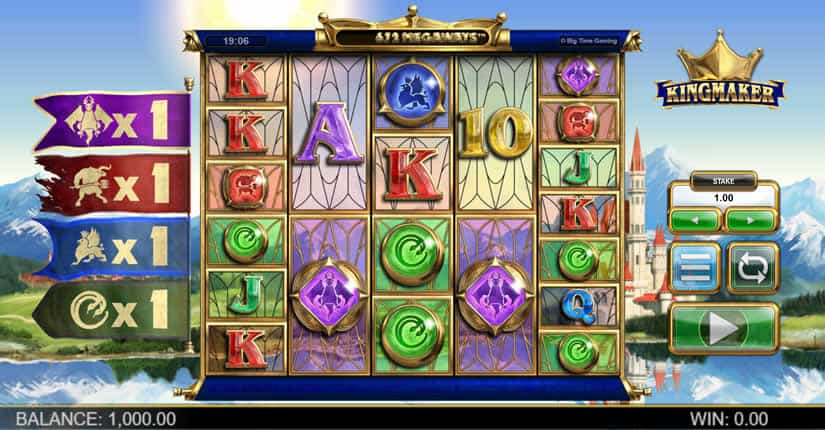 The Kingmaker slot is another from Big Time Gaming that takes advantage of their insanely popular Megaways payout system. With a theme based on medieval kingdoms and grand jewels, there are plenty of riches to be found on the reels of this video slot. It also has a low minimum wager that makes it accessible for anyone looking for royal fun.
Why It's One Of The Best Slots To Play In September 2019
Kingmaker is a five-reel slot, but the number of rows is highly variable. With the Megaways payout system, each of the reels can stop with anywhere from two to seven symbols showing. The number of ways you can win will vary for each spin, but all in all, it's possible to get up to 16,807 ways to win on a single spin.
Aside from effectively having more than 16,000 pay lines, there are also some great bonus features built into this slot. There are special gem multipliers that will advance as you play and multiply your regular wins. The best part, though, is that when you hit the scatter symbols and get up to 20 free spins, those gem multipliers will all be added together and used as an overall win multiplier for the duration of your free spins. As if that weren't enough, you can retrigger up to 20 free spins, too!
Where to Play? Top 3 BTG Casinos
3# Play'n Go – Hugo's Adventure Slot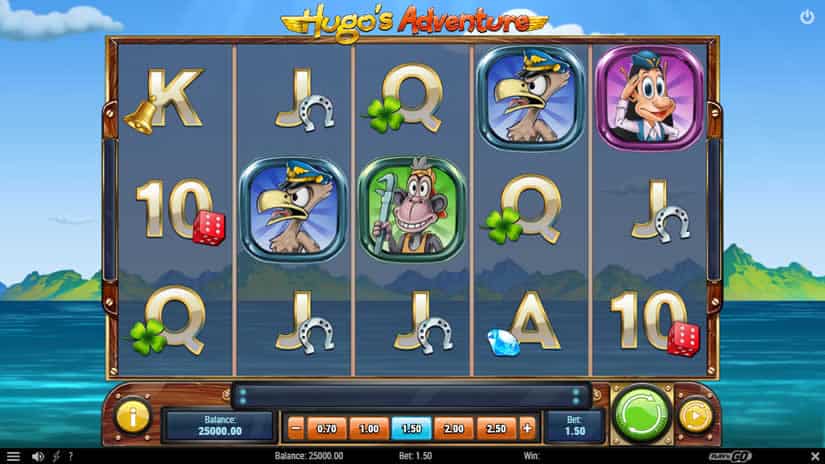 Play'n Go's favourite pointy-eared video slot mascot is back in the latest game to come out of their hit Hugo series of slot machines. This time Hugo is going to take you along on an adventure as he pilots a biplane through the heavens and dives deep in search of treasure in a submarine. Hugo may be the one going on an adventure, but you're going to be the one to reap all the rewards along the way.
Why It's One Of The Best Slots To Play In September 2019
It's obvious that Play'n Go put a lot of effort into making this slot fun and full of action. Hugo's Adventure slot plays on five reels with three rows and ten fixed pay lines. You can play for as little as £.10 or as much as £100, so it should appeal to quite a large audience.
There are a few different bonus features, including one that's interactive. It's even possible to hit a special trigger in free spins that will start a second bonus feature from there. There's a lot of arcade-style play where Hugo is granted a number of lives and depending on how far he goes before losing those lives, you'll get different prizes. There are plenty of multipliers and extra wins thanks to wilds, too. Hit it just right and you could win up to 5,000 times your bet on one spin. Play'n Go slots can be found at reputable online casinos offering fast payouts.
Where to Play? Top 3 Play'N Go Casinos
4# NetEnt – Imperial Riches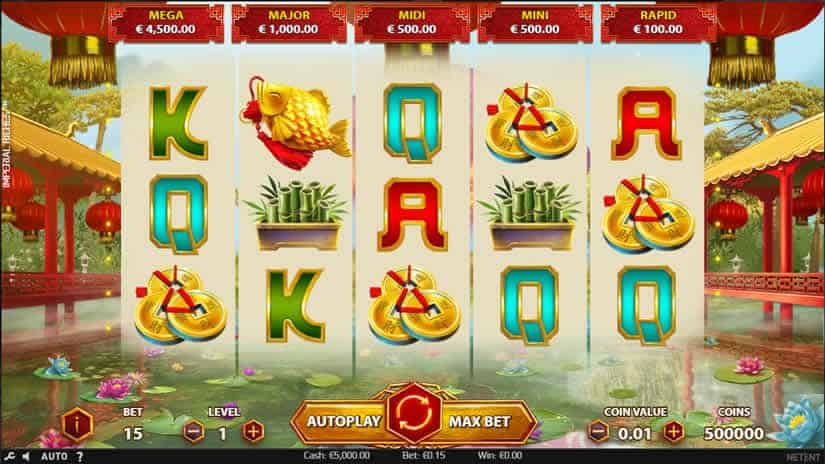 The Imperial Riches slot from NetEnt produces a wonderful blend of both excitement and calm tranquility. This Asian themed slot has beautiful soft colours and soothing music that you don't come across very often on video slot machines. You'll certainly be jumping out of your seat when you hit a big win, but you'll also get some quality downtime if you like to sit back and relax while you play.
Why It's One Of The Best Slots To Play In September 2019
Imperial Riches slot is a five-reel, three-row slot with 15 fixed pay lines. You can play for amounts ranging from just £.15 per spin up to £30. The graphics are high definition and brilliantly done. Everything is very straightforward without too much flash or irritating noise. This is a great slot for the serious player who doesn't want a lot of distractions.
Of course, as you'd expect from a NetEnt slot, there are some great bonus features. There's a huge progressive jackpot on this slot. Well, if we're going to tell all, there are actually three progressive jackpots on this slot. Oh, yeah, and then there are two more fixed payout jackpots, too. Yes, that's right, there are five jackpots on this slot. There are also three other bonus features including cascading symbols and free spins that will boost your prizes as you spin for the big win.
Where to Play? Top 3 NetEnt Casinos
5# Yggdrasil – Dwarf Mine Slot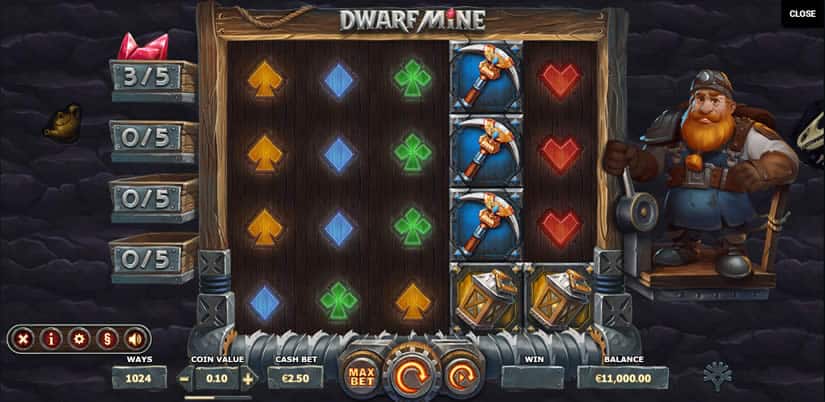 Finishing off the list for this month, we have one more from Yggdrasil. They've been running good, and it shows. The Dwarf Mine slot has a brilliant mix of gameplay, crazy features, beautiful graphics, and the sound and animations that this company is known for. It looks like a simple slot at first, but you'll see that there's a lot going on here once you get into the game. I recommend to choose an online casino with cashable bonuses, so you can play longer!
Why It's One Of The Best Slots To Play In September 2019
Yggdrasil slots are always good, but many of them tend to have one feature that overshadows everything else. They've come up with a few really interesting systems of play and bonus rewards, but most of their designs only get one of them. This slot incorporates several to make a big mash-up that really comes together nicely.
This one starts out as a five-reel, four-row slot. It doesn't stay that way for long, however. The reels can expand from four rows up to seven. Instead of standard pay lines, it uses a ways to win system. That means that with four rows visible, you'll have 1024 ways to win on every spin. When the reels fully expand, though, at seven rows, you have a whopping 16,807 ways to win.
There are several bonus features as well. There are two different way to trigger free spins. When they are triggered, the reels fully expand to their seven-row configuration as well. Hit the main free spins feature and you'll also have special super-high-paying symbols added to the reels.
Where to Play? Top 3 Yggdrasil Casinos
That's it for this month loyal readers! Five brand new slots that you should be looking for at your favourite online casino. Don't forget, if you can't find them where you normally play, you can look through our lists to find casinos that carry all of the providers we've mentioned above. Until next time…
Cheers and good luck!