Another year has gotten behind us as we move into 2019. 19 years after the Y2K bug was supposed to have destroyed modern civilization we're still going strong! As our planet and our history grow another year older, we'd like to quickly say that we hope 2018 was good to you and that 2019 will be even better.
Hoping to get things off to an exciting (and profitable) start this year, we're back to continue our long-standing tradition of bringing you a new list of the hottest slots that you should be looking for each and every month.
Lucky for all of us, the best game designers in the online real-money gaming industry didn't take too much time off over the holidays. There have been plenty of new slot releases over the last few weeks that are most definitely worth seeking out. So get ready for some great gambling action as we present (in no particular order) our list of the Best Slots To Play for January 2019.
1# Blueprint Gaming – Vikings Unleashed Slot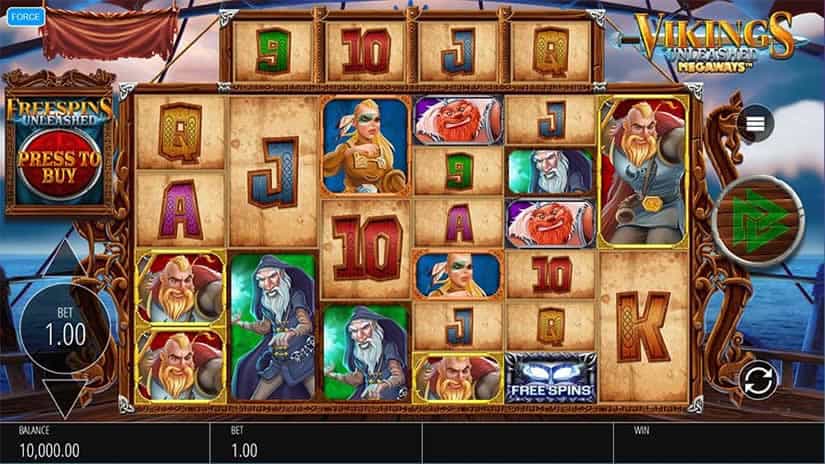 The Vikings Unleashed slot combines good graphics, unusual gameplay mechanics, and a very accessible low minimum wager to make a video slot that will certainly provide a good gaming experience to a great many players. If you haven't had the chance to take this new slot for spin, you'll want to make use of the search function at your favourite online casino and get in on the action.
Why It's One Of The Best Slots To Play In January 2019
If you are a fan of slots that use the "ways to win" payout scheme in lieu of traditional pay lines, you'll love Vikings Unleashed. This one puts the ways-to-win concept on steroids, actually calling it MegaWays. The exact number of ways you can win changes with each spin of the seven reels (Yes, there are seven reels on this slot!). Depending on how the symbols land, you can end up with a mind-blowing 117,649 ways to win.
The gameplay on this slot also has some big advantages for conservative players who usually don't get such a good deal compared to those who are willing to gamble a bit more. For the maximum bet of £10, which is quite low, there is a huge maximum payout of £250,000. For lower wagers, you can win up to 50,000 times your bet. Vikings Unleashed also appears to be a medium volatility slot that will allow you to see a fairly consistent stream of wins, so you won't feel like your bankroll is completely bleeding away as you wait for another win to finally hit.
Where to Play? Best Blueprint Casinos
2# Play'n Go – Battle Royal Slot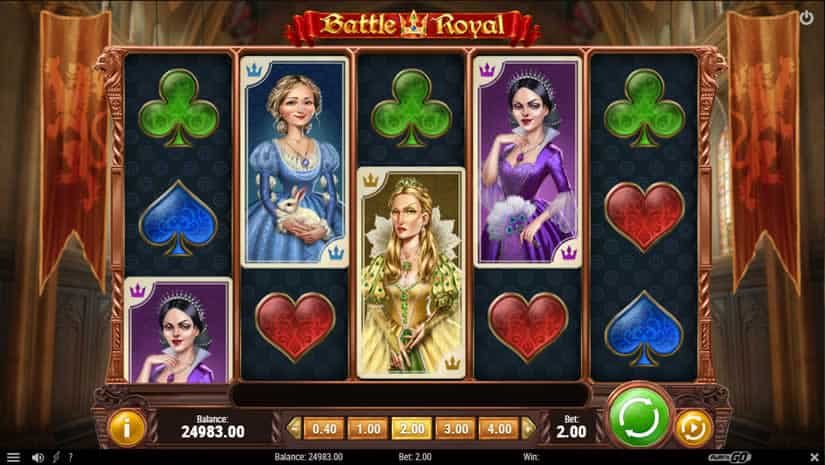 Play'n Go slots are becoming a staple of top slot lists all over the Internet thanks to the company's relentless creativity and entertaining imagination. Battle Royal slot is just one more wonderful release that combines all of the characteristics we've come to love and expect from Play'n Go. It's almost a given that this slot is already available at your favourite casino. If you haven't played it yet, do make sure you look for it and give it a try. You won't be sorry.
Why It's One Of The Best Slots To Play In January 2019
This slot is based on the somewhat macabre story of King Henry VIII and his habit of beheading his ex-wives. The basic idea is that King Henry runs through the game with his wives chasing after him in both living and ghostly forms. There are even bonus features in the game that are triggered by falling guillotines taking the heads off the unlucky ladies. There's nothing too gory, mind you, but it's certainly something you haven't seen on any other video slot machine.
As far as the monetary rewards and bonus features on Battle Royal go, there's plenty of excitement to be had. This slot boasts a top prize of £500,000 and a 96% return to player (RTP) rate. So players can expect good value for the money they wager and there's always a chance of that huge payoff. There are also three different bonus features built into the game, one of which involves interactivity with the player, so there's always something different going on to hold interest and generate excitement.
Where to Play? Best Play'N Go Casinos
3# Microgaming – Astro Legends: Lyra And Erion Slot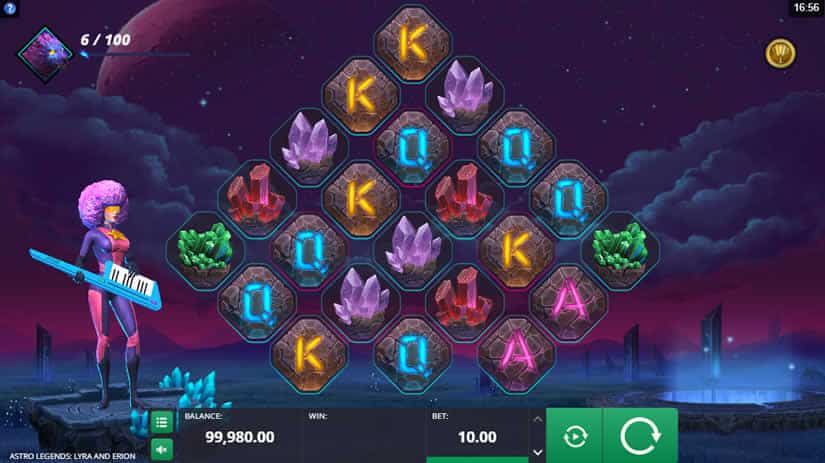 Astro Legends slot is the result of a collaboration between Microgaming and Foxium. It's an unusual game that some might even say is not quite a slot machine. This is a somewhat refreshing release to see because new slots from Microgaming tend to be sort of hit or miss — and there have been a lot of misses lately. If you like slots, but you've been looking for something just a little bit different, you should definitely add this game to your to-do list.
Why It's One Of The Best Slots To Play In January 2019
The playfield on this game is made up of 22 spaces arranged in a half-diamond shape. Rather than spinning reels, when the game begins the entire playfield is emptied and the spaces refill in a random pattern. Wins are paid out when clusters of the same symbol are formed. There are also wild symbols mixed in that can add multipliers to prize amounts on any winning spin.
Wins are triggered by a cluster of at least five like symbols and it's possible to win with clusters that fill the entire 22 space playfield. Winning spins are also subject to random respins where winning symbols are held in place and respins will continue as long as larger winning clusters are created. There is also a seven stage interactive bonus feature where the player takes control of a gem collecting spirit wolf to build up some huge bonus awards.
Where to Play? Best Microgaming Casinos
4# NetEnt – Turn Your Fortune Slot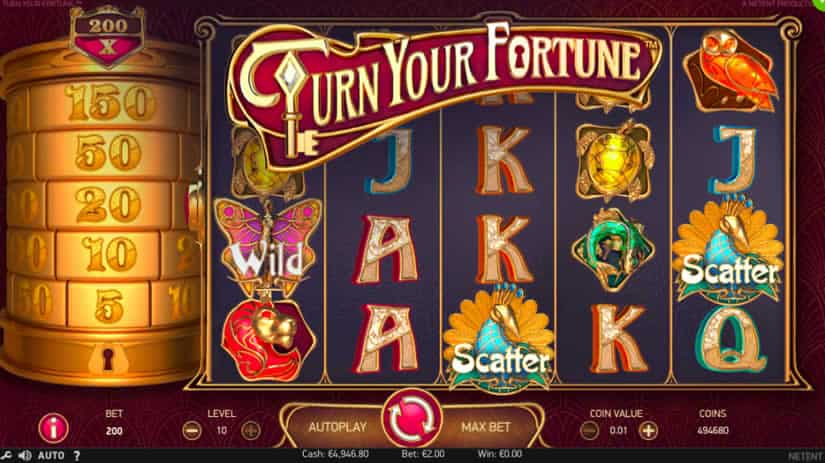 The Turn Your Fortune slot presents a familiar video slot machine interface, but with an interesting and exciting twist on the traditional game. With plenty of jeweled symbols on the reels and possible bonuses of up to 2,000 times your bet, it's easy to understand how the word fortune worked its way into the name of this slot.
Why It's One Of The Best Slots To Play In January 2019
Turn Your Fortune is a five-reel, four-row slot with 40 pay lines, which gives players plenty of ways to line up wins and score big rewards. The thing that really makes this slot stand out, though, is the "Fortune Wins" bonus system that can trigger on regular base-game wins and during free spins. When we figure in the generous 96.24% return to player rate, there's no denying that this game is worth serious consideration.
The Fortune Wins system, when triggered, always starts you out with a bonus (paid on top of any win granted from matching symbols) of at least five times your total bet. During the Fortune Wins spins, if you collect enough of the right symbol, the bonus multiplier will move up. There are also key symbols that turn the multiplier (which is shaped sort of like a codex) to entirely new levels which can double, triple, and even quintuple all of the possible bonus multipliers, reaching a maximum of 2,000 times your initial bet.
Where to Play? Best NetEnt Casinos
5# Betsoft – ChilliPop Slot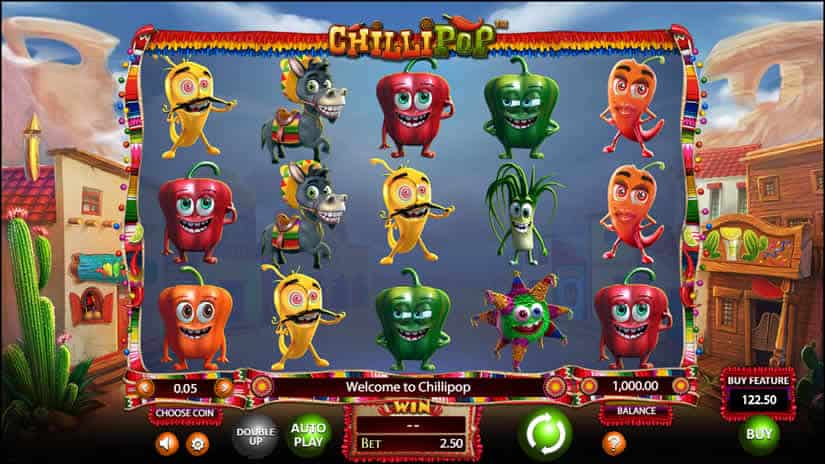 The ChilliPop slot is a very imaginative game that takes several of many slot players' favourite alternative game mechanics and mixes them all together to create something unique and extremely fun to play. Based on hot peppers and other foods that might bite you back, the cartoonish symbols on the expanding reels set a lively mood that will put a smile on your face and, hopefully, a boost in your bankroll.
Why It's One Of The Best Slots To Play In January 2019
ChilliPop mashes up several fun features that you've probably seen on other slots to make an overall game that really keeps you involved in the action. Wins are generated by a cluster-pay system, meaning there are no traditional pay lines and any cluster of three or more of the same symbol appearing anywhere on the reels counts as a win — clusters don't have to start on the left-most reel.
In addition to cluster wins anywhere on the visible reels, there are a few bonus features that will add to winnings quickly. Wild symbols automatically add a multiplier to the prize amount when they are part of a winning cluster, and the more wild symbols in the cluster, the higher the multiplier goes. The real fun starts when you get into the free spins feature, though. From there it's possible to expand the reels up to an eight by eight playfield with 64 visible symbols, generating possibilities for massive cluster matches.
Where to Play? Best Betsoft Casinos
Hope you like this new delivery with the best online slots to play in January 2019.
See you next month!