We're closing in quickly on the end of the year and our favourite slot game developers are showing no signs of slowing things down. November 2019 takes us into our eleventh month of amazing, boundary-pushing, innovative video slot releases this year.
Many are already looking ahead to 2020, wondering what's waiting for us around the corner, but let's not get ahead of ourselves. There are still plenty of great slots coming out that you haven't seen yet. Missing out on all this action would be a big mistake. Huge excitement and monumental payouts could be lurking just around the corner, waiting to set you up for holidays and a new year that will be much more than just merry!
Remember, if you want to win, you have to spin! And if you're going to spin, these are the slots you should go out of your way to play. Fresh out of the box and available at the best online casinos, this is our list of the best slots to play in November 2019.
1# Yggdrasil – Age Of Asgard Slot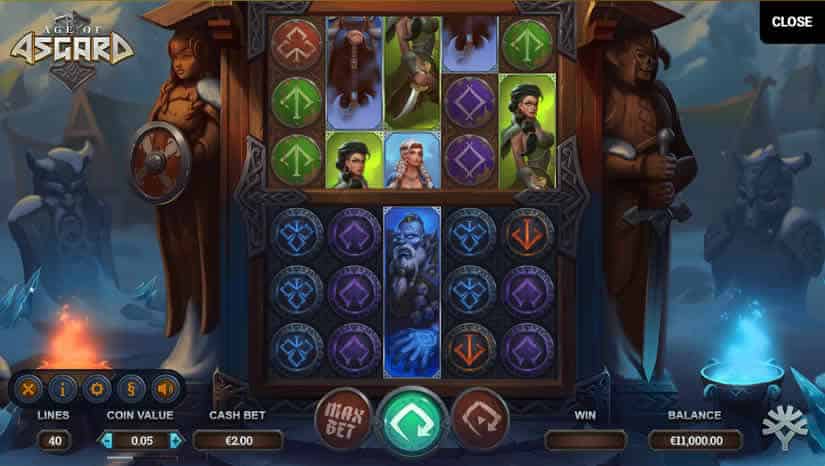 The Age Of Asgard slot puts you in the middle of an out-of-this-world battle between mythical Norse gods of good and evil. With the gods of good on one side and evil on the other, you'll be in for some big prizes when the two finally clash. This slot combines several different aspects of play in more ways than one. If you're looking for plenty of extra action, Age Of Asgard delivers.
Why It's One Of The Best Slots To Play In November 2019
Age Of Asgard plays on two individual five-reel, three-row slots, each with 20 pay lines. Winning combinations occur separately on each set of reels, but the outcome of one can affect the other. If you hit the write matches, it's also possible to combine both playfields into one, playing five reels with six rows and increasing the pay lines to 50 overall.
There are loads of bonus features waiting for you and twice the opportunities to hit them. One of the best things about this slot is that with its medium volatility you won't have to wait an eternity to see them either. With a range of available wagers that should suit the tastes of any gambling style, this is a slot for everyone. You can also expect good value for your money with a Yggdrasil return to player (RTP) rate of 96.2%. Yggdrasil slots are available at most UK online casinos.
Where to Play? Top 3 Yggdrasil Casinos
2# Play'n Go – Honey Rush Slot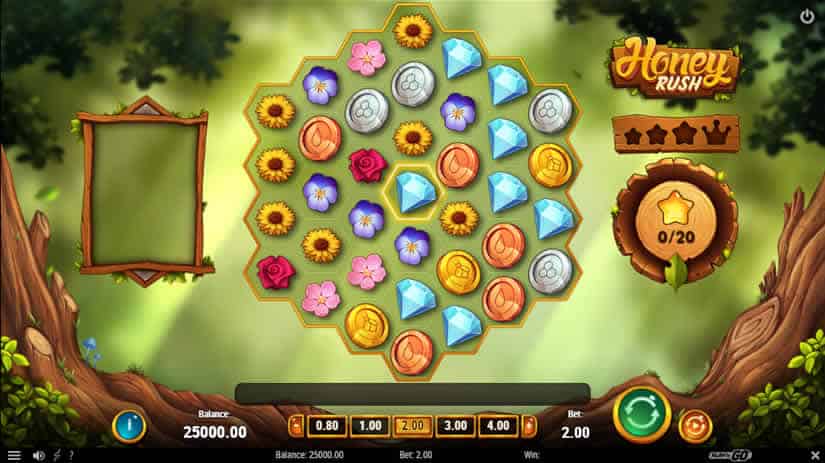 With Honey Rush, Play'n Go has delivered a bright and colourful video slot that actually doesn't contain any standard reels or rows. There are, however, opportunities for mega matches—up to 37 symbols on one spin to be precise. The game is rendered beautifully with bright, yet soft, high-definition graphics. As you make matches across this golden honeycomb, you'll be up for some truly sweet rewards.
Why It's One Of The Best Slots To Play In November 2019
Honey Rush slot plays on a 37 space hexagonal playfield. Matches are made when five or more of any symbol form a cluster on adjacent spaces. It's possible to match any number of symbols from five all the way up to the full 37. You can win with multiple clusters on a single spin as well. There's also a cascading symbols feature. So, any symbols that are part of a win will be removed from the board and new symbols will fall in from the top, generating chances for extra matches.
The bonus features on the Honey Rush slot build one on top of another, going up through different tiers. Each time you trigger the main bonus there's a chance that it will, in turn, trigger a second, and then a third, up to four. If you manage to hit the top tier, you're sure to be impressed by the payouts. Honey Rush has a generous return to player rate of 96% which is great, but it also gets Play'n Go's highest volatility rating, so be ready for some wild ups and downs as you play.
Where to Play? Top 3 Play'N Go Casinos
3# Microgaming – Jungle Jim And The Lost Sphinx Slot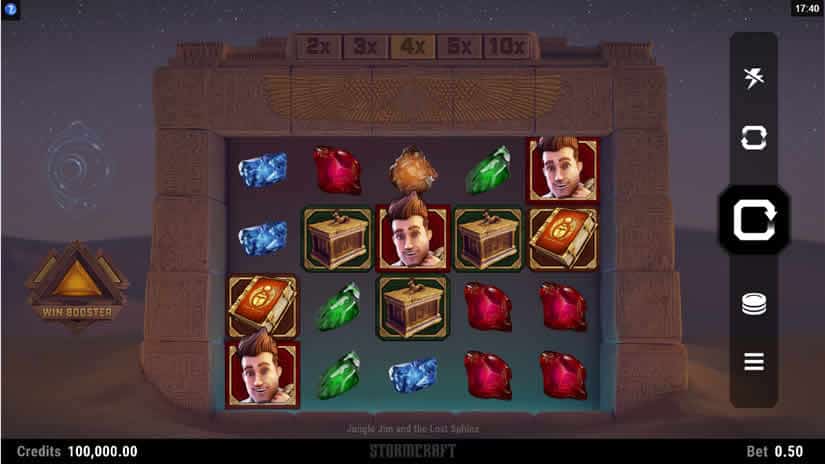 Microgaming and StormCraft teamed up to release Jungle Jim And The Lost Sphinx. It's an Egyptian themed slot but put together with more flair and imagination than most others in the genre. There are even fully animated cut scenes that play as you move from one game mode to another. This is a great slot for those with smaller bankrolls and conservative gambling styles. You can play for as little as £.10 per spin or as much as £20.
Why It's One Of The Best Slots To Play In November 2019
Jungle Jim starts out as a five-reel, four-row slot with 35 pay lines. It's possible, however, to convert the playfield into five reels with five rows and 50 pay lines for even more opportunities to win big payouts. As if that weren't enough, there is also a cascading symbols function which will remove winning symbols and replace them with new symbols to generate even more chances to make extra matches.
Each time the cascading symbols feature triggers, a win multiplier will increase to give you a bonus on any new matches that land. This slot also contains a win booster feature which will allow you to increase your regular bet for better chances at triggering the free spins feature. During free spins, the reels will convert to a five by five configuration with 50 pay lines. Then, helping to boost wins even higher, it's possible to get up to a 20x multiplier.
The return to player (RTP) rate on Jungle Jim And The Lost Sphinx is 96.1%, which provides great value to the player. The volatility level is not published but after some testing, it would seem to be somewhere on the low side of medium.
Where to Play? Top 3 Microgaming Casinos
4# BetSoft – Take The Bank Slot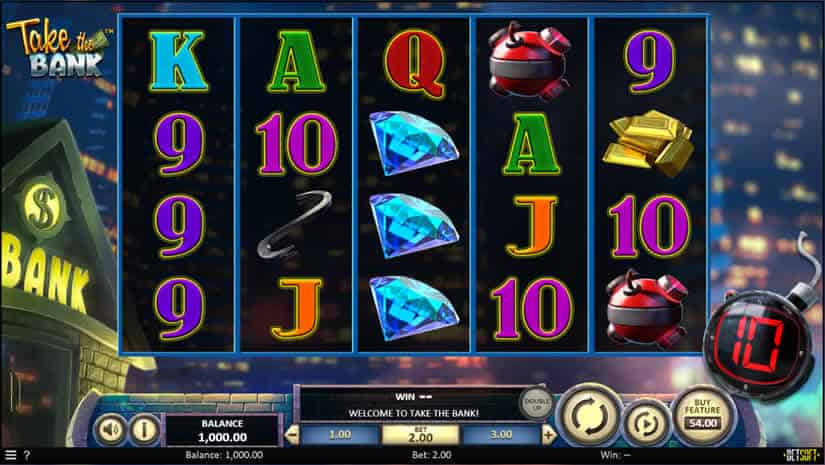 Take the bank is based on the somewhat classic slot machine theme of cops and robbers. BetSoft did a great job, though, of coming up with some new and innovative ways to work common bonus functions into the game. The theme is highly detailed with bold, bright colours and symbols. You're sure to have a blast—literally—as you take your shot at escaping with all of the loot.
Why It's One Of The Best Slots To Play In November 2019
Take The Bank is a five-reel, four-row slot with an unusually high 75 pay lines. That makes for quite a lot of possible ways to win. One of the best features of this slot is the way the wild symbols system has been implemented. You're guaranteed multiple wild symbols across the reels every ten spins.
When you start the game you'll see a counter on the bottom right that moves down from ten to zero, one number at a time, each time you spin. During regular spins, the robber will drop bombs across the reels. When the counter reaches zero, all the bombs will explode and become wild.
There are a few other bonus features, too, of course. Landing three police symbols will get you 12 free spins with up to ten guaranteed wild symbols on each spin. You can buy directly into the free spins feature if you like and there is also a double-up feature that will allow you to gamble any regular spin payout for a chance to double it by correctly predicting a coin flip. It also has a solid RTP rate of 96.08%.
Where to Play? Top 3 Betsoft Casinos
5# NetEnt – The Wolf's Bane Slot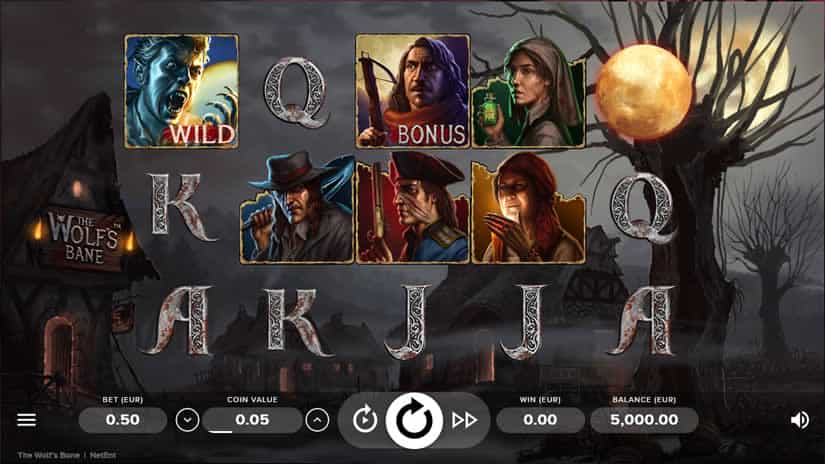 The Wolf's Bane slot is dark and spooky and full of wild werewolf fun and excitement. Following the classic horror theme, the design of this slot is extremely well executed. You'll see werewolves on the reels as well as several entering and exiting the backdrop to howl in the moonlight as you play. If you're a fan of these mythical, classic horror film creatures, you're sure to love The Wolf's Bane.
Why It's One Of The Best Slots To Play In November 2019
The Wolf's Bane is a five-reel, three-row slot with ten fixed pay lines. The main bonus feature is free spins, but those free spins come with plenty of twists to boost your bankroll when you trigger them.
There are four different types of wild symbols that can come into play during the free spins. The type you get will be randomly chosen when the feature starts. Aside from placing extra wild symbols, you could get expanding wilds which cover a whole reel, spreading wilds that stretch across rows, or multiplier wilds that will push your wins to new heights.
There's also an interactive bonus feature called pick and click where if you can make the correct choice out of three possibilities you can win up to 50 times your bet.
Where to Play? Top 3 NetEnt Casinos
Check Back For More Of The Best Slots For December 2019
That's it for our list of the best slots to play in November 2019, but don't forget to check back next month for more of the newest slots that you should be looking for at your favourite online casino.
If you have trouble finding any of these slots where you normally play, check our lists to find verified casinos that will most definitely carry these games. Remember though, don't gamble with money you can't afford to lose.
Cheers & Good Luck!