Looking for the best slots to play in February 2020 and the hotest online casinos? Look no further, here we go!
The holiday festivities have wound down and we find ourselves well into 2020 now. Holiday parties and fun are just memories. For many of us, too, our new year's resolutions have probably fallen by the wayside as well.
That doesn't mean all the fun is over though. When it comes to igaming fun, there's always something new and exciting waiting to be discovered. While getting on with our lives and getting back to work might be a downer for most of us, when the game designers get back to their desks it means we're going to see plenty of hot new slots to help us make the most of our leisure time.
So, as we roll into February, it's easy to see that some of our favourite game designers were already hard at work over the last few weeks. We have five hot new games that you just have to check out. These are the best slots to play in February 2020!
1# Microgaming – The Incredible Balloon Machine Slot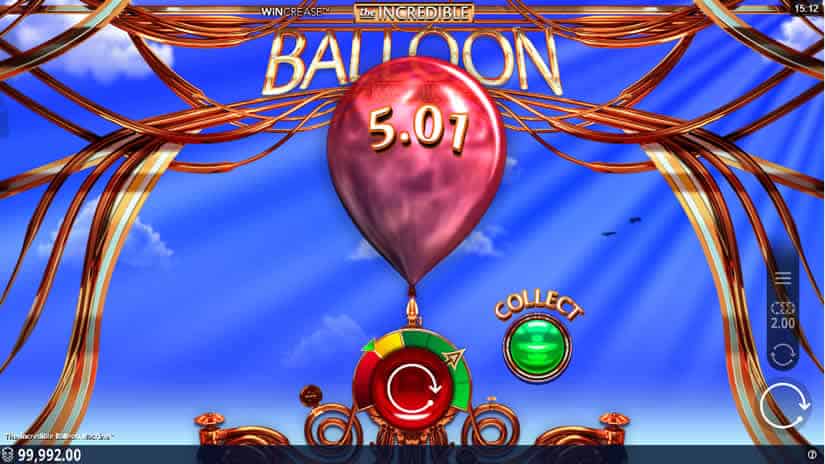 With a new year comes new ideas. The Incredible Balloon Machine is a perfect example of the out of the box thinking that Microgaming has been known to surprise us with from time to time. It is most definitely not your traditional slot machine game, but does fit nicely into the genre and should be a welcome diversion for most slot machine enthusiasts. If you are looking for unique content, here you will find a new type of slot machine that you can test. Let me know what you think…
Why It's One Of The Best Slots To Play In February 2020
The format of this game allows you to see right away if you've won anything or not when you make your bet. It also adds another layer to the gamble by allowing you to decide whether you're going to take what you see or try to increase it at the risk of losing it all. There's also an interactive bonus round where you'll have to pick your prizes carefully to see if you can get through all eight rounds for a big reward. This game has a return to player rate – RTP of 96.75%.
Play Here: Top Rated Microgaming Casinos
2# Yggdrasil Gaming – Temple Stacks Splitz Slot
Temple Stacks Splitz is the first in a series of slots scheduled to be released that use Yggdrasil's new Splitz™ system. This system adds some exciting new elements to the traditional video slot machine concept and will undoubtedly prove to be an excellent addition to the list of innovations we've seen from this Nordic design crew. This Aztec Temple themed slot is most definitely worth checking out for new and veteran players alike.
Why It's One Of The Best Slots To Play In February 2020
Every time you spin, it's possible for a mystery Splitz stack to stop on any one or more reels. When this happens, all mystery symbols will become the same symbol and the stack will turn to reveal itself. Each stack can split into up to nine symbols during regular spins and up to 12 symbols during free spins. Paying out on the ways-to-win system, it's possible to get up to 248,832 ways to win on a single spin. Between bonus features like respins and free spins with the Stackz system, there are great opportunities for big prizes. This slot has an RTP rate of 96.1%.
Play Here: Top Rated Yggdrasil Casinos
3# Play'n Go – Wild Blood II Slot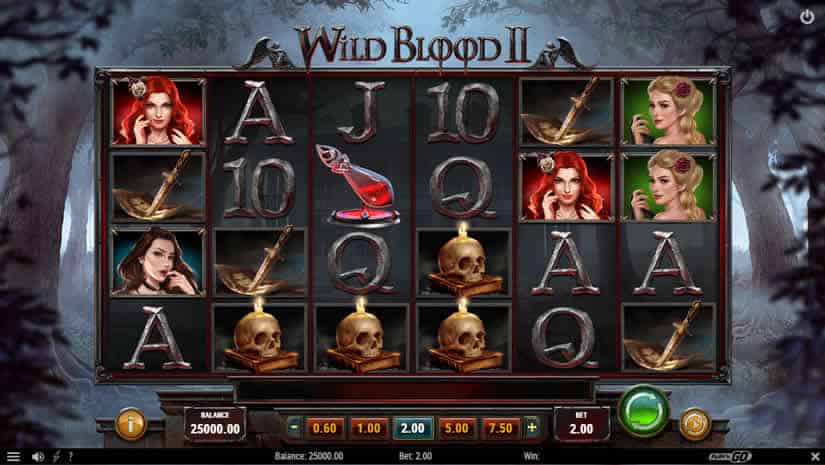 It's been a long time in the making, but this sequel to the company's Wild Blood slot, released in 2013, looks like it's destined for deliciously dark success. Filled with gothic beauty and a haunting mystique, the vampires, the bats, and the stirring mist of the night all seem to be put in motion by some sort of magic. The question, though, is whether or not that dark magic will work for you or against you as you spin.
Why It's One Of The Best Slots To Play In February 2020
Wild Blood 2 is a six-reel, four-row slot with 4096 ways to win. It includes wild respins and a free spins feature with three different modes. You'll be able to choose the mode you want each time it's triggered, and it's possible to get extra free spins during the feature, too. It's a simple, straightforward video slot with great graphics that is sure to appeal to fans of the creatures of the night. This slot has a default RTP rate of 96.18%.
Play Here: Top Rated Play'N GO Casinos
4# BetSoft – Super Sweets Slot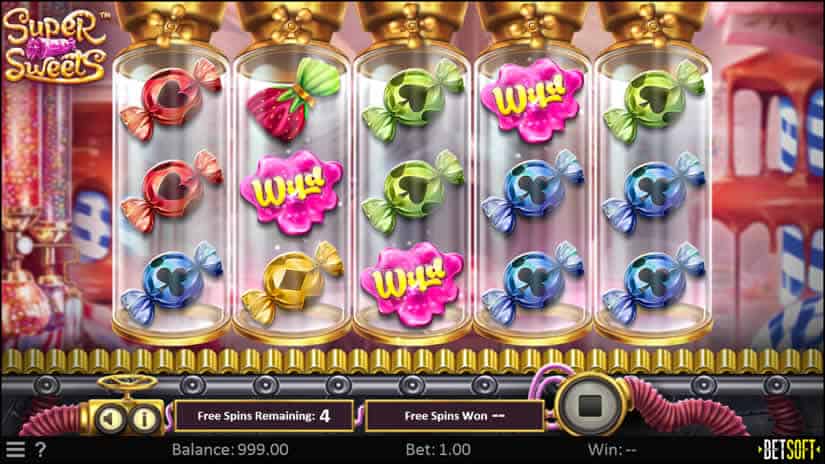 If you're looking for a little bit of eye candy, the Super Sweets slot from BetSoft should be right up your alley. This one is loaded with sweet treats that will get your adrenaline pumping—and hopefully not rot your teeth in the process. You'll get plenty of shots at great prizes with this medium volatility slot that should appeal to a wide variety of gambling preferences.
Why It's One Of The Best Slots To Play In February 2020
Super Sweets is a classic five-reel, three-row slot with a bright and colourful theme that just screams fun. Bonus features revolve around the Super Sweets symbol which can become either wild symbols or golden tickets each time they land. Sometimes you'll get respins, sometimes you'll get free spins, and you'll always have high chances of sticky wilds that can really boost your payouts. This slot is sure to become a staple on the favourites list of many players. Super Sweets has an RTP rate of 95.03%.
Play Here: Top Rated Betsoft Casinos
5# NetEnt – Serengeti Kings Slot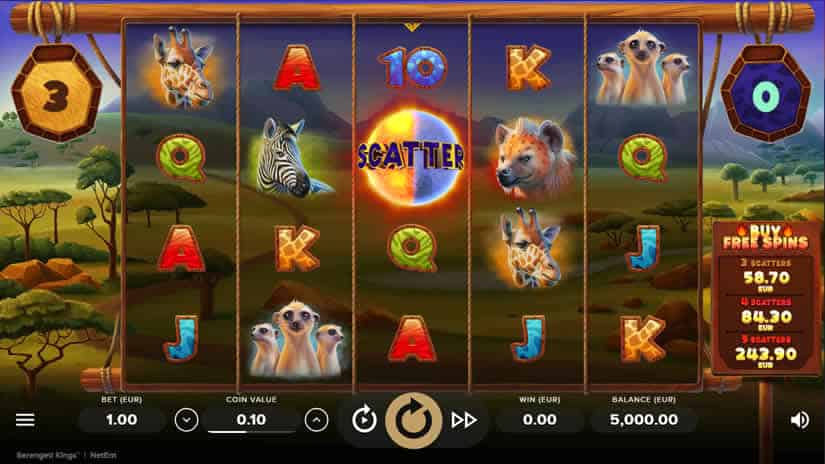 The Serengeti Kings slot is a wild safari ride through the plains of Africa where the mighty beasts of the dark continent just might reward you with wealth and riches beyond what you thought possible. It's a rather simply designed slot, at least by NetEnt standards, but the excitement we've come to expect from their games is most certainly there. Will it be the mighty lion or the mystical panther that favours you with fortune?
Why It's One Of The Best Slots To Play In February 2020
The number 12 is used quite often throughout this game. More specifically, every 12 spins triggers a chance at getting a handsome bonus payout. When you trigger free spins, you'll get 12 of those too. Then, when the last free spin has spun, a collection of wildcat symbols fall on the reels with the possibility of blasting you right out of your seat with a mega win. The gameplay on this slot is fast and furious, with high volatility and a great RTP rate of 96.2%. As usual, you can find this and other NetEnt slots at UK online casinos with fast payouts. NetEnt is a reputable gaming company that works under tight regulation and high standards.
Play Here: Top Rated NetEnt Casinos
So there you have it! Five of the best slot to play in February 2020. Don't forget to check back next month for more of the newest games to watch for at your favourite casino.
Of course, as always, don't forget that if you can't find any of these games at the online casino where you play, you can always check our lists to find the operators that will most certainly offer the games you're after. Until next time…
Cheers and good luck!