It is time, once again, for our hot list of the best slots to look for and play at your favourite online casino. The game makers have been as busy as ever and there have been some great new releases over the last few weeks that are well worth your time to check out. We're betting that at least one of the slots on our list of the best slots to play in March 2019 will make its way to the top of your all-time favourites list.
So, if you find yourself getting a little bit bored with the games you've been playing lately, and you're looking for a lot more excitement and some interesting new twists, we've got just the thing to bring your bankroll back to life. Get your clicker finger ready and have a look at our brand new list of the best slots to play in March 2019! All the games listed in this article are available at most UK online casinos.
1# Big Time Gaming (BTG) – Holy Diver Slot
Based (very loosely) on the song of the same name by Ronnie James Dio, the Holy Diver slot puts together some interesting and unique features with totally over the top new "ways to win" functionality that just blows away the competition. This slot is worth checking out simply because you've never seen anything like it before.
Why It's One Of The Best Slots To Play In March 2019
Holy Diver uses BTG's patented Megaways payout system, but with this slot they've pushed things to the limit by adding new twists to the game and the payout system that make it possible to play with an absolutely astonishing 586,971 ways to win across this six-reel game. With the possibility to land anywhere from two to seven symbols on each of the independent reels, the game is completely different with every spin.
When you throw in the "Reel Adventure" mechanics that BTG has added, allowing the player to actually progress through levels and enhance the game as he plays, you start to understand what makes this online video slot so unique among its competition. This slot shows off the ingenuity of the team at BTG brilliantly.
Where to Play? Best BTG Casinos
2# NetEnt – Scudamore's Super Stakes Slot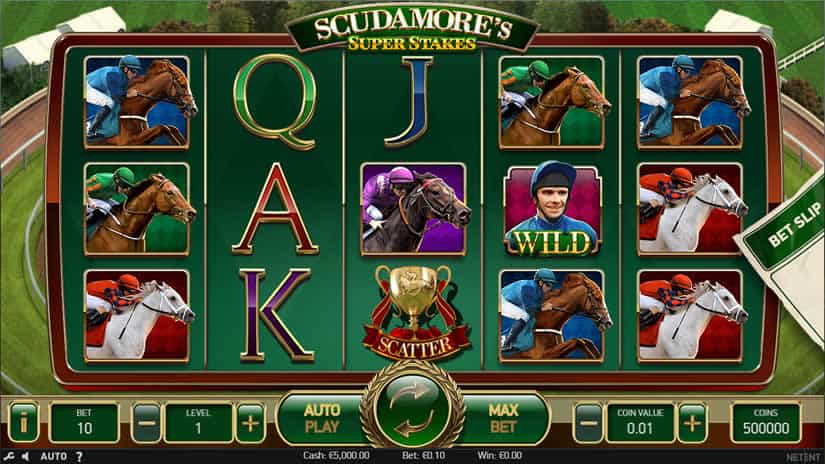 With Scudamore's Super Stakes, NetEnt breaks the chain of somewhat humdrum, conventional releases they've produced lately. Not that recent releases were no good, it's just that this video slot does a much better job of showing what the team at NetEnt is really capable of when their creative juices are flowing.
Why It's One Of The Best Slots To Play In March 2019
Scudamore's Super Stakes is based on horse racing and NetEnt has done a top-notch job of bringing the key characteristics of a day at the races to life in a video slot machine. This five-reel slot with expanding reels will not only have you cheering for winning combinations but picking the winning ponies and placing side bets, too.
When the free spins feature triggers and the reels expand from three to four rows, you'll be cheering for your favourite horse to win as each of the jockeys pushes their thoroughbred beast to make it across the finish line first. You can also make your picks on your bet slip any time you like for as little as £.80. If you can call the correct symbols to appear on the reels you could win up to 1242 times your bet slip wager!
Where to Play? Best NetEnt Casinos
3# BetSoft – Faerie Spells Slot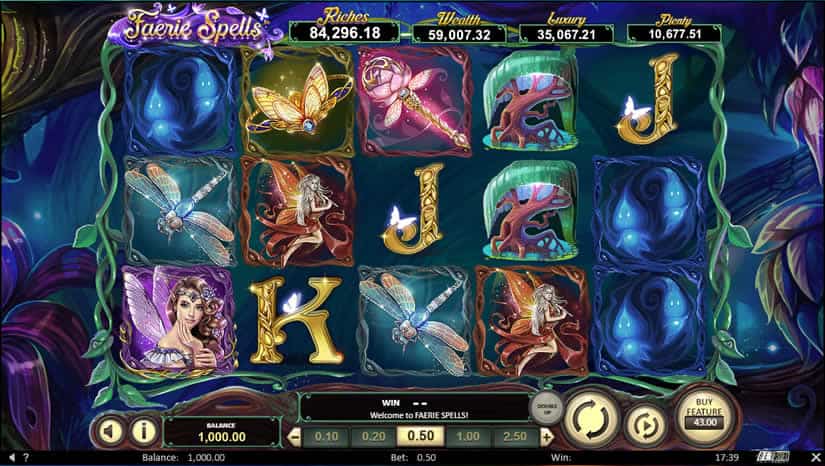 BetSoft has put together a wonderfully enchanting game with their Faerie Spells online video slot. With an amazingly detailed theme and design, everything about this slot is simply stunning. The colours and symbols are bold and beautiful, guaranteed to look beautiful on any screen, setting just the right mood to relax and enjoy some fantasy fun.
Why It's One Of The Best Slots To Play In March 2019
In addition to the impressive audiovisual design, this slot has the rather unique characteristic of operating in two completely different payout modes depending on whether you are in the base game or the free spins feature. During regular play, it's a standard five-reel, three-row slot with ten fixed pay lines. When free spins trigger, however, the reels will expand to four rows and the payout system goes to 1024 ways to win. On top of that, scatter symbols will explode and cause a cascade for extra chances to win.
This slot is easily accessible to all levels of gamblers with wagering options ranging from just £.10 up to £10 per spin. Small bets don't mean small payouts, though. This slot also has not just one, but four progressive jackpots waiting to be won. And for those times when you're feeling like luck is really on your side, you'll have the chance to gamble some or all of the payout from every winning spin on the flip of a coin.
Where to Play? Best BTG Casinos
4# Play'n Go – Queen's Day Tilt Slot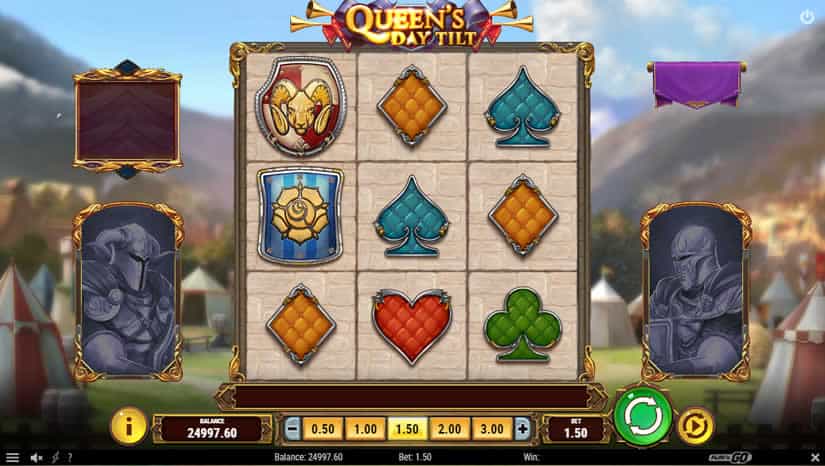 Queen's Day Tilt is a fast-playing game that does a great job of showing off the Play'n Go team's ability to put together unusual and interesting features that make their games delightfully unique among the mass of online slots out there. Players who like to set their slots on quick-spin and get as much play as possible should especially love this one.
Why It's One Of The Best Slots To Play In March 2019
Queen's Day Tilt is unusual just because of the fact that it's a three-reel, three-row slot, which is becoming rarer as time goes on. Making it even more unique is the cluster-based payout system that will award a prize for any vertical or horizontal match of just two like symbols.
Each time there is a winning match, those symbols will be removed from the playfield and remaining symbols will fall. No new symbols will fall in from the top of the screen, however, which is how it works on many other games. The way to big bonuses on this slot is to remove all symbols from the playfield by making multiple matches, which will trigger a round of free spins with nothing but high-paying symbols on the reels and a two times win multiplier.
This game moves fast and will most certainly keep the adrenaline pumping in a way that few online slots can.
Where to Play? Best Play'N GO Casinos
5# Yggdrasil – Champions Of Rome Slot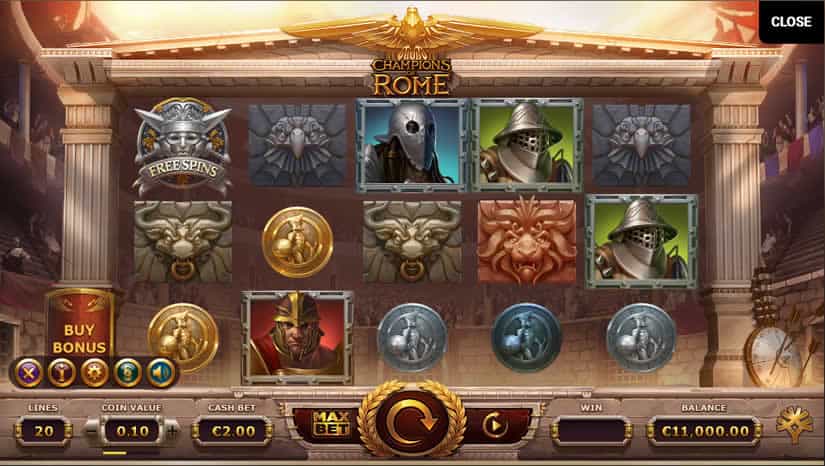 Champions Of Rome is another in the seemingly endless list of uniquely themed slots from Yggdrasil. It is filled with high-detail, high-definition graphics and animations as well as some great gameplay twists that will have you cheering for your fighter in the arena as he battles for the ultimate prize.
Why It's One Of The Best Slots To Play In March 2019
There are some big prizes to be won on Champions Of Rome. Regular symbols can pay up to 1200 coins and if you happen hit five free spins symbols, you'll get back the super sized sum of 12000 coins.
Bonus feature triggers are both imaginative and lucrative. Landing two free spins symbols at any time will trigger one of three different features that will add four wild symbols to the reels. When free spins are triggered, you'll get the choice of going into training with normal free spins or entering a death match where your chosen gladiator will compete for the biggest prizes in the game in an all or nothing fight to the finish with big multipliers.
Where to Play? Best Yggdrasil Casinos
Check Back Next Month For More New Slots
We're always putting together reviews of the newest online video slot releases from the most well-known casino game developers, but if you want to keep up with the biggest and best releases, you owe it to yourself to check in each and every month for our list of the most unusual and innovative releases to appear online over the last few weeks. Look for these games at your favourite online casino or check our recommendations for reputable and reliable casinos that are sure to carry these soon-to-be smash hit slots.