Everyone, of course, has their own favourite slot machines. Did you ever wonder, though, which slot machines among the thousands available online are the biggest favourites among all the players in all online casinos? Well, as with everything else on the Internet, there are people who track that sort of thing.
It might be interesting in and of itself just to see which slots are played the most around the world, but browsing the list is also a great way to find some really good slots that you might have missed.
Following is a list of the 20 most popular slot machines available on Internet casinos today. The data is taken from June 2018, and, where applicable, shows how much a particular slot moved up or down the list compared to the month before.
1. Starburst From NetEnt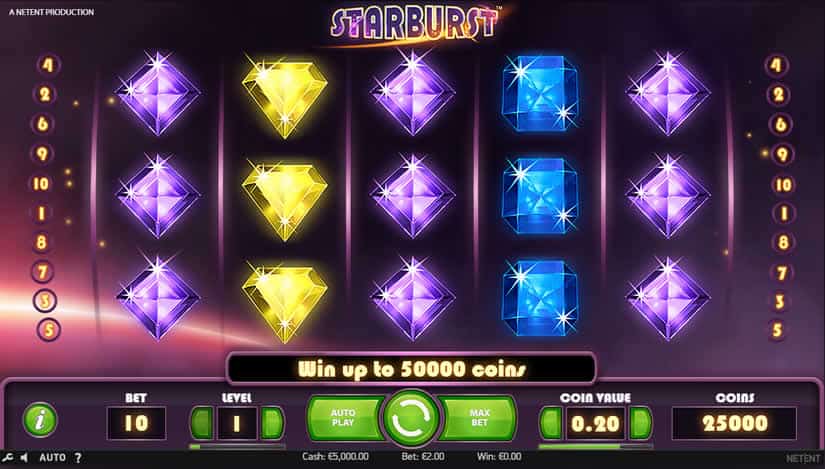 June Position: 1 Last Position: 1
As one of the most popular and prolific game developers in the industry today, it's not surprising to see a NetEnt slot at the top of the list. What might be surprising is that the Starburst slot was released all the way back in 2012. At the time of writing, that makes this slot just over 6 years old.
Absolutely considered to be a classic among online video slots, the popularity of NetEnt's Starburst has shown longevity that no other slot machine has been able to match.
Where to Play?
2. Book Of Dead From Play'n Go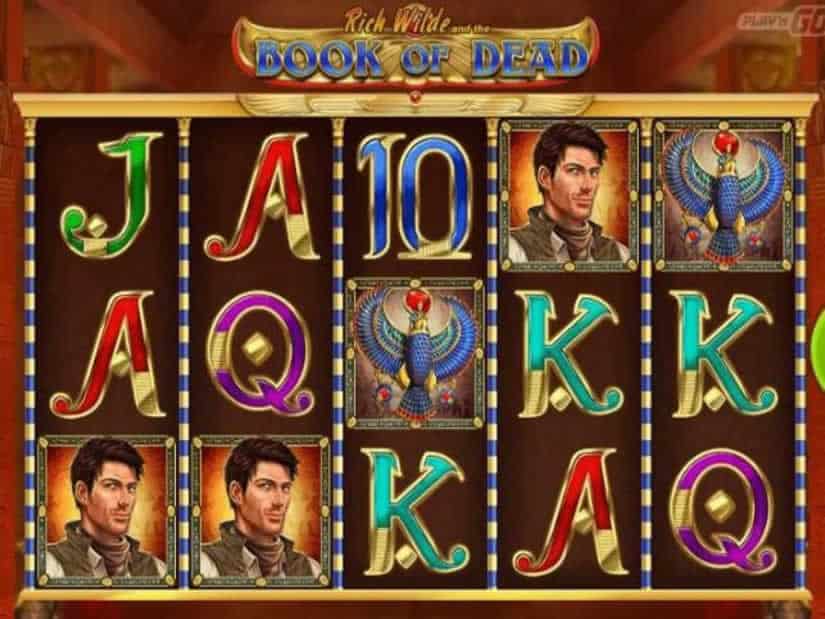 June Position: 2 Last Position: 2
Book of Dead by Play 'n Go is is another slot that has held a high position on the popularity lists for quite some time. The game uses an ancient Egyptian theme, which has always been a popular theme among slot machines.
Some argue that the success of Book of Dead comes because it heavily resembles Book of Ra, which is one of the most played slots to ever appear on the floors of land-based casinos. Whether Book of Dead does or does not resemble any other games is really irrelevant at this point. The slot has proven to be one that online players genuinely enjoy.
Where to Play?
3. Bonanza From Big Time Gaming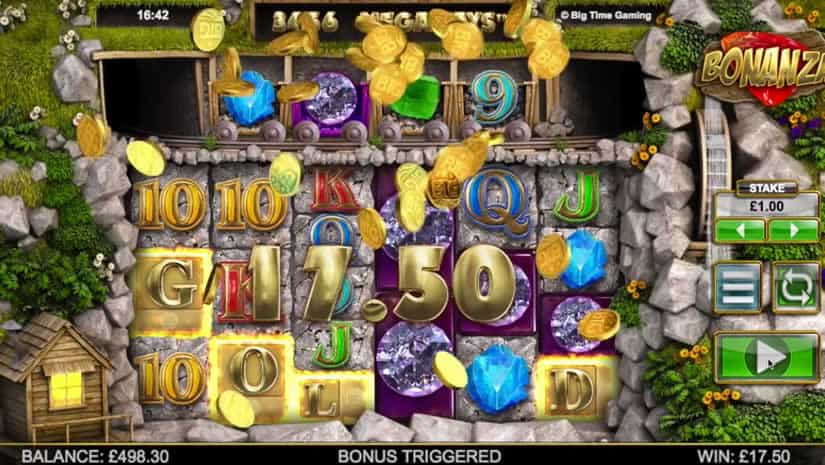 June Position: 3 Last Position: 4
You can see that the Bonanza slot also has a pretty solid grip on its position on the list. It has moved up slightly from fourth place to third.
Bonanza by Big Time Gaming has a pretty unique theme, based on mining, but it is undoubtedly the unique gameplay that attracts players and keeps them coming back for more. The game is a "ways to win" style machine with no set pay lines. There are six reels that can have anywhere from two to seven symbols stop on any spin, plus a horizontal reel on the top. Winning symbols will crumble and cause new symbols to fall into place, creating chances for more wins. With the variable number of symbols on each reel, it's possible to get 117,649 ways to win on a single spin.
Where to Play?
4. Rainbow Riches From SG Digital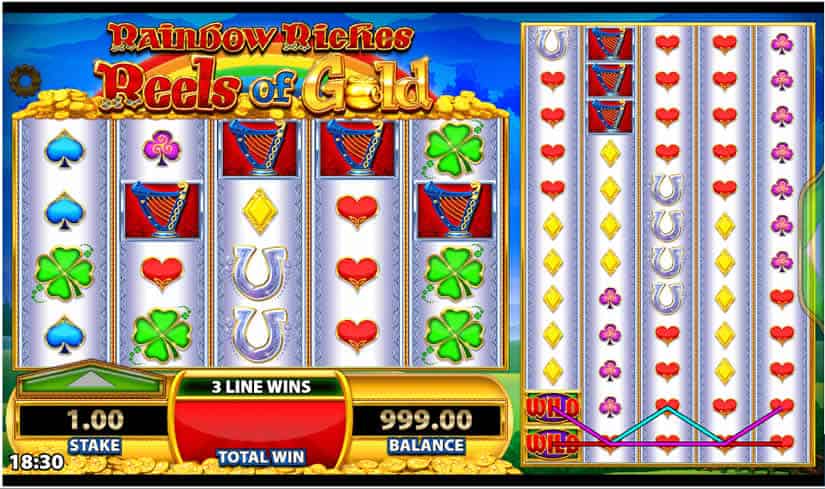 June Position: 4 Last Position: 3
Swapping positions with Bonanza, Rainbow Riches fell one spot to hit number four on the list. It's another slot that has been around for more than just a short time.
Rainbow Riches by Nyx / SG Digital is a straight playing machine that has a nice visual design, but nothing over the top. Really, it looks very simple compared to some of the highly animated, three-dimensional slots that are being released lately.
The gameplay on Rainbow Riches is what really stands out. It's a five-reel, three-row slot with 20 pay lines. Wild symbols grace the reels as well as three different types of scatter symbols that will take players to three separate bonus features.
Where to Play?
5. Diamond Mine From Blueprint Gaming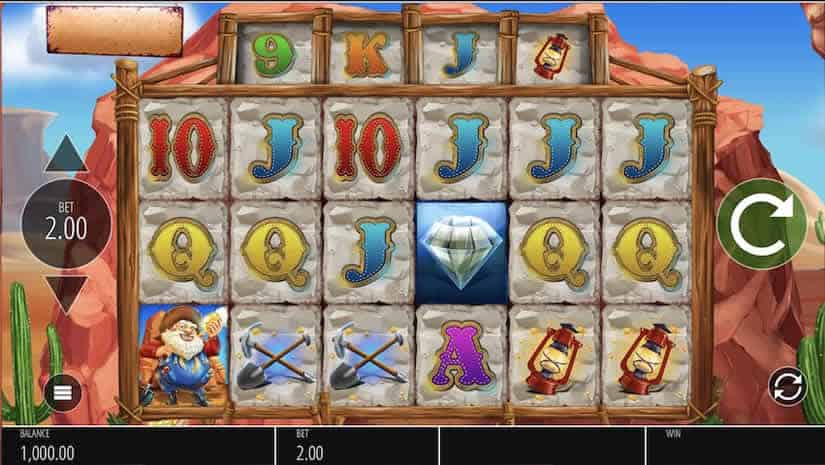 June Position: 5 Last Position: 265
Diamond Mine by Blueprint Gaming, still being a relatively new slot, makes a serious leap up the popularity list, moving from 265th place up to number 5. This one is obviously one that many players have discovered and enjoyed over the last month.
Diamond Mine borrows quite a lot from the number three slot, Bonanza. Although this one was released by Blueprint Gaming, it uses the MegaWays pay scheme under license from BTG. It uses six reels with up to seven symbols appearing on each reel, plus a horizontal reel on top with four symbols. The MegaWays to win will vary with each spin and can go as high as 117,649.
If we get right down to it, the Diamond Mine theme is unashamedly similar to Bonanza as well. That doesn't do anything to take away from the game though, of course. The two similar slots coming from two different companies can even be a blessing to players who might have access to a casino that uses one designer's games but not the other's.
Where to Play?
6. Vikings Go To Hell From Yggdrasil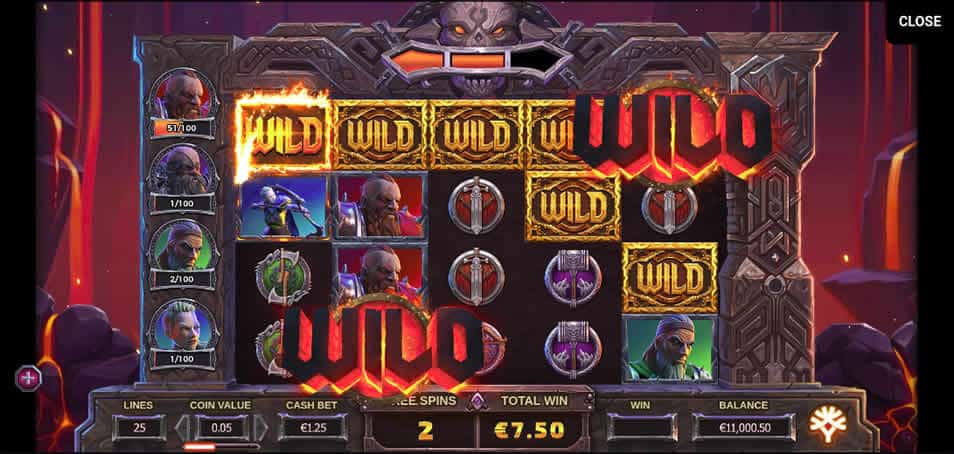 June Position: 6 Last Position: 25
The Vikings Go To Hell slot from Yggdrasil has been available for several months. Yggdrasil found quite a bit of success with their Vikings Go Wild and Vikings Go Berzerk slots, so it seems only natural that they would create a third sequel that takes some of the games' most popular themes and features even farther.
The unique gameplay on this slot certainly contributes to its continuing popularity. In addition to spinning the reels, there is a sort of role-playing element that has players gain levels as they rack up wins and do battle with demons, including Lucifir himself. When you throw in the superb audiovisual design and animations, it's easy to see why players like Vikings Go To Hell.
Where to Play?
7. Cleopatra From IGT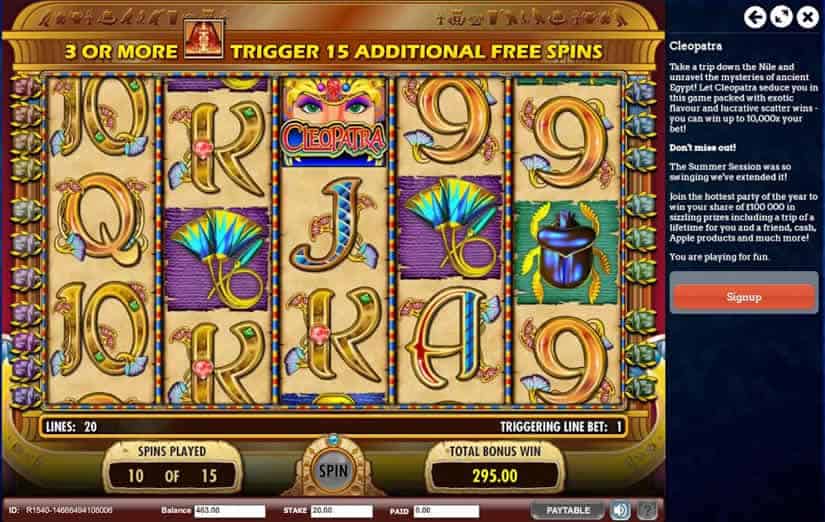 June Position: 7 Last Position: 6
The Cleopatra slot is a digital, online update to the classic Cleopatra that many slot machine aficionados have known and played in land-based casinos. With IGT's extensive experience in the land-based gaming realm, it really was a no-brainer for them to take one of the most popular brick and mortar casino games, update it a bit, and get it into circulation online, too.
Cleopatra is known for its (or is it her?) straight-ahead gameplay that attracts players by giving them what they want: big payouts and good bonus features. It's possible to win 10,000 times your bet. Free spins come in lots of 15, and all wins during free spins are multiplied by three. You can even retrigger free spins.
Where to Play?
8. Gonzo's Quest From NetEnt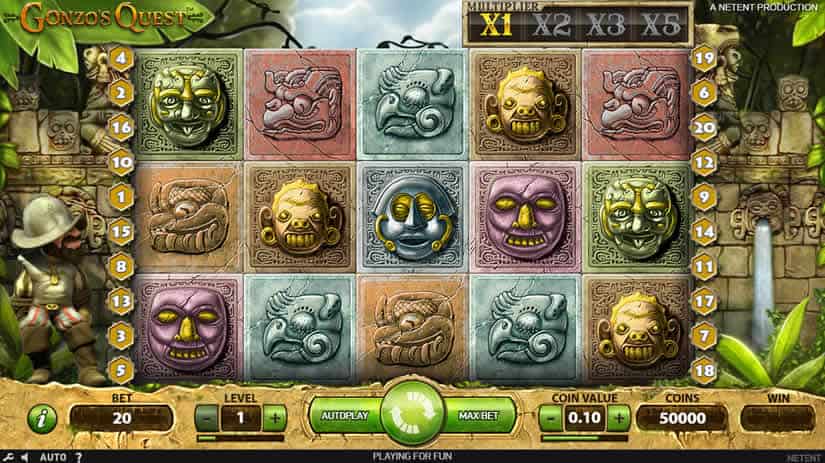 June Position: 8 Last Position: 8
Gonzo's Quest is another NetEnt release that has managed to remain popular with players for an extended period of time. This one was released in 2011, making it more than seven years old at the time of writing. Staying in the top ten for so long is no small achievement.
Gonzo's claim to fame is that it was the first slot to make use of what NetEnt refers to as the Avalanche feature. Symbols don't spin on reels, but rather, fall from the top of the screen and land one on top of another to fill the rows. When a winning combination lands, the winning symbols crumble away, all remaining symbols fall as low as they can, and replacement symbols fall down on top. Making it even more interesting, the feature will continue to activate as long as winning combos are formed, giving players a chance for several wins on just one spin.
Where to Play?
9. Twin Spin From NetEnt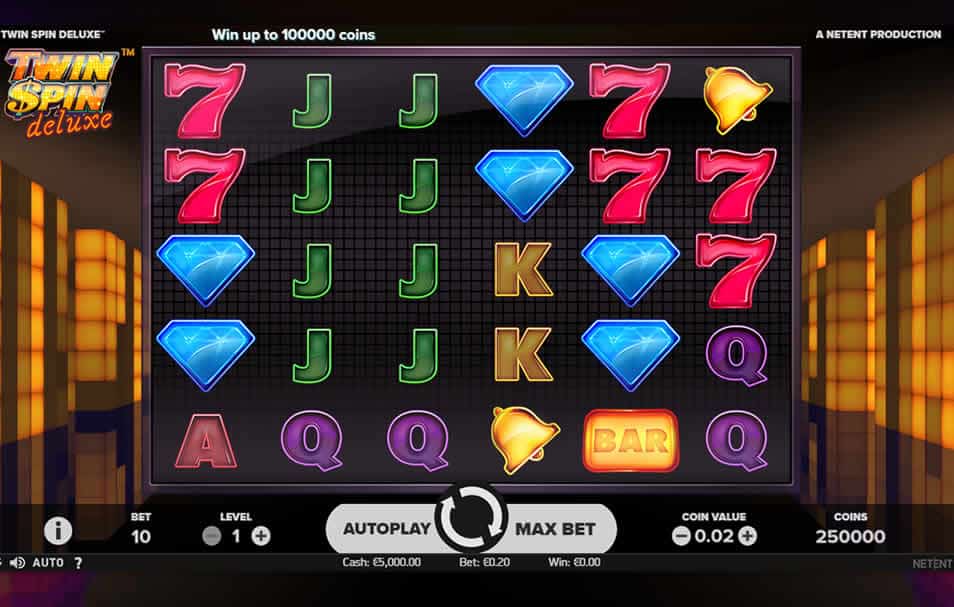 June Position: 9 Last Position: 21
Yet another NetEnt video slot in the top ten, and again, it's not a new release. Twin Spin slot made its debut in 2012. You can see from Twin Spin's previous position of 21 that it hasn't been a permanent resident at the top of the list, but even after five years it's a favourite among players, and they are still coming back to it often.
Twin Spin is a 243 ways to win slot designed to resemble the classic Vegas slots. Fruits, bells, diamonds, and bars are just a few of the symbols you'll see. Every spin has two identical reels that are linked and spin together, with a chance that three, four, or even all five reels can link up and deliver super high payouts. It's a sweet mix of old style and new technology.
Where to Play?
10. Lost Relics From NetEnt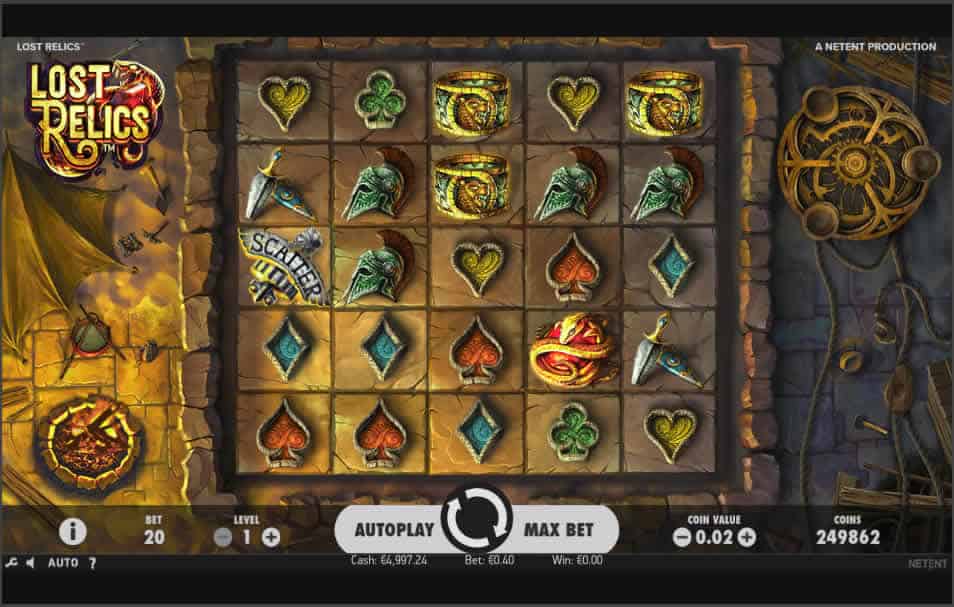 June Position: 10 Last Position: 48
Rounding out the top ten, we have a more recent release from NetEnt. Making quite a jump, moving up 38 positions from its prior rank, the Lost Relics slot was made available to the public earlier in 2018.
Lost Relics uses the Cluster Pay system, which NetEnt introduced. This slot keeps anticipation levels high as bonus wins and extra features are revealed from behind winning symbols. Players never know what they might find waiting for them behind the reels on any spin. There are coin wins, extra wilds, extra scatters, sticky wilds, free spins, and more awaiting.
Where to Play?
11. Hugo Goal From Play'n Go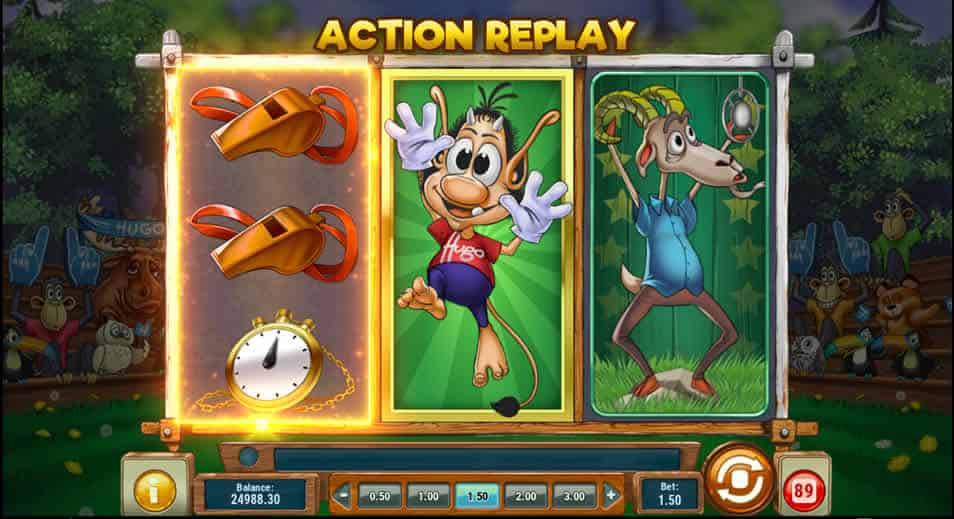 June Position: 11 Last Position: N/A
Hugo is a favourite character that has appeared on Play'n Go's slots before. This particular slot was released a bit before the last FIFA World Cup tournament. It is somewhat unusual in that it is a three-reel, three-row slot. Don't let that fool you into thinking this slot is missing any action!
Hugo Goal comes along with some unique and fun bonus features. There are lots of stacked symbols, stacked wilds, second chance respins, respins until you win, and a unique bonus feature that puts Hugo in the goal and gives you a chance to save five penalty kicks. With the opportunity to win up to 800 times your bet, this little guy can add a big bulge to your bankroll.
Where to Play?
12. 6 Appeal From Realistic Games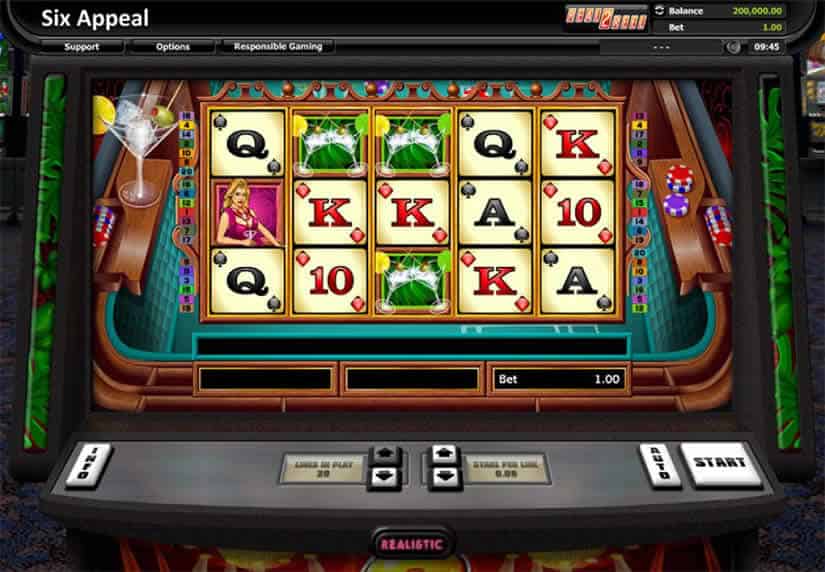 The only slot from Realistic Games to appear within the top 20, 6 Appeal is a slot based on dice. It's a gambling game based on another gambling game. If somebody finds a way to work this type of thing up to three levels, we're all in trouble.
The slot symbols are based on players in a casino, with bonus features triggered by red and blue rolling dice that can net you up to 2000 times your bet. Originally released in 2014 as a Flash-based game, this slot has been updated and was re-released as an HTML5 slot at the end of 2017.
Where to Play?
13. Extra Chilli From Big Time Gaming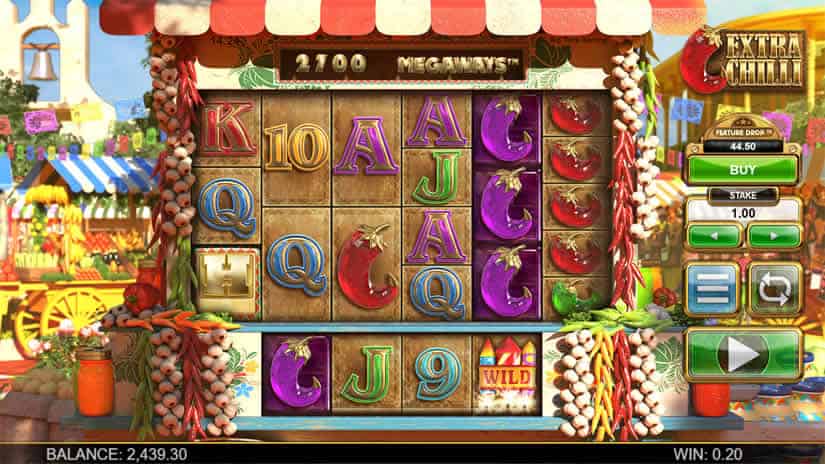 June Position: 13 Last Position: 7
Extra Chilli is the second slot from BTG to appear in the top 20 most popular slot machines. This one also uses the Megaways payout scheme as well as a six reels plus one horizontal reel layout.
Extra Chilli has some differences from Bonanza, however. On this one, the horizontal reel is on the bottom, but that's only minor. Here you have the opportunity to buy into the free spins feature — which, if you think about it, kind of makes them not so free — as well as gamble with free spins, whether they are bought or won on a spin. Players are first given eight free spins and then given a chance to spin a wheel which will either increase their spins or take them all away. It's possible to gamble your free spins up to a total of 24.
Where to Play?
14. Witchcraft Academy From NetEnt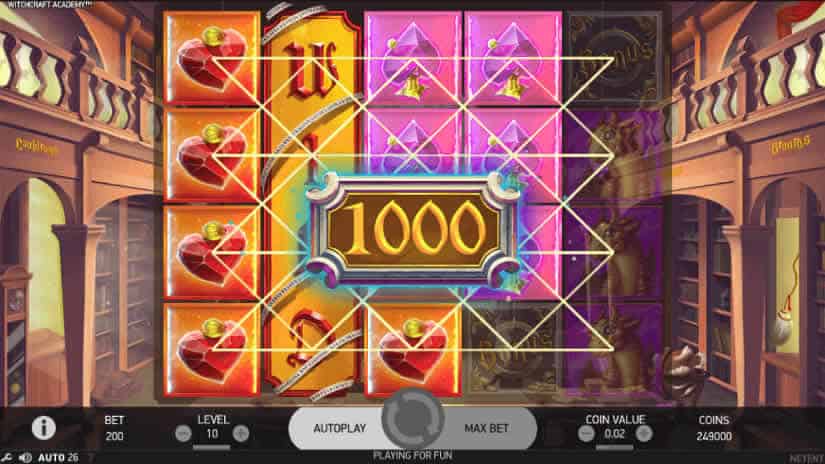 June Position: 14 Last Position: N/A
Appearing at number 14, Witchcraft Academy is one of NetEnt's most entertaining recent releases. This slot features both a unique theme and unique bonus features that really make it stand out among others. With excellent graphics and design features, it's no wonder this one is showing up among the most popular slots so shortly after it's release.
There are only two bonus features on this slot, but both of them are extremely generous and can lead to high payouts. It's possible to land up to 20 free spins, and the Element Bonus feature can add both big prizes and big multipliers to those spins.
Where to Play?
15. 7's To Burn From SG Digital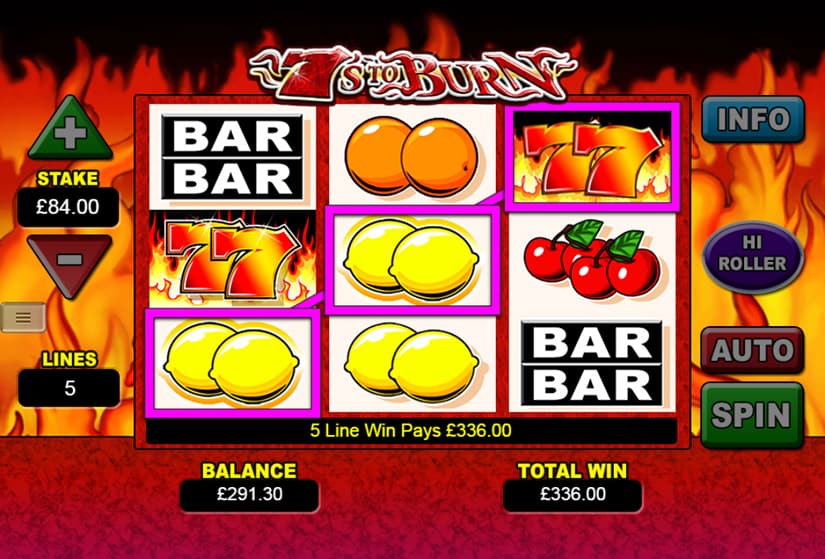 June Position: 15 Last Position: 18
7's To Burn is a three-reel, three-row slot designed specifically for mobile devices. It's a rather simple slot, based on classic fruit machine styling with symbols such as lemons, cherries, plums, and bars. An interesting feature is the "Hi Roller" feature that allows players to play for higher stakes with the added advantage of wild symbols on the reel.
Where to Play?
16. Vikings Go Berzerk From Yggdrasil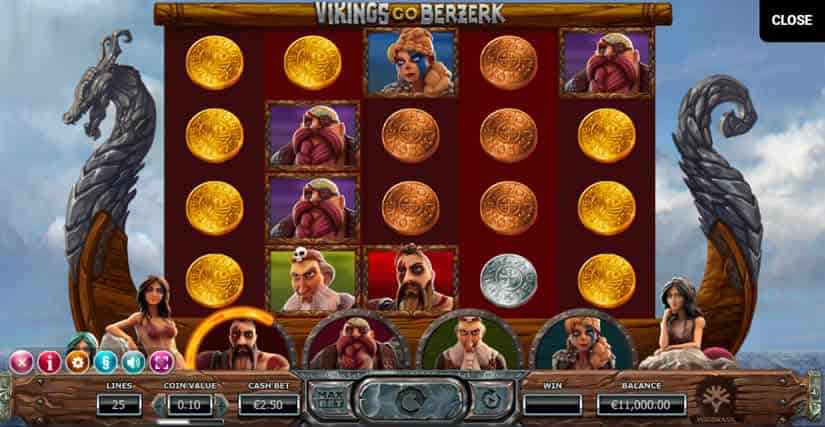 June Position: 16 Last Position: 11
Vikings Go Berzerk shows some movement within the top 20, but, as the second release in Yggdrasil's Vikings series, it has been a fairly steady favourite among players since its release in 2016.
There are four different Vikings that players can enrage. When any of them goes berzerk, there are chances for random bonuses and some wild wins. With a € 500,000 maximum win, it's easy to see why players keep coming back to this one.
Where to Play?
17. Love Island From Storm Gaming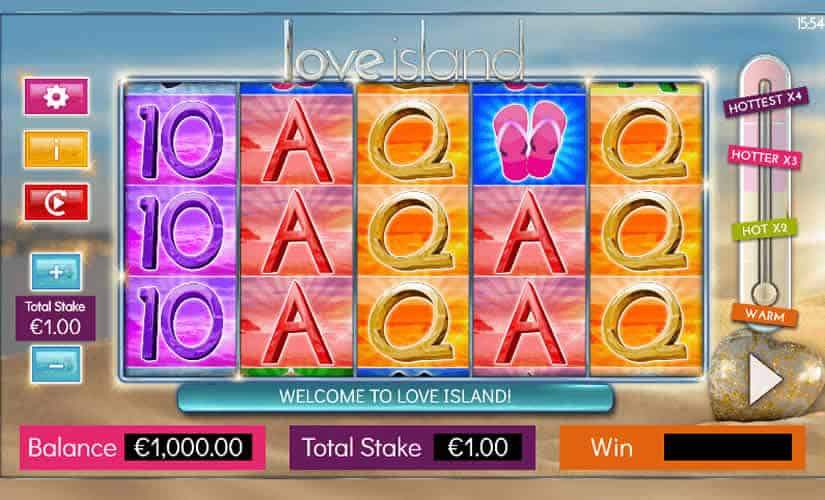 June Position: 17 Last Position: 105
Love Island has a sexy beach theme, as you might have guessed. It's a straightforward five-reel, 20 pay line slot. The bonus features include free spins and expanding wilds, as well as a thermometer that multiplies payouts as the heat rises. The maximum payout of just over €35,000 surely has something to do with the allure of this game as well.
Where to Play?
18. Jumanji From NetEnt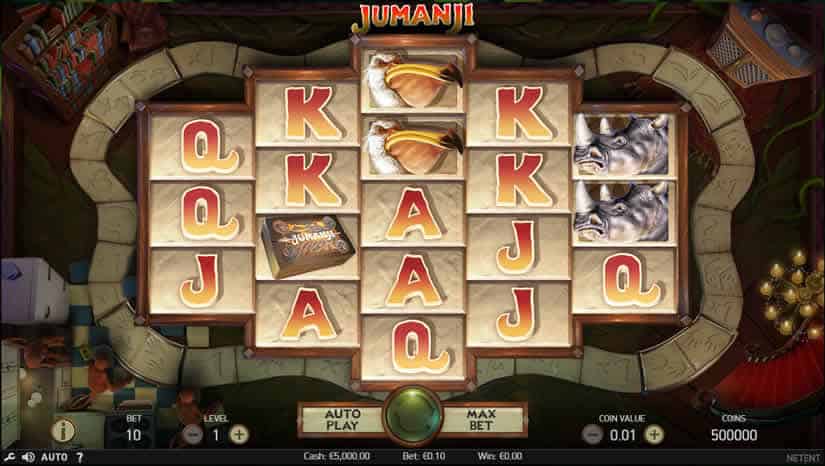 June Position: 18 Last Position: N/A
Based on the original 1995 Jumanji movie, this slot is sure to hold a spot on many players' favourite lists for quite some time. It's also another NetEnt design (are you seeing a pattern here?).
The audiovisual aspects of this game are done to absolute perfection, but that's definitely not the high point of the game. NetEnt somehow managed to pack this single slot with four random features that can trigger during any spin of the reels and a Jumanji board game feature that can trigger four different types of free spins, coin wins, a mystery feature and extra dice rolls. For players that like lots of bonus features, this one is an absolute must-see.
Where to Play?
19. Amazing Aztecs From Microgaming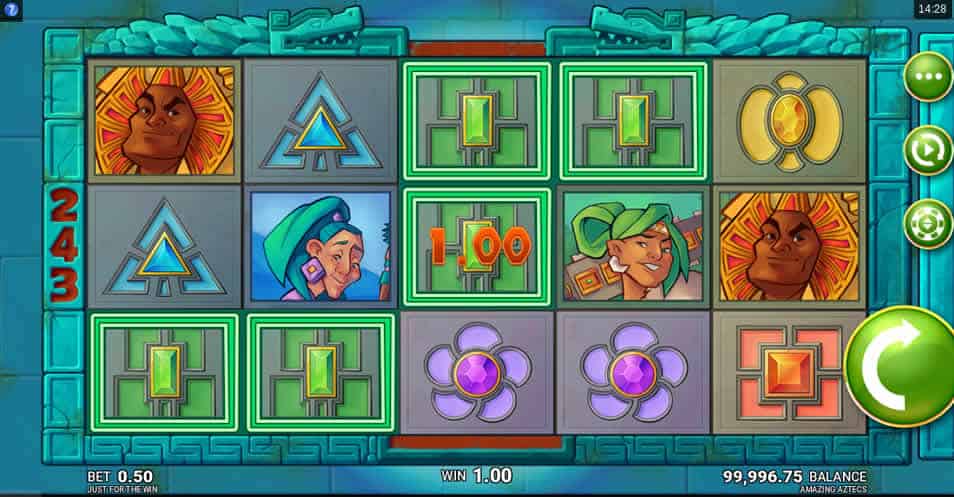 June Position: 19 Last Position: N/A
Microgaming let Amazing Aztecs loose in May of 2018. It carries the familiar Egyptian theme, but in a cartoonish way that shows the designers weren't taking themselves too seriously on this one. It's a 243 ways to win slot with a feature that Microgaming refers to as giant respins.
After a winning spin, one of the three symbols on the middle reel is randomly selected. If the chosen symbol is one of the symbols that made your winning combination, a giant respin is awarded. During giant respins there are 2×2, 3×3, and 4×4 blocks of the selected symbol on the reels.
Unfortunately, there are no other bonus features in this game. If there were, it would most likely fair much better against the competition.
Where to Play?
20. Dwarfs Gone Wild From Quickspin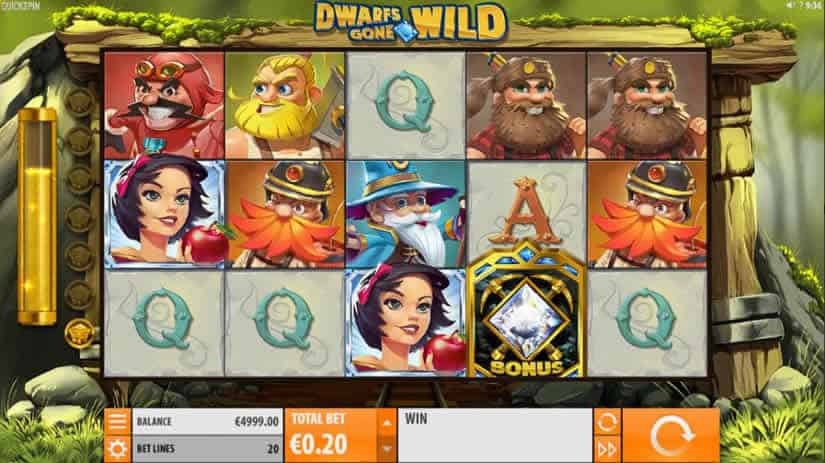 June Position: 20 Last Position: N/A
Based on the tale of Snow White and the Seven Dwarfs, this slot packs together plenty of bonus features and great design to create a truly entertaining game.
As you play, you build up various options that will take effect when free spins are triggered. Players will see rolling wilds, exploding wilds, throwback wilds, full reel stacked wilds, extra free spins, and payout multipliers of up to five times.
Where to Play?